Kismet

Destiny does exist, after all...
Film Independent's Fiscal Sponsorship program opens the door to nonprofit funding for independent filmmakers and media artists. Donate today and help bring Kismet to life.
Logline
Two strangers' lives collide in a bar, leading to a pivotal family dinner that could hold the key to their liberation.
Synopsis
Isha dreads going to her family dinner. She has avoided seeing them for two years and can no longer push them. She decides to hit the bar first and take it from there. No one values family more than Vijay. He only has his father's last voice message as a fond memory. It is his first birthday without his father with whom he shares the same. He pushes to take himself out and lands in the same bar. A chance encounter between Vijay and Isha leads to a flurry of events in the next few hours. Old wounds are scratched, tempers flare, some much needed conversations happen, and promises are made for giving relationships a new lease of life. After all, destiny does exist in everyone's life!
Meet the Filmmakers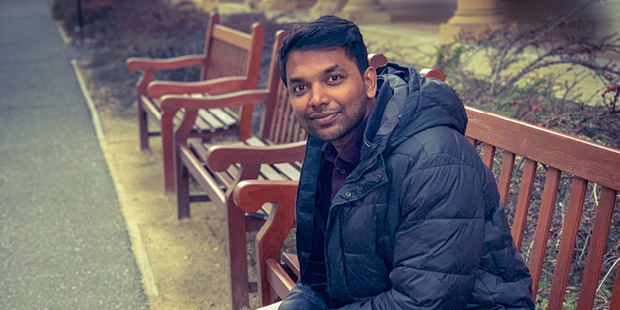 RB Vigneshwar — Writer/Director
Vigneshwar is an Indian filmmaker based in Los Angeles. His love for filmmaking began from the age of eight when his father would take him to watch movies in theaters. He pursued his undergrad in Computer Science Engineering and later, got selected in the prestigious Teach For India fellowship program where he taught Grades 5 and 6 in a very low income school in Mumbai. As a part of his passion, he made many short films during his time in Mumbai. Currently, he is completing his MFA in Film and TV Production at the USC School of Cinematic Arts. He has written and directed three short films at USC. Most recently, he produced a USC funded narrative short film Get Kissed or Die Brian which was screened at the USC Comedy Festival 2021. He has interned for many production houses across India and US including Rajkumar Hirani Films (Mumbai), Mandalay Sports Media (LA), and Aggregate Films (LA). He prefers to work on realistic stories that represent marginalized and underrepresented communities.
Contact
For inquiries, please contact fiscalsponsorship@filmindependent.org.