The Cross

Project type: Documentary Feature
Project status: Production
Director/Producer: Sam Russell
Producer: Eric Cook
Editor: Niels Pagh Andersen

Email: samuel.z.russell@gmail.com
Website: The Cross

Help independent filmmakers tell their stories.
Make a donation to The Cross today.
Film Independent's Fiscal Sponsorship program opens the door to nonprofit funding for independent filmmakers and media artists. Donate today and help bring The Cross to life.
Logline
In the wake of devastating personal tragedy, a man embarks on a seemingly impossible mission to carry a giant wooden cross across the United States.
Synopsis
In 1997, Roy Scott's life came crashing down when he accidentally backed over his four-year-old son, John, killing him. Since then, Roy has barely held on at times. He enlisted in the Army, determined to die in combat so his family would receive a payout. Instead, he was discharged at which point he started to attend church. His hope was that he could learn to forgive himself and start to do right by his family. But finding forgiveness remained a struggle.
Roy needed to do something to change and felt called to walk across the country. That year he built a large wooden cross and started walking west. Beginning in Georgia, he made it all the way to Arkansas when he got a call from his ex-wife inviting him to Christmas. At that point in his life, Roy was estranged from his family and it had been years since he had spent the holidays with them. Seeing them was what he wanted most, so Roy abandoned the cross and returned home to Georgia. Ever since he has been determined to finish the mission.
In 2020, at the age of 56, Roy was living and working as a security guard in Seattle when he was stabbed and nearly died. Despite finally having some stability in his life, Roy started building a new cross on his apartment balcony. After giving away all his money and possessions, he left with the new cross on September 11th. Roy was determined to push through the winter, make it to Arkansas, close the loop, and finish what he started. The Cross follows Roy on his quest across the country to heal, find grace, and finally learn to forgive himself.
Meet the Filmmakers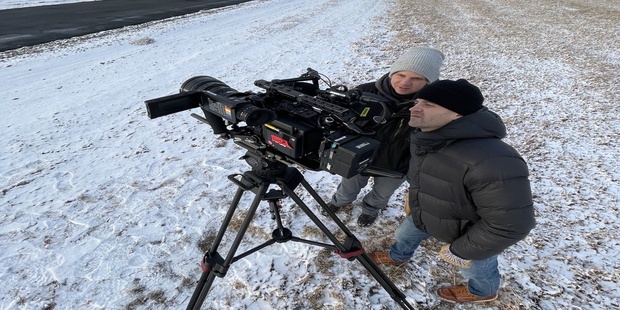 Sam Russell – Director/Producer
Sam Russell is a filmmaker and cinematographer whose work has been featured on Showtime, HBO, PBS, and Netflix, among others. He began his career shooting films for PBS and its flagship program Frontline. Sam served as director of photography on the series Finding Your Roots and The Black Church with Henry Louis Gates, Jr.; Cancer: The Emperor of All Maladies by Ken Burns; and the features Far From The Tree and Slay The Dragon for Participant Media. His award-winning feature documentary, By Blood, screened at film festivals around the world and was broadcast on the public television series America Reframed. His short, Papertown, premiered on PBS. This past year, Sam developed a documentary series for Hulu, directed a series of shorts for the New Yorker, and shot a feature documentary for Netflix and Story Syndicate.
Eric Cook – Producer
Eric Cook is an independent film and television producer based in Los Angeles. He developed and co-produced a feature documentary for Showtime titled Ready for War (Premiered at TIFF 2019) and executive produced by David Ayer and Drake. He also co-produced the feature film Bad Therapy directed by Bill Teitler, and starring Alicia Silverstone and Rob Corddry. Eric is currently developing a scripted drama with eOne about an executive protection firm, and a period horror film with Anonymous Content. On the unscripted side, he is in pre-production on an investigative docuseries helmed by Richie Mehta (Delhi Crime), and in production on a feature documentary with Sarah Jessica Parker's Pretty Matches. Eric is a graduate of the USC School of Cinematic Arts and a 2020 IFP Episodic Lab Fellow.
Niels Pagh Andersen – Editor
Niels Pagh Andersen has cut more than 250 films of widely different categories. Some examples of his award winning works from the last 10 years are: The Look of Silence by Joshua Oppenheimer, 2014 Venice Film Festival Grand Prix, The Act of Killing by Joshua Oppenheimer, 2012, winner of 44 international awards, nominated for Oscar, Palme by Kristina Lindstrøm and Maud Nycander, 2012, winner Guldbagge Awards for best editing, Concrete Night by Pirjo Honkasalo, 2013, 6 Jussi Awards including for the best editing, Last Cowboy Standing by Zadia Bergroth, The Kid and the Clown by Ida Grøn, Recipes for Disaster by John Webster, Everlasting Moments by Jan Troell, The 3 Rooms of Melancholia by Pirjo Honkasalo, Prostitution Behind the Veil by Nahid Persson, Flying – Confessions of Free Woman by Jennifer Fox and Human Flow by Ai Weiwei.
Contact
For inquiries, please contact fiscalsponsorship@filmindependent.org.