We Burn Like This

A story of trauma between three generations of women
Project type: Narrative Feature
Project status: Post-Production
Director/Writer/Producer: Alana Waksman
Producer: Jeri Rafter
Producer/Editor: Marshall Granger
Executive Producer: Neda Armian
Director of Photography: B. Rubén Mendoza

Website: weburnlikethis.com
Facebook: facebook.com/weburnlikethisfilm/

Help independent filmmakers tell their stories.
Make a donation to We Burn Like This today.
Film Independent's Fiscal Sponsorship program opens the door to nonprofit funding for independent filmmakers and media artists. Donate today and help bring We Burn Like This to life.
Logline
Amidst rising anti-Semitism in Billings, Montana, Rae, a 22 year old Jewish girl and descendant of Holocaust survivors uncovers issues of self worth, addiction, and buried childhood trauma which she must learn to face and heal.
Synopsis
When Rae (22, Jewish) is targeted by Neo-Nazis in Billings, Montana, her grandmother's trauma, a Holocaust survivor, becomes real. In addition, when Rae's best friend Chrissy B. (20, Native American) begins dating a new man, Rae befriends Wolf (40s) who leads her into a downward spiral of substance abuse. After hitting a low, Rae returns home to her mother, Maggie (40s, Jewish), and uncovers the truth about a childhood accident involving fire. As anti-Semitism continues to rise in the community of Billings, we follow Rae on her journey towards forgiveness for herself, her mother, and the broken world.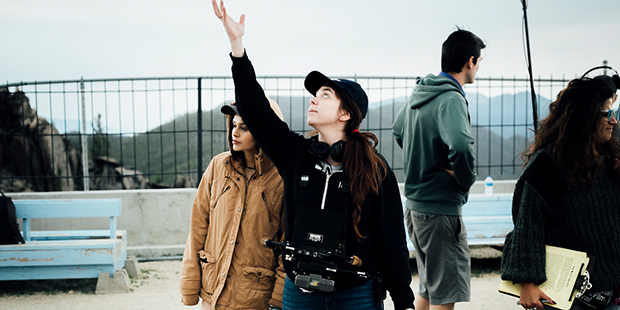 Meet the Filmmakers
Alana Waksman — Director/Writer/Producer
Alana Waksman holds a BA from Connecticut College in Theater and English, and an MFA from USC School of Cinematic Arts in Film & Television Production. She has an extensive background in theater, both as an actor and director. She has attended theater programs at The O'Neill National Theater Institute, Shakespeare & Company, Berkshire Theater Festival, and St. Petersburg Dramatic Arts Academy in Russia.
While at USC, Alana was chosen as one of ten top directors to co-direct USC's first feature film, Don Quixote: The Ingenious Gentleman of la Mancha under the guidance of James Franco. The film premiered at the Palm Springs International Film Festival and is now available for streaming on Netflix. Alana has written and directed a number of short films and music videos, most notably Blackout, written by David Haskell, which received the Audience Award at the LA Shorts Fest, and Best Actor and Best Cinematography at the Women's Independent Film Festival. Alana serves as Co-Director for Montana Film Festival and Big Sky Pitch Producer for Big Sky Documentary Film Festival. We Burn Like This is her feature debut.
Jeri Rafter is dedicated to making feature narrative films in Montana. She most recently was the Line Producer on Annabelle Attanasio's directorial debut Mickey and the Bear starring Cami Morrone and James Badge Dale (SXSW and ACID Cannes 2019). She wrapped the seminal Ted Kaczyski film Ted K directed by Tony Stone and starring Sharlto Copley in 2018, serving as the Production Manager. Her other producing credits include a documentary about Native adoptees, Daughter of a Lost Bird (Due on PBS in 2020), Bella Vista and The Conservationist. Her other Production Manager credits include The Ballad of Lefty Browndirected by Jared Moshe as well as numerous TV shows, short films and commercials. She attended the Sundance Producer's Lab in 2014 and Women In Film + Sundance Women's Financing Initiative in 2015. She is also Producer of the International Wildlife Film Festival in Missoula, Montana. Jeri has an MFA in Media Arts from the University of Montana.
Marshall Granger – Producer/Editor
Marshall Granger has produced and directed documentary and narrative films, which have screened at Big Sky Documentary Film Festival, Northwest Filmmaker's Forum, Local Sightings Film Festival and Treefort Music Festival. As an editor, Marshall's credits include Lester Leaps In, The Conservationist as well as the upcoming Bar Flies and The Foghorn Trilogy. He is a 2018 alum of The Edit Center in New York, where he spent intensive time under mentorship from editors Anne McCabe A.C.E and Bo Mehrad, while receiving additional editing credits on the upcoming features, The Short History of the Long Road and Clean Slate. He is a two-time recipient of the Big Sky Film Grant from Montana Film Office. Most recently, Marshall wrote and edited the short film, You Can Call Me Dad.
Marshall was born and raised in Billings, Montana within the small Jewish community, and he has experienced the waves of anti-semitism in Montana. He holds special interest in developing storytelling in that city and the eastern, less commonly portrayed, side of the state.
Neda Armian – Executive Producer
Neda Armian is a multiple award winning film producer with a varied roster of projects. Her company, Armian Pictures, produces feature films, documentaries, television and digital content.
She produced Rachel Getting Married for Sony Pictures Classics, written by Jenny Lumet and directed by Jonathan Demme. The film premiered at the Venice and Toronto film festivals in 2008 and was nominated for six Independent Spirit Awards as well as an Oscar for Anne Hathaway for Best Actress.
In 2011 Armian Pictures launched AMC's new digital studios with the web series The Trivial Pursuits of Arthur Banks with Adam Goldberg and Jeffrey Tambor. She served as Executive Producer on the webby nominated series.
Credits include: She's the Best Thing In It, Fits and Starts, Union Square, The Longest Week, The Ballad of Lefty Brown, The Loving Story, The Situation, The Betrayal, Jimmy Carter: Man from Plains, Beah: A Black Woman Speaks, The Truth About Charlie, A Little Closer, Bad Posture among others.
B.Rubén Mendoza – Director of Photography
B.Rubén Mendoza was born and raised in Los Angeles, California and grew up being exposed to a multitude of different cultures and the stories that come from them. A fascination for stories, paired with the craft of image-making inherited from his grandfather, has led him to a career in storytelling through motion pictures.
A Graduate of the USC School of Cinematic Arts MFA program, Bryan has photographed several award winning short films, music videos, and commercials that have aired internationally. He is currently in production a feature-length documentary focusing on the opioid epidemic in Northern California. On a quest for stories that expand his understanding of humanity and our place in the universe, his goal is to create compelling images that support the director's vision.
Contact
For inquiries, please contact fiscalsponsorship@filmindependent.org.