Meet the Filmmakers
In 2016 – the inaugural year of Global Media Makers – 14 film, television and new media makers were selected as participants from Egypt, Jordan, Lebanon, Morocco and Turkey. These Global Media Makers Fellows traveled to Los Angeles for a five-week residency (May 2-June 6) which included filmmaker education, business training and professional networking opportunities.
Additionally, Fellows participated in intensive filmmaking labs focused on screenwriting, directing and creative producing in which, with a team of American mentors, they advanced projects they currently have in development. Mentorship continued remotely through the remainder of 2016, with the program culminating in a follow-up visit by Global Media Makers mentors and staff to the Fellows' home countries, where workshops were presented for local filmmaking communities.
Sofia Aissaoui and Houda Lakhdar
Morocco
Project Title: Belly of Hope
Project Type: Fiction Feature
Project Status: Development
Logline: Houria is a pregnant woman from Morocco facing a domestic court ruling she finds too cruel to be true. Running from reality on a road that will lead her to greater suffering, she eventually finds the instincts to fight back and find hope.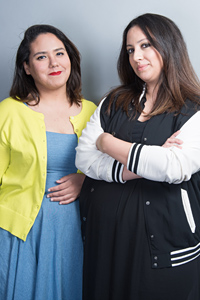 Sofia Aissaoui (writer/director, photo: L) began her filmmaking career as an editor for institutional films. She has a passion for storytelling and seeks out tools and opportunities to sharpen her screenwriting skills. While working on projects with organizations such as PNUD and UN Women, Aissaoui was inspired to develop stories about subjects that can inspire change. After taking master classes, and writing for television comedies and series (Al Hayat Saida, 2015), Aissaoui wrote and directed her first short film, Wind. Released in 2016, the film follows a lonely woman who must choose between remaining faithful to the memory of her late husband, and moving forward with a life in which she no longer feels useful.
Houda Lakhdar (writer/director) studied architecture and later found her passion in cinema and storytelling. Her short fiction film Zahra (2012), the story of a Moroccan housewife on the edge of burning out, brought her recognition as a young, emerging director. Zahra toured the international film festival circuit, screened in the European Parliament in Brussels to represent women in the Moroccan film industry, and will air on TV5 Monde Television in 2016. After spending years devoted to distribution and production, Lakhdar co-wrote TV Series Al Hayat Saida (2015), and a short film, Wind (2015), directed by Sofia Aissaoui.
Asma Bseiso
Jordan
Project Title: Mangos with Nostalgic Flavor
Project Type: Fiction Feature
Project Status: Development
Logline: Two young thieves are forced to plant mango seeds as punishment for stealing mangos from a home in Gaza, but a forbidden love blooms between the privileged teenage girl and poor refugee boy, greatly affecting the course of their lives.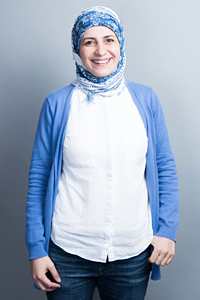 Asma Bseiso (writer/director) was born in Jordan in 1984. A film and documentary director and writer who started her film career in 2007, Bseiso made a number of short films that played at local and international festivals. Her documentary, I am Gaza, was the opening film in the Amal Film Festival in Spain and the Arab Film Festival in Oran, and screened in more than 13 countries. Bseiso also worked for a number of TV Stations (France 24, ARTE, MBC), NGOs (The United Nations, Care International) and other production companies. In 2010, she started to offer workshops in filmmaking for beginners. In 2012, she received a scholarship for a higher degree in Directing for Cinema and TV from El Instituto del Cine Madrid, Spain. Bseiso is currently in the process of releasing her first feature documentary, Aisha, about a girl who was abandoned by her family and raised in the orphanages of Amman. Filming started in 2010 and followed Aisha's life through 2014.
Amin Dora
Lebanon
Project Title: 11 Amazing Things You Should Know About Lebanon
Project Type: Fiction Feature
Project Status: Development
Logline: Mark, Kamal, and Gibran Khalil are three desperate friends who hatch an absurd plan in order to secure their future in an unstable country: they will sell Lebanon's enviable weather to another Arab country.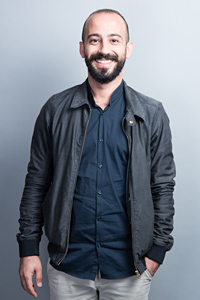 Amin Dora (writer/director) is a film director and visual artist born and raised in Zahle, Lebanon. He graduated with honors from ALBA (Académie Libanaise des Beaux Arts), where he currently teaches. In 2011, Dora won an International Digital Emmy Award for Shankaboot, the world's first Arabic web drama series. Comprised of 5-minute episodes, the series explores innovative ways of portraying real life in Beirut through the eyes of 15-year-old delivery boy Suleiman. By depicting tough issues and tackling taboo subjects that mainstream media wouldn't touch, Shankaboot successfully engaged young audiences across the region during the Arab Spring, inspiring discussions across social media networks and in the press. Dora's film career began with his stop motion animation short, Greyscale, which received many awards in national and international festivals, including the International Documentary and Short Film Festival of Bilbao (ZINEBI). Ghadi, his debut feature film, premiered at the Busan International Film Festival and won the prestigious KNN Audience Award. Following its release, Ghadi was selected as Lebanon's official entry for the 2014 Oscars.

Halim Sabbagh
Lebanon
Project Title: The Inheritor
Project Type: Fiction Feature
Project Status: Development
Logline: A man inherits a house he doesn't necessarily need and gets entangled in the problems of his father's generation.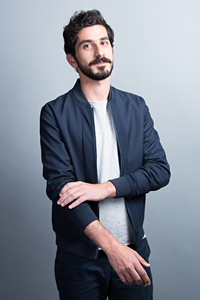 Halim Sabbagh (director) studied filmmaking at the Lebanese Academy of Fine Arts (ALBA) and directed several short films, as well as the short documentary TVC, The Joy of Life (2011), which premiered at the CPH:DOX Film Festival. Having previously worked in the advertising industry, he has also directed many television commercials and corporate videos. Sabbagh has worked as an Assistant Director on feature films such as Mahbas by Sophie Boutros (2015) and Stable Unstable by Mahmoud Hojeij (2013). He also created and edited the theatrical trailers of the feature films The Valley by Ghassan Salhab, The Road by Rana Salem, Stable Unstable by Mahmoud Hojeij, and Ladder to Damascus by Mohammed Malas. An alumnus of the Berlinale Talent Campus, Sabbagh participated in the MEDITALENTS scriptwriting workshop with his first narrative feature, The Inheritor. The project was granted the Francophonie Award at the Beirut Cinema Project co-production forum (2014), and also recently participated in the Dubai Film Connection (2015).
Mais Salman and Zaid BaQaeen
Jordan
Project Title: Faces of Arabia
Project Type: Documentary Series
Project Status: Development
Logline: Faces of Arabia is an episodic digital series that profiles inspirational agents of change in the Arab world.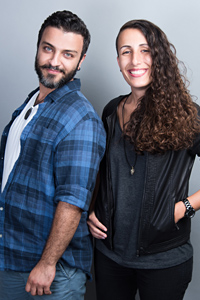 Mais Salman (co-director/producer, photo: R) is a Jordanian film director, writer and producer. She graduated with a Bachelor's degree in Industrial Engineering, but decided to follow her passion for film and storytelling and became a filmmaker. She pursued an MFA in Cinematic Arts at the Red Sea Institute of Cinematic Arts (RSICA) and has produced and directed several short films since, including the short documentaries Mideast Creatives (2015) and Hotel Zaatari (2014). Salman is most interested in projects that challenge norms and affect change.
Zaid BaQaeen (co-director/writer) was born in Amman, Jordan in 1984 and is a student of the life sciences, with degrees in Design, Business Planning and Cinematic Arts. He received a Bachelor's degree in Graphic Design and Visual Arts from the University of Petra in 2008, after which he studied Screenwriting and Cinematography at the Red Sea Institute of Cinematic Arts (RSICA). He has received acting and cinematography awards for his work on the feature film, When Time Becomes a Woman (2011). His work includes the Palm D'Or-nominated short, Condom Lead (Cannes Film Festival 2013), followed by the short documentaries Hotel Zaatari (2014) and Mideast Creatives (2015). Baqeen's feature film script, Denial, a thriller-tragedy developed at the Red Sea Institute of Cinematic Arts (RSICA), was selected and further developed at the Meditalents III program in Morocco (2014-2015). He is also developing an entrepreneurial project called "RedCarpet," an online project promoting artistic expression and creating business opportunities among the film & media database of business artists in the MENA region.