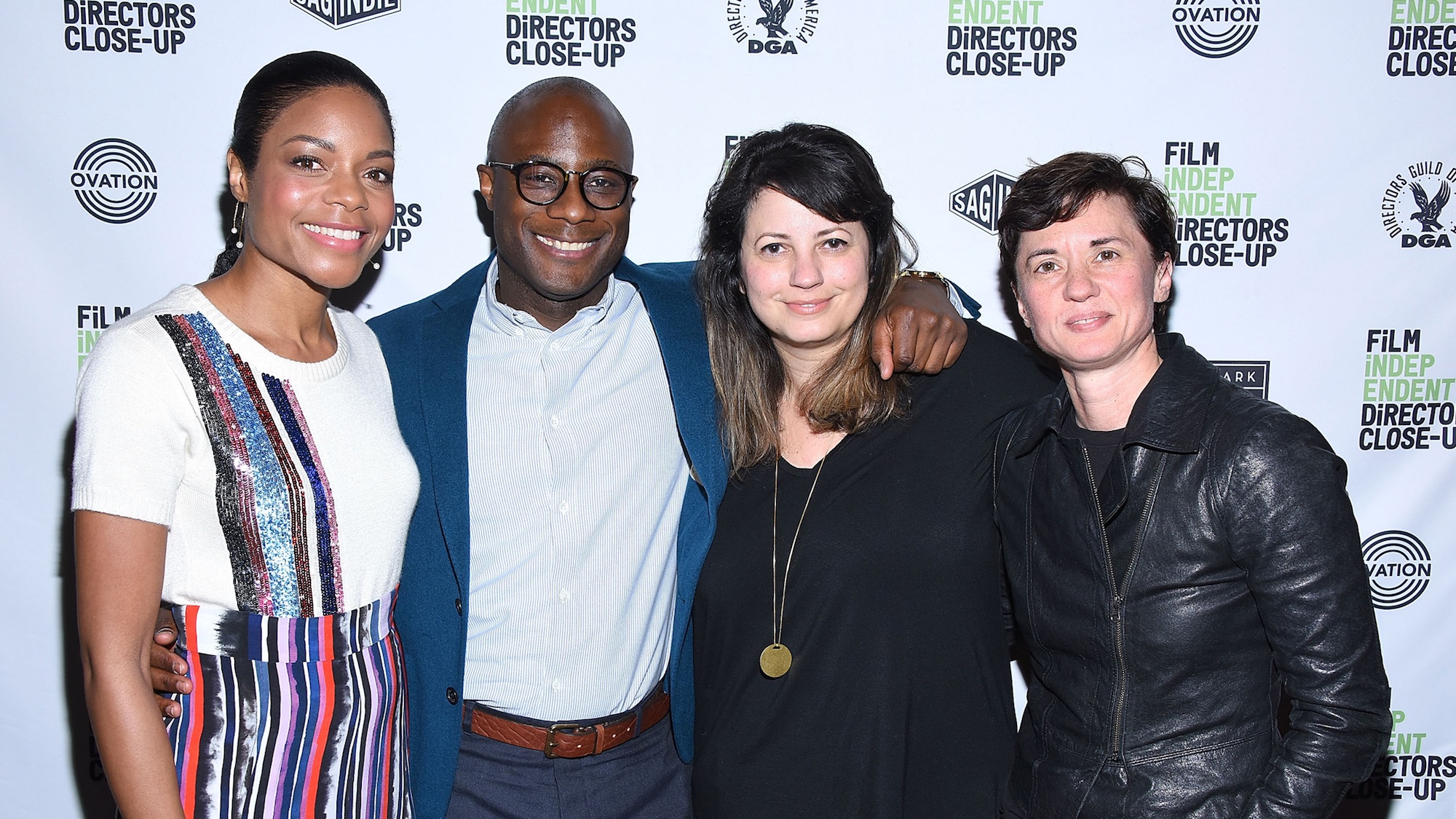 Directors Close-Up Series Passes are SOLD OUT.
A limited number of single night tickets will be made available Thursday mornings, February 7 – March 7, prior to each individual DCU event.
Not a Member? Join today.
Over the past decade, Film Independent's Directors Close-Up has featured some of today's most acclaimed and accomplished filmmakers discussing their craft in fascinating detail.
The Directors Close-Up consists of five unique events which take place every Wednesday from February 7 through March 7. Each night focuses on a different aspect of filmmaking craft and each event concludes with a hosted reception, giving attendees the opportunity to meet their peers and forge new relationships with like-minded people.
PLEASE NOTE: Schedule, content, speakers and moderators are subject to change at any time.
WEEK 1 — Wednesday, February 7
Lady Bird: Adolescence, Angst and Acting

Nominated for four Film Independent Spirit Awards, Greta Gerwig's Lady Bird is one of 2017's most resonant and personal indie film hits, not least of all because of its keenly-observed performances that strike a finely calibrated balance between humor and humanity. Writer/director Greta Gerwig will be joined by select members of Lady Bird's cast to discuss the process of bringing the critically acclaimed coming-of-age dramedy to life on the big screen.
Greta Gerwig (writer/director, Lady Bird)
April Napier (costume designer, Lady Bird, The Cell)
Jordan Rodrigues (actor, Lady Bird, Dance Academy)
Marielle Scott (actor, Lady Bird, 30 Miles from Nowhere)
Moderated by Jay Duplass (director, Jeff, Who Lives at Home, Baghead; actor, Transparent, The Mindy Project)
WEEK 2 — Wednesday, February 14
Storytellers: Writers and Directors

It all starts with a good story. Writers and writer/directors discuss their craft and role as storytellers while exploring the ways in which they collaborate to successfully take their scripts from the page to the screen.
Mike White (writer, Beatriz at Dinner, School of Rock; writer/director, Brad's Status)
David Branson Smith (writer, Ingrid Goes West)
Moderated by Jennifer Cochis (director, LA Film Festival)
WEEK 3 — Wednesday, February 21
A Wrinkle in Time: Creating the Visual Language of a Film
Acclaimed filmmaker Ava DuVernay and members of her creative team take us behind the scenes of her upcoming adaptation of Madeline L'Engle's iconic young adult sci-fi novel A Wrinkle in Time to explore creative collaboration, world building and the art of translating classic literature in modern moviemaking.
Ava DuVernay (director, A Wrinkle in Time, Selma)
Spencer Avarice (editor, A Wrinkle in Time, Selma)
Ramin Djawadi (composer, A Wrinkle in Time, Game of Thrones)
John Paul "JP" Jones (prop master, A Wrinkle in Time, Logan)
Kimberly Kimble (lead hair stylist, A Wrinkle in Time, Dreamgirls)
Richard McBride (visual effects supervisor, A Wrinkle in Time, The Revenant)
Tobias Schliessler (director of photography, A Wrinkle in Time, Beauty and the Beast)
Alison Taylor (location manager, A Wrinkle in Time, Straight Outta Compton)
Moderated by Robin Swicord (writer/director, Wakefield; writer, Memoirs of a Geisha, Little Women)
WEEK 4 — Wednesday, February 28
The Independent Spirit: A Directors Roundtable
Risk-takers. Visionaries. Rebels. Join a select group of this year's amazing Spirit Award-nominated filmmakers as they discuss their films, career trajectories and how they manage to balance their artistic integrity with the demands of the marketplace.
Sean Baker (co-writer/director, The Florida Project)
Josh & Benny Safdie (writer/directors, Good Time)
Chloé Zhao (writer/director, The Rider)
Moderated by Josh Welsh (President, Film Independent)
WEEK 5 — Wednesday, March 7
Real Life vs. Reel Life
The creative minds behind some of 2017's best IRL-inspired productions discuss the challenges and rewards of telling stories based on real life; from recreating actual historical events, to using non-actors to play fictional versions of themselves, to telling reality-adjacent tales rooted in autobiography.
Jonathan Dayton & Valerie Faris (directors, Battle of the Sexes, Little Miss Sunshine)
Craig Gillespie (director, I, Tonya, Lars and the Real Girl)
Angela Robinson (director, Professor Marston and the Wonder Women, Herbie Fully Loaded)
Moderated by Larry Karaszewski (writer, The People vs. OJ Simpson, The People vs. Larry Flynt, Ed Wood) and Kimberly Peirce (director, Six, Stop-Loss, Boys Don't Cry)