Forum Sponsors

These visionary companies help make the Film Independent Forum possible.
Premier Sponsor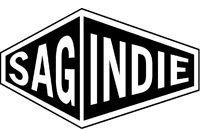 SAGindie promotes the working relationship between professional actors and passionate independent filmmakers. Since its formation in 1997, SAGindie has been traveling to film festivals, trade shows, and conventions spreading the word: Just because your film isn't produced by a studio doesn't mean you can't use professional talent. As a free resource, SAGindie offers filmmakers clarity and kinship by guiding them through the SAG-AFTRA signatory process, making it even easier to hire professional actors, regardless of budget. SAGindie is made possible by a grant from the SAG-AFTRA Producers Industry Advancement & Cooperative Fund.


University Partner


Industry-leading facilities, expert faculty, and a diverse community with global reach make the School of Film and Television (SFTV) at Loyola Marymount University one of the top 10 film schools in the country. Located in Los Angeles, the heart of the media and entertainment industry, SFTV is known for its robust hands-on training, exceptional liberal arts education, and highly-engaged community. SFTV storytellers move the world forward with work that is compassionate, engaged and entertaining. For more information visit sftv.lmu.edu.


Supporting Sponsor

Official Photographer