Out of Tune

Who were you before your community told you who to be?
Project type: Fiction Short
Project status: Development
Director: Portlynn Tagavi
Writer/Lead Actress: Erika Hamilton
Producer: Alexis Sterling
Executive Producer: Mel Jones
Cinematographer:Kalilah Robinson

Website: outoftune.squarespace.com
Facebook: outoftune.ashortfilm
Instagram: @outoftunefilm

Film Independent's Fiscal Sponsorship program opens the door to nonprofit funding for independent filmmakers and media artists.
Logline
A proud Black woman must confront the racial implications of her genuine love for the classic-rock band, Journey.
Synopsis
Maya adjusts the microphone. We aren't sure where she is or what she is about to perform. All we know is, she's terribly nervous.
What follows is an uncomfortable journey of self-acceptance. From adolescence to adulthood Maya has wrestled with the often-narrow boundaries of racial identity. She wants to be rooted in but not restricted by her Blackness. But instead of being a liberated fangirl, Maya feels boxed in by the Black gaze.
As the first notes reverberate and the pressure begins to mount, will Maya finally stop denying her own authentic voice to fit in.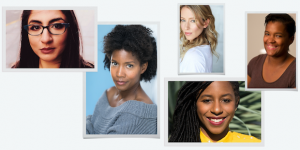 Meet the Filmmakers
Portlynn Tagavi — Director
Portlynn Tagavi recently received her MFA in Directing at AFI. Before attending AFI she spent three years working professionally as a Story Artist for Fox, Paramount, the Jim Henson Company and DreamWorks. Her short film They Won't Last won a student Emmy and has been recognized by festivals such as LA Comedy Film Festival – (Best Director Winner), First Glance Film Festival – (Audience Award For Best Comedy Winner), Prague International Indie Film Festival – (Best Student Female Director Winner), Pensacola Indie Fringe and Comedy Festival – (Best Director Winner & Best Relationship Comedy Winner), and College Television Awards – (Best Comedy Short). She is currently working as a story artist on her second film with Netflix.
Erika Hamilton – Writer/Lead Actress
Erika is a writer whose script Journey won GOLD at the 2020 Page International Screenwriting Awards. Also an actress and former Knicks City Dancer, Erika grew up in Ohio and graduated from University of Cincinnati. Her prime middle-child positioning mixed with a very heady zodiac sign, landed her quite naturally, writing comedic stories focused on the awkward joys and complicated feelings of Black characters we don't often see. She is currently a member of Amy Aniobi's TRIBE mentorship program, and lives through these paradoxical days with the loves of her life, Christian, Charley and Baer.
Mel Jones – Executive Producer
Mel Jones is a multi-talented producer, director, and writer. The Howard University alum holds a Bachelor of Science in Radio, Television and Film, and her Master of Fine Arts in Producing at the American Film Institute. Mel worked for Stephanie Allain's Homegrown Pictures for 8 years, rising through the ranks serving as President of Production for 5 years. Jones' credits include Justin Simien's Dear White People and Gerard McMurray's Burning Sands and recently Really Love starring Kofi Siriboe which premiered at SXSW. Jones made her directorial debut at Sundance with Leimert Park, a MACRO/Homegrown digital. She currently serves as SVP of Production and Development at Confluential Films.
Alexis Sterling – Producer
Alexis Sterling is a storyteller dedicated to bringing underrepresented voices to the forefront to expose, educate and empathize. A long-time collaborator with Kalilah Robinson, she attended Stanford University (BA, Drama '04; Evelyn M. Draper Prize for Performance), where both her production work and research included interdepartmental studies (Political Science) to explore theatre as a tool for social change and international development. Her work as a performer and production manager spans almost 20 years of theatre, film and digital productions. As a creative producer with [Door Flies Open], Alexis develops, directs and produces diversity-promoting content with unique and important viewpoints. She is a member of SAG-AFTRA and the Director's Guild of America. Alexis lives in Los Angeles with her husband, actor Maury Sterling, and their son, Ford Bryant.
Kalilah Robinson – Cinematographer
Kalilah Robinson is an award-winning cinematographer and filmmaker. Born and raised in Bermuda, Kalilah attended Stanford University and is a graduate of AFI's Cinematography Master's Program. Experienced in a multitude of positions in the industry, cinematography has always been Kalilah's abiding passion. It is cinematography that has taken her from the Bay area, to London, Lagos, Paris, Bermuda and back again. Currently, Kalilah is based out of Los Angeles, CA where she continues to freelance as a Cinematographer and Producer. In 2017 she was a Film Independent Project Involve Cinematography Fellow. Most recently, Kalilah shot the feature American Murderer starring Ryan Phillippe and Idina Menzel.
Contact
For inquiries, please contact fiscalsponsorship@filmindependent.org.