Quentin Blue

Film Independent's Fiscal Sponsorship program opens the door to nonprofit funding for independent filmmakers and media artists. Donate today and help bring Quentin Blue to life.

Logline
In 2014, the band Quentin Blue was formed inside of San Quentin State Prison by men serving life sentences. In 2020, three band members were released and came to the same sober home in Los Angeles, where they have re-formed the band and now use music as part of their healing and reintegration into society
Synopsis
Quentin Blue consists of three members: Richie Morris (guitar and vocals, served 34.5 years), Dwight Krizman (bass, served 17.5 years), and Billy Harwood (keyboards and vocals, served 16 years). This is a bright, vibrant group of creatives who tease each other, make inside jokes, and finish each other's stories.
In addition, they use music to form community and spread positivity, as part of their ongoing recoveries and a form of amends for the harm they have done. This documentary explores the power of restorative justice, what real accountability might look like, the healing potential of music, and how communities can welcome returned citizens as their neighbors.
The film's grounding story will be the band's work in the present day to record their album and start playing gigs. Throughout, we will use flashback structures to show how the band was formed and share some of the details of each man's story, including their release from prison during the COVID-19 pandemic. We will also travel to San Quentin State Prison to interview former band members who are still incarcerated, as well as volunteers who worked with the band through the music program.
We have two primary audiences for this film: currently or recently incarcerated people who need more hopeful stories of return to society, and individuals with limited experience of incarceration who might hold views about returned citizens that are rooted in ignorance and fear. We will reach these audiences through partnerships with nonprofits, film festivals, wide release, and online marketing. Positive stories of return from incarceration are badly needed as we forge a path toward a more equitable, inclusive future.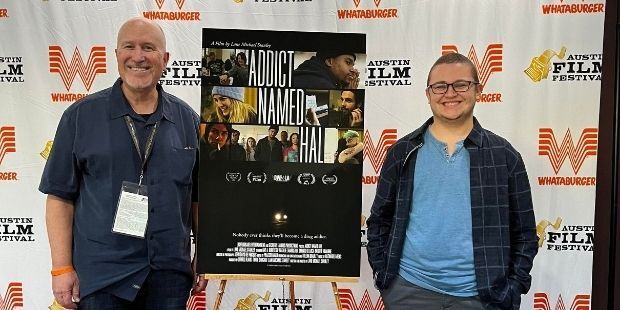 Meet the Filmmakers
Lane Michael Stanley – Writer/Director/Producer
Lane Michael Stanley (He/They) is a filmmaker, playwright, and producer, and the founder of Secretly Famous Productions, along with Lowell Blank. Their debut feature film ADDICT NAMED HAL has shown at Austin Film Festival, Santa Barbara International Film Festival, Dances with Films, Tallgrass Film Festival, and Big Bear Film Summit, where it won Best U.S. Narrative Feature. Lane's short films have shown at many festivals, including Outfest, aGLIFF / Prism, Toronto Short Film Festival, and Big Apple Film Festival. Lane has been featured in the New York Times, USA Today, and the Austin Chronicle. They have won Best Director from Baltimore City Paper's Best of Baltimore 2016, DC Metro Theatre Arts, and The Bad Oracle, and received the Mayor's Individual Artist Award. They are a 2021 Playwriting Fellow with the Lambda Literary Writer's Retreat for Emerging LGBTQ+ Voices. Their plays have been produced by 19 theaters in 8 states and Australia. For more information, please visit www.lanemichaelstanley.com and www.secretlyfamousprod.com.
Lowell Blank – Producer
Lowell Blank (He/Him) has over twenty-five years' experience as a producer and executive, and is now a co-founder of Secretly Famous Productions, along with Lane Michael Stanley. As President of Chicago Pacific Entertainment, Blank developed and produced both studio and independent films, documentaries and commercials with companies such as Walt Disney Studios, Warner Bros., Fox, and others. Blank was a Producer on the Walt Disney Pictures hit HOLES and recently produced the independent film ADDICT NAMED HAL. Blank holds an MFA in Writing and Contemporary Media from Antioch University.
John David De Virgiliis – Cinematographer
John David De Virgiliis (He/Him) served as cinematographer on Lane and Lowell's previous feature, ADDICT NAMED HAL. John David is an MFA candidate at the University of Texas at Austin and has a ten-year career in the International Cinematographer's Guild on films such as LOVING, MUD, MANCHESTER BY THE SEA, and MEDITERRANEA. For more information, please visit www.jdtakespictures.com.
Prakshi Malik – Editor
Prakshi Malik (She/Her) is an editor and director based in Minneapolis. She edited the award-winning narrative feature ADDICT NAMED HAL and various short narrative and documentary films that have screened internationally. Prakshi's editing portfolio extends to dance and experimental films, dance curriculum series, short documentary series among others. Prakshi grew up in Delhi, India and holds a BA in Media and Cultural Studies from Macalester College and MFA in Film Production from the University of Texas at Austin. For more information, please visit www.prakshimalik.com.
Contact
For inquiries, please contact fiscalsponsorship@filmindependent.org.