Shouting Into the Wind

Make your voice heard, no matter what...
Project type: Documentary Short
Project status: Development
Director/Producer: Elizabeth Bayne
Journalist: Jessica Grainger
Cinematographer: Victoria Stein
Trailer Editor: Ben Jendras
Editor: Raymundo Archila
Environmental Advisors: Travis Longcore, Sharona Sokolow
Journalism Advisor: Oliver Jones

Website: graybayne.com
Facebook: facebook.com/graybayne
Instagram: @graybayne
Twitter: @graybayne

Help independent filmmakers tell their stories.
Make a donation to Shouting Into the Wind today.
Film Independent's Fiscal Sponsorship program opens the door to nonprofit funding for independent filmmakers and media artists. Donate today and help bring Shouting Into the Wind to life.
Logline
When the California WaterFix, an estimated $18 billion proposal to divert fresh water to Southern California, was introduced it seemed inevitable despite the high price tag and public opposition. Shouting Into The Wind introduces the union reps and political figures behind the proposal and the vocal residents who pushed back.
Synopsis
Formerly known as the Bay Delta Conservation Plan, the California WaterFix is expected to cost at least $15 billion to construct two large tunnels that divert fresh water from the Sacramento River to intake stations in Southern California. Due to its proximity to the Sacramento San-Joaquin Delta, the project poses potential harm and destruction to the delta and Northern California's water resources. Our story focuses on public tensions amid the Metropolitan Water District (MWD) of Southern California's unrelenting push to approve funding for the project.
The National Environmental Policy Act was adopted in 1979, requiring federal agencies to consider and generate environmental impact statements followed by a mandated public comment period to create a more comprehensive and inclusive decision-making process that reduces potentially harmful impacts to the environment, economy, and society. Using video archives to identify citizens who participated in the public comments section of each board meeting, we have identified potential characters for our film. The documentary will not only highlight their comments but the challenges they faced to consistently participate in the legislative process.
Our film will follow the MWD board meetings, as well as the citizens, legislators, environmentalists, taxpayers, pastors, contractors, labor unions, business executives and scientists who participated in the three-year review period. By covering both sides of the issue, we can highlight the extent to which activism plays a role in environmental legislation and policy and the competing corporate and taxpayer interests that make the fight against climate change so dramatic.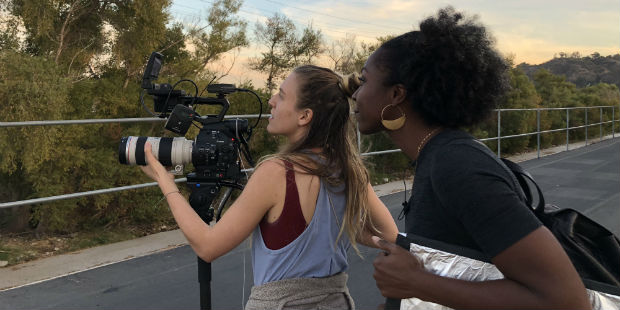 Meet the Filmmakers
Elizabeth Bayne — Director/Producer
Elizabeth earned her Masters of Public Health from Yale University and MFA in film from the Art Center College of Design in Pasadena, CA. An award-winning filmmaker and member of Women in Film Los Angeles, BADWest, Film Independent and the American Public Health Association, Elizabeth is committed to using film to promote health and social issues in underserved communities. She has produced and directed content for MIT Media Lab, the LA County Department of Public Health, and is currently in production on two documentaries slated for 2019.
Jessica Grainger  — Journalist
Jessica is an environmental journalist and activist based in Los Angeles. Graduating Magna Cum Laude with a major in journalism and philosophy from Emerson College, she developed a passion for storytelling and social justice while covering the 2016 Presidential Election and studying the relationship between climate change and legislative agenda. Jessica previously has written for The Ecologist and The Hollywood Reporter. Currently, she edits the newsletter for the Central Group of the Sierra Club Angeles Chapter. In her spare time, she identifies as an amateur political cartoonist.
Victoria Stein — Cinematographer
Based out of Los Angeles, Victoria graduated from the USC School of Cinematic Arts in the spring of 2017 with a B.F.A. in Film and Television Production. She has worked in narrative film, music videos, web series, and documentaries, with her latest documentary filmed on location in Paraguay in Summer 2018. Victoria's love for cinematography is boundless and her interest in projects that reflect reality and the true nature of the human condition draws her specifically to documentary filmmaking.
Ben Jendras — Trailer Editor
Ben is a filmmaker who believes that making good entertainment is about telling human stories in an unexpected way. He's a fan of emotion, humor, and honesty. He comes from a background in trailer editing and has won Clio Awards for his work on War for the Planet of the Apes and Jurassic World. His short film, The Brink, which he helmed for JuVee Productions, was featured in film festivals across the world, including the Diversity in Cannes Short Film Showcase.
Raymundo Archila — Editor
Ray works in feature film, music videos, commercials, and shorts. He graduated from USC's School of Cinematic Arts with a BA in Film & Television Production and is currently part owner of Row Five, an all-in-one production company. At Row Five, Raymundo is the Post Supervisor and Editor. Ray's previous work includes editing projects for the LA Times, Microsoft, Verizon Go-90 as a junior editor at Contend.
Travis Longcore — Environmental Advisor
Dr. Longcore is an Assistant Professor of Architecture, Spatial Sciences, and Biological Sciences at the University of Southern California. He is a core faculty member in the Landscape Architecture graduate program and the undergraduate major in GeoDesign. He is a Faculty Affiliate of the GIS Research Laboratory and the Wrigley Institute for Environmental Studies and serves as Science Director of The Urban Wildlands Group, a Los Angeles-based conservation nonprofit.
Sharona Sokolow — Environmental Advisor
Sharona Sokolow is Senior Associate of Scientific Communications at Weber Shandwick and Adjunct Fellow at the University of Pennsylvania's Center for Public Health Initiatives. She earned her doctorate from the Department of Environmental Health Sciences at UCLA's Fielding School of Public Health. Her areas of focus include health and science communications, impact assessment, policy analysis, alternative water issues, energy and greenhouse gas emissions. Her work aims to advance the connection between climate change, drought, and their potential impacts on human health.
Oliver Jones — Journalism Advisor
Oliver Jones works as a freelance journalist for Yahoo!, The Daily Beast and Los Angeles magazine, among others, in addition to his position as a journalism professor at Emerson College, where he's taught social justice and entertainment journalism since 2012. He has been a cultural and hard news journalist for 20 years. Writing for publications such as Variety, Details, Us Weekly, and New York magazine, Oliver has interviewed thousands of actors, musician, and directors across the pop culture universe, as well as award-winning coverage on a fundamentalist Mormon sect on the Arizona-Utah border as a staff writer for the Los Angeles bureau of People magazine.
Contact
For inquiries, please contact fiscalsponsorship@filmindependent.org.