Festival Diary, Final Day: How To's for Engaging with LA's Best Indie Films and Filmmakers
Each day through the end of the 2017 LA Film Festival, Film Independent blog correspondent Cortney Matz will be recording her experiences and offering an insider's perspective on the Festival.
FINAL DAY
Like any great thing in life, the LA Film Festival is what you make it. Sure, the content is stellar and the panels are full of fascinating people and cool stories and tips for making your next movie (which, keep reading). But you know the saying about horses and water and drinking? Here's the translation for my purposes: "You can lead Cortney to the best indie films and filmmakers in LA, but you can't make her engage." She has to want to do that herself.
Take this piece of advice from Jeffery Donovan, Shot Caller cast member and moderator of the Festival's June 18 Coffee Talks: Actors panel at the Kirk Douglas Theatre.
Speaking of his auditioning process, he described his attitude as: "I got the job. It's my role and I'm gonna show them how I'm going to play it. I [take] away the end result and I just [make it] an immediate work environment."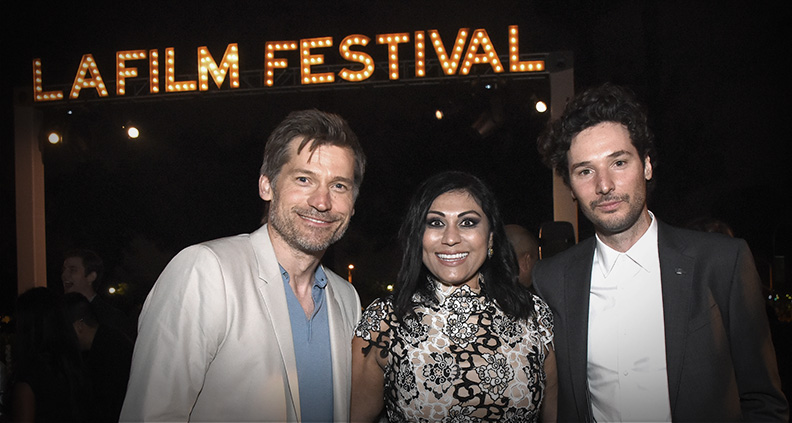 So what's the equivalent of Morgan's approach for us? How do we—as festival attendees, audience members and partygoers—help ourselves make the most of who/what we're seeing, hearing and meeting in the Festival Lounge? Especially for introverts like me, who are fatigued by the prospect of figuring out new places and meeting new people. Or for fans like the ones I overhear after a recent Q&A, too intimidated to ask questions of their favorite filmmakers. Or for hopeful creators, who feel disingenuous talking about their own project while professing to celebrate someone else's?
This is a question worth considering, since we only get one of these "LA Film Festival" thingies per year. The answers couldn't be more specific to each of us, but I have some suggestions for getting there:
Ask the first question. It's a time-tested truth that in a crowd, there are two things people don't want to do: sit in front or go first. Raising your hand as soon as the moderator opens up the floor for questions sets you apart and gives you a context for connecting with panel members later.
Think of a great question to ask. Do a little research before screenings. Try to put yourself in the filmmaker's shoes while watching the film—what intrigues you, scares you, makes you proud? Think about how you connect emotionally with the work of art that this person has created, and don't be afraid to share.
Join the group. It's always awkward to invite yourself into a conversation, but generally a small circle of folks can be joined with a quick "don't mind me, I'm just eavesdropping," or your icebreaker of preference. On the flipside, if you're attending a Festival event with friends, try not to settle into your comfort zone. Invite others into the group and be ready to include them in the conversation.
Invite suggestions. If you're looking to connect with someone specific, try making it known to the people around you. Maybe someone will have a connection and you don't have to do all the work yourself. People love to be helpful! Just ask The Year of Spectacular Men producer Damiano Tucci, speaking during the film's Q&A about how to swing incredible deals during production: "Just ask. You can ask for anything you want when you're making an independent film—and people will give it to you."
Take breaks. It's important to give yourself space here and there to gather your thoughts and breathe and reorient. Are you having fun? Are you getting out of this experience what you had hoped? If not, what can you do differently?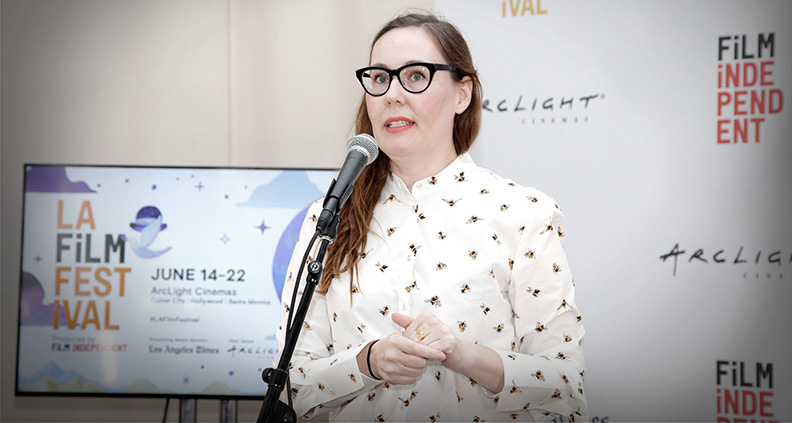 So, dear Festival-attendee-who-is-reading-this-right-now: how do you feel about the experience now that it's (sadly) all over? What might you need next year? What's one thing you'd like to do at the Festival that you didn't get a chance to? If it's something big, what's a smaller thing that could lead to that big thing? I invite you to take a moment and write it down. LA Film Festival 2018 is only 11-and-a-half months away. Recommit to yourself that you will engage with the best indie films and filmmakers in LA, and you'll have a great time.
To learn more about all of this year's winners, please visit our online festival guide or check out our YouTube channel. We have more great 2017 LA Film Festival coverage coming (blogs and videos!) so stay tuned to FilmIndependent.org.
The 2017 LA Film Festival took place June 14—22, headquartered at the ArcLight Cinemas Culver City, with additional screenings at ArcLight Hollywood, ArcLight Santa Monica, LACMA and The Theatre at Ace Hotel.
(Header: Film Independent's Francisco Velasquez, Angela Lee, Lisa Hasko, Dea Vazquez and Director of Artist Development Jennifer Kushner at the 2017 LA Film Festival Fellows Party)