Project Involve is Looking for Diverse Filmmakers with Unique Voices. Apply Now—Before It's Too Late!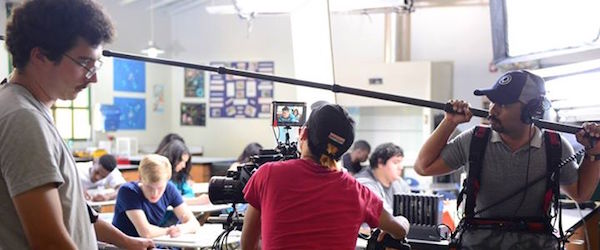 We all know the dismal statistics about the lack of filmmakers of color in the industry. Women and LGBT artists also nearly impossible to find.
Project Involve is working to change all that. The program helps emerging artists hone their skills, build their collaborative networks and break into the industry. Project Involve is free and open to underrepresented filmmakers with unique vision and voice.
Now's the time to apply! The deadline is April 27.
The program is open to filmmakers from a variety of  tracks: directing, producing, writing and cinematography, as well as marketing and distribution. Starting in October and leading all the way into June, the program provides Fellows with one-on-one mentors, a conversation workshop series with esteemed filmmakers and short film production, in which Fellows collaborate to make a series of  shorts, which ultimately premiere at the LA Film Festival.
We could easily tell you all the great things about the program, but we thought it would make more sense for you to hear it straight from the Fellows themselves. Here's what this year's Fellows told us about their Project Involve experience:
What was your experience and how has Project Involve helped your career?
My Project Involve experience was the most positive filmmaking experience I ever had.  It immediately included me into a community of up-and-coming filmmakers, and the support I received was extremely practical as well as encouraging.—Peter Jin, director
So far, it has helped my career through the amount of access it's granted to me to the panels and the Film Independent  Forum. I walked away with an immense amount of new information that really helped me make choices for navigating my career that I wouldn't have had otherwise. Another thing is the relationships I've built through the program. Not just my mentor, but also the opportunity to work with a DP and other Latino filmmakers, as well as filmmakers of color in general, whom share similar values and points of view. I feel I've finally found a team of film filmmakers that I know have a similar message to spread in their work and whom I will continue to collaborate with in the future.—Marvin Lemus, director
Project Involve has been the most fulfilling and WORTH it fellowship I have ever been a part of. I have met some amazing filmmakers and made connections with very talented, working professionals who are looking to expand their career. Project Involve has made it possible for me to grow as a director and make a movie that will be seen by top industry professionals. They have already put me in contact with some of my dream companies to work for. This has been highly satisfactory and I am so thankful and humbled to be a part of this experience.—Maritte Go, director
Though at this point it's too early to tell what form it will take, that Project Involve will have an impact on my career is undeniable, whether through meeting executives at HBO or undertaking future projects with other fellows. PI takes great care in selecting candidates who are not only talented and committed, but (here's what's a bit more rare) extremely generous and great collaborators. I know with absolute certainty that the relationships I've forged here will continue well beyond this year.—Carlos Garza, producer
If you could only highlight one thing about Project Involve–what would it be?
Project Involve will call you out on your shit. That is to say Project Involve isn't afraid to call you out when you're not putting your best foot forward. When I turned in a draft of a script that was obviously a hastily slapped together rewrite, the advisors didn't hesitate to call me up and ask why I wasn't trying harder. That call really set in stone what the expectations of me were. They were expecting better than I thought I was capable of at the time and they pushed me to meet their expectations. To only turn in work that I was proud of. This alone made the program worth it to me.—Marvin
The most valuable part of Project Involve is the people you meet and connections you make. Besides the other filmmakers in the program, you are provided with an industry mentor who can give advice and guidance on your career.—Steven Wang, editor
The Best part for me has really been the collaboration with like minded people who truly believe in story and don't have to worry about a bottom line.—Sean Ludan, editor 
The amazing support you have from the executives in the program. Always willing to help each project.—Katherine Borda, producer
What is the difference between Project Involve and film school and why would you recommend emerging filmmakers from diverse backgrounds apply?
I loved film school. It helped me shape my voice.  But Project Involve is special because it's helping me put my voice out there. It feels like working for a really cool production company or a studio.—Peter
It's hard to realize how exhilarating it is to be surrounded by other filmmakers that don't fit the status quo until you do. To be surrounded by people whose point of view and backgrounds resemble yours. The level of comfort and freedom in expressing yourself is insanely different than in any typical film school or workshop setting. And the stories being told are everything you aren't seeing in mainstream films, but are dying to. That's why this program is special.—Steven
Most of the people in this program are film school graduates who are freshly out or just got out. So, people already have the experience and looking to expand. This is a chance for people with diverse backgrounds to tell their stories. This was my whole purpose in becoming a filmmaker. I wanted to tell stories about people who look like myself as real people and not cardboard cut out stereotypes. This was my chance and Project Involve really fostered that. I would suggest this program to anyone at any stage of their career. I have made amazing friends who I have already started working with on commercials and features outside of the program. Like anything in life, you get what you put into it and this was well worth it and I will remember it forever!—Maritte
Project Involve expects you to hit the ground running and is not meant to provide any sort of formal instruction in filmmaking. Fellows have either already graduated from film school or built up a portfolio on their own, and are ready to take the next step in their careers. That being said, besides the invaluable industry relationships and networking opportunities PI offers, it does have a film school-like component in that you get to make work amongst your peers with the specific aims of the program in mind. It's too early to tell if Hollywood's new-found interest in diversity has any staying power, but there's still never been a better time to be a part of Project Involve. It's invigorating to be in a place where diversity is less of a buzzword and more like an invitation to consider a different set of possibilities for our chosen field, and to see the value of our backgrounds and experiences in a new light.—Carlos
Lorena Alvarado / Film Independent blogger