East Meets Culver City: Global Media Makers Show How to Tell Stories "From the Inside Out"
For the past five weeks Film Independent has played host to an acclaimed group of international filmmakers for a program called Global Media Makers. Presented in partnership with the US Department of State, the inaugural edition of Global Media Makers connected leading visual storytellers from around the world with top US filmmakers and industry professionals in a unique cross-cultural mentoring exchange.
And so, with the stateside "Phase One" of the program nearing its end, four of this year's participants—Amin Dora (Lebanon), Asma Beseiso (Jordan), and Hüseyin Karabey (Turkey)—joined fellow filmmakers Cherien Dabis (Amreeka), Mohamed Diab and Hany Abu-Assad (Paradise Now) at the ArcLight Culver City for a special 2016 LA Film Festival panel entitled Storytelling from the Inside Out.
After introductions from Maria Bozzi, Senior Director of Education and International Initiatives at Film Independent, and the State Department's Evan Ryan, President of Film Independent Josh Welsh introduced the panel and gave the audience some background on the filmmakers and praised their work.
The lights then dimmed to show extended excerpts from each of the filmmakers' projects, backing up Welsh's effusive appraisals with hard evidence. The excerpts demonstrated a wide variety of filmmaking styles and narrative themes—from Jordanian orphans, to a granddaughter and grandmother's mission to procure a firearm, to stories of immigration, discrimination and second-generation Arab Americans returning to their homeland.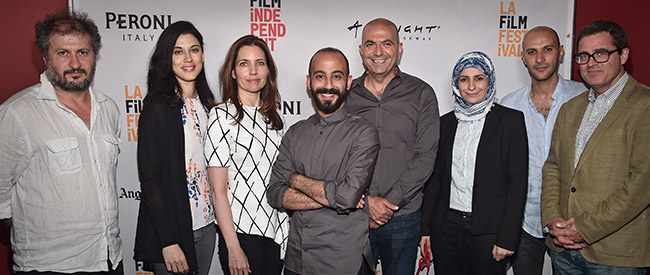 Welsh asked if the filmmakers have a global audience in mind when creating their stories as opposed to making the local market their primary aim.
"I think all the time about that," said Diab. "I'm a very analytical person. I tried to see which movies crossed over. When I'm writing, I'm thinking would this appeal to everyone in the world? Universal themes are the most important."
Dabis said she was drawn to directing after becoming frustrated at the near total lack of representation of Middle Easterners in the Hollywood movies she saw as a second-generation Arab-American growing up in suburban Ohio. "I was really thinking about a Western audience," she said. "I saw myself as a bridge."
"I'm mostly focused on Turkey," said Karabey. "I started in cinema to tell my own stories. I was lucky with my first feature to go to many film festivals and have people say [to me] you're telling my story, whether it's Japan or Denmark. If you believe the character, you become that character."
Asma, who works primarily in nonfiction, replied, "Usually I leave things to happen in front of me. Usually I'm just the observer," adding, "I like to tell stories with a universal theme."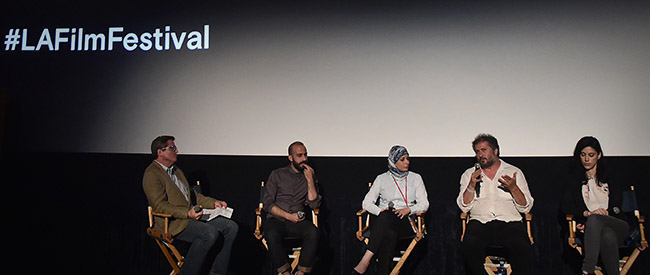 Welsh asked Abu-Assad, Oscar-nominated for the suicide-bomber drama Paradise Now, what his experience in Hollywood was like following the success of the 2005 film.
"I was exactly like Barton Fink," laughed Abu-Assad, who after many fruitless meetings and wasted months in Los Angeles eventually said, "This is going nowhere, I have to do something I really care about." The result was 2013's critically acclaimed Omar.
Finally, Welsh broached the topic of politics, to which Assad quickly replied, "The moment you do a personal movie, it's immediately politics."
Before opening the floor to audience Q&A, Welsh asked the Global Media Makers filmmakers what they'd like to see from their American program partners during the 2017 leg of the program, which will see Film Independent staffers and mentors visiting the Fellows in their home countries. Answers ranged from the specific (a request to translate more filmmaker resources into Arabic) to more abstract (a request to help continue to steer audiences towards quality filmmaking and mature storytelling). But regardless of the request, at least one thing was clear: a dialogue had been opened.
For more about the 2016 Global Media Makers program and the Fellows, please visit the program page on our website. For more information about Film Independent programs and Artist Development resources, click here.
---
This year's 2016 LA Film Festival is currently happening at the ArcLight Cinemas in Culver City as additional venues citywide through June 9. Buy your tickets to all of our great screenings and special events today. Click here for more information.
To see our full lineup and Festival Guide, please visit our website, stay tuned to this blog and subscribe to our YouTube channel. Learn how to become a Member of Film Independent by clicking here.