The Implied Conversation: Authenticity in Woody Allen's 'Café Society'
The Implied Conversation is our regular feature about the intersection of movies and philosophy. Like all art, film gives us an opportunity to remove ourselves from immediate circumstances and assess the world we inhabit. Each month, Jeremy Philip Galen watches a recent indie release to determine its role in this ongoing dialogue.
***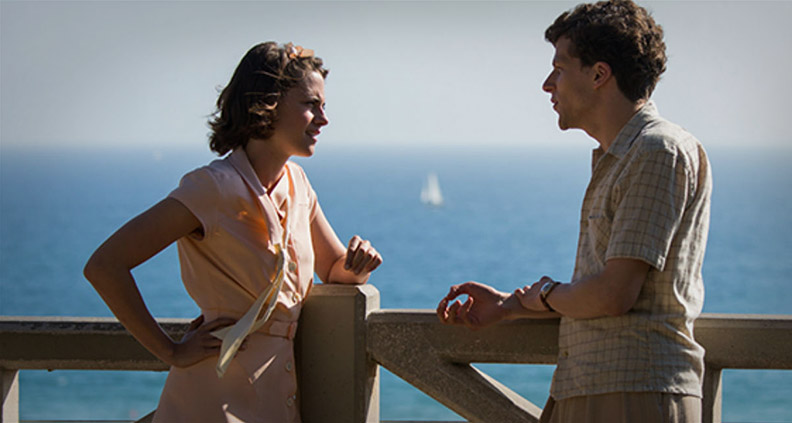 CAFÉ SOCIETY
A period piece set in the 1930s, Woody Allen's latest effort seems to be a very 20th century movie. The episodic narrative follows main character Bobby Dorfman (Jesse Eisenberg), the youngest son of a New York City jeweler, on a cross-country odyssey from Brooklyn to glamorous Hollywood, where he lands a job working for his uncle Phil (Steve Carrell), a powerful talent agent, and befriends Uncle Phil's secretary "Vonnie" (Kristen Stewart).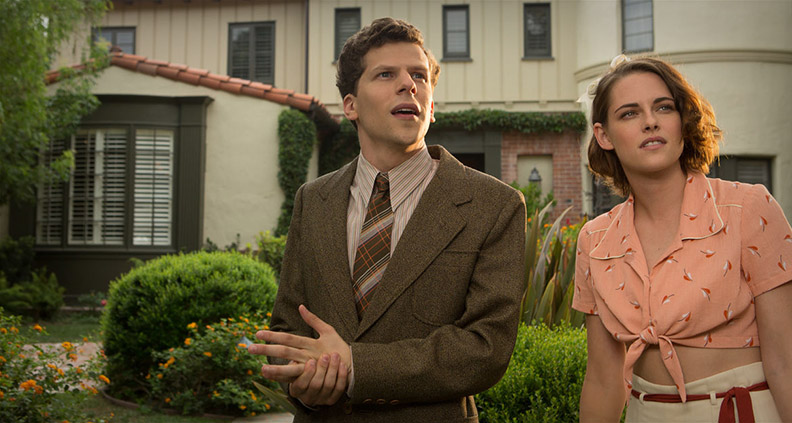 A Philosophical Analysis
As mentioned, Café Society seems like a very 20th century film. Bobby is preoccupied with simplistic notions of "success" while foil and love interest Vonnie can only imagine extricating herself from secretarial work through marriage to a wealthy man. However, what these characters discover about unrealistic self-fashioning—the rude disparity between fantasy and reality, the perils of inauthenticity—poses transcendent questions and offers a timeless admonition.
Bobby falls for Vonnie at an inopportune time: he's at the start of his naive, cartoonish stab at a career in Hollywood and she's already disillusioned by celebrity, ostentatious wealth and superficiality. Though Bobby is attracted to Vonnie's sincerity, his own self-delusional commitments (absconding with her to a happy life in Greenwich Village) reduce his appeal for her at the time of her critical choice.
Thus the film explores not just authenticity's relationship to happiness, but also the paradox of authenticity's relationship to choice. From one way of looking at it, being "authentic" cannot be a choice at all: being you has to be what comes naturally to you—it comes from doing you without artifice, so it can't really be something you actively choose. But from another angle, "authenticity" is a choice par excellence, since what else is it but the aggregate of all the small choices and preference constitutive of your being? Love, of course, brings this paradox acutely into view. Whom we love—as Bobby and Vonnie grapple with throughout the film—feels at once beyond our control and always already a choice we can simply make when we wish.
Authenticity isn't exactly new theme among the past dozen or so Allen films, many of which explore trade-offs between happiness and financial security or bold choices and their unforeseen consequences. But one of Café Society's main contributions to the exploration of these themes is how well it depicts inauthenticity. For example: Bobby's entire family struggles with what it means to be both Jewish and American (the source of the film's best comedy) and the results of the family's efforts to be "American" are parodic imitations of perceived archetypes, such as "the gangster" (Bobby's brother, Ben) and "the intellectual" (Bobby's brother-in-law, Leonard).
So if bad faith and inauthenticity condemns people to misery and dissatisfaction, what can save us? Woody Allen has been posing various versions of this question his entire life. He himself indulges in nostalgia with remarkable zeal. But he's tireless in reminding us that we are our own best saboteurs, and that fantasy is the fastest route to remorse. As Bobby says toward the end of the film, "Dreams are not reality."
---
To learn more about Film Independent, subscribe to our YouTube channel or follow us on Twitter and Facebook. You can catch up with the rest of our blog here. To learn how to become a Member of Film Independent, just click here.