Free Members-Only Screening: Short Documentary Films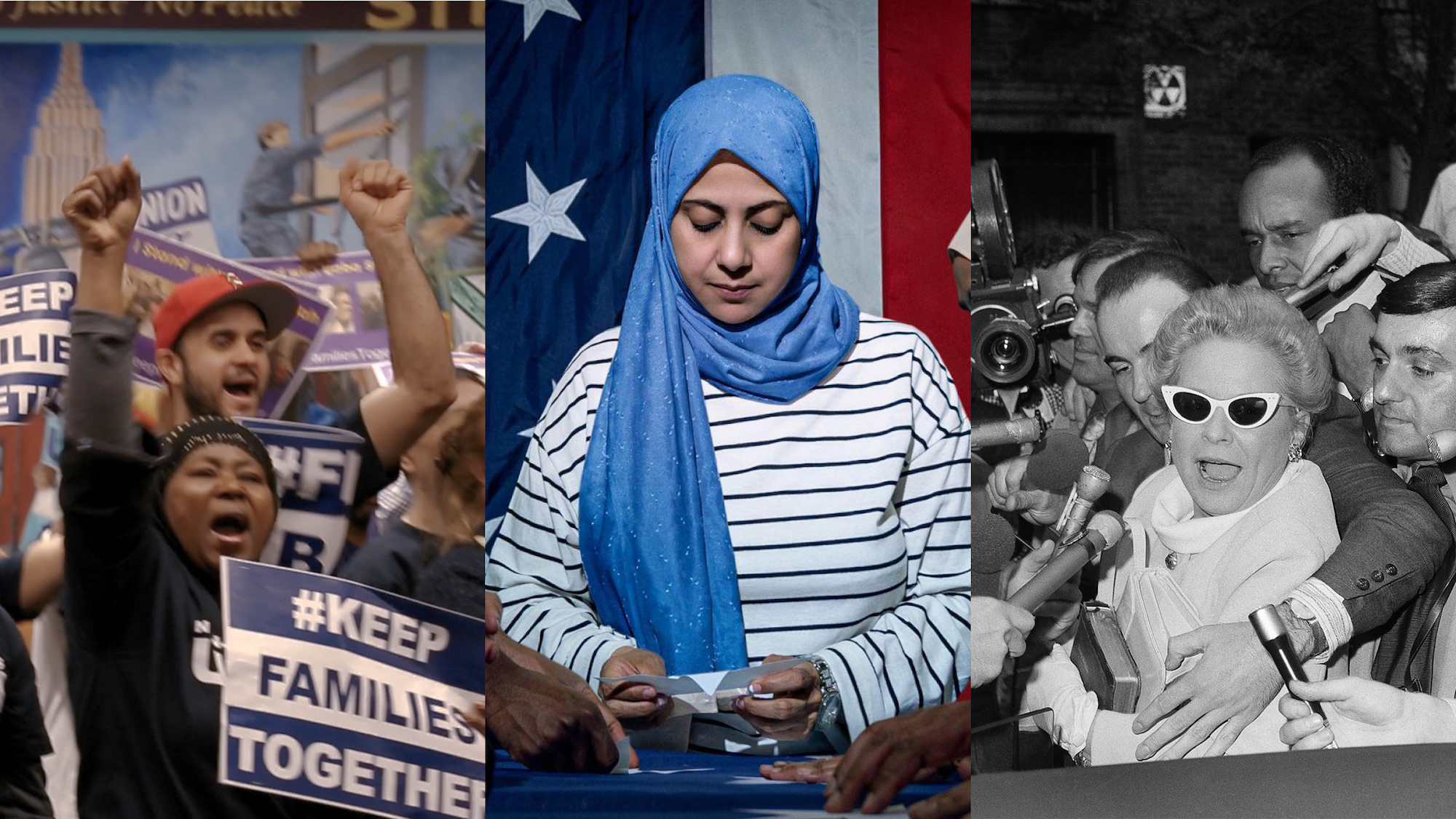 Free Members-Only Screening: Short Documentary Films
Please note…
This online screening has reached its registration capacity*.
* Except Arts Circle and Film Lover Members – see 'Registration Information' below.
Film Independent Members, you and a guest are invited to watch three short documentary films in our Film Independent Presents Online Screening Room, powered by Vision Media. A special pre-recorded conversation with the directors of The Flagmakers, Cynthia Wade and Sharon Liese; the director and editor of The Martha Mitchell Effect, Anne Alvergue with co-director Debra McClutchy; and the directors of Guerrilla Habeas, Betsy Hershey and Emma Wall, moderated by Jenn Wilson (Senior Programmer, Film Independent), is included as part of this screening experience.

The Flagmakers
From National Geographic Documentary Films, Academy Award-winning director Cynthia Wade, award-winning director Sharon Liese and executive producer Giannis Antetokounmpo, The Flagmakers poses one of today's most pressing questions: who is the American flag for?
Employee-owned Eder Flag in Oak Creek, Wisconsin, sews and ships five million American flags a year. The flagmakers — locals, immigrants and refugees — stitch stars and stripes as they wrestle with identity and belonging. Sewing manager Radica, a Serbian immigrant, believes every flag has a soul. Ali, a war survivor from Iraq, is learning how to use a sewing machine after arriving in the United States just 90 days prior. Midwestern-born Barb's genuine friendships with her immigrant co-workers belie her staunchly conservative beliefs. SugarRay, a Black man born and raised in Milwaukee, reflects on his complicated relationship with this country. Each considers: What does the American flag represent in a changing nation and world, and for whom?

2022, 35 minutes, color | Directed by Cynthia Wade and Sharon Liese | Produced by Cynthia Wade and Sharon Liese | Executive Produced by Carolyn Bernstein, Ryan Harrington, Giannis Antetokounmpo, Mark Gordon, Ben Forkner, Pamela Ryckman, Sylvia Golden, Jenna Segal, Jayne Sherman, Deborah C. van Eck | Edited by Hillary Bachelder, Dava Whisenant, ACE

The Martha Mitchell Effect
She was once as famous as Jackie O. – and then she tried to take down a President. The Martha Mitchell Effect is an archival documentary portrait of the unlikeliest of whistleblowers: Martha Mitchell, a Republican cabinet wife who was gaslighted by the Nixon Administration to keep her quiet. It offers a female gaze on Watergate through the voice of the woman herself.

2022, 40 minutes, color | Directed by Anne Alvergue | Co-Directed by Debra McClutchy | Produced by Beth Levison and Judith Mizrachy | Edited by Anne Alvergue

Guerrilla Habeas
Guerrilla Habeas provides an intimate view into the work of two intrepid lawyers fighting to restore human rights and dignity of immigrant populations in the United States. As deportations in the dead of night and violations of civil liberties tear families apart, this searing documentary lays bare the shortage of legal representation for immigrants desperately attempting to navigate a complicated, overburdened and broken system. Filmmakers Emma Wall and Betsy Hershey document the real-life experiences of Baba Sillah, Kinimo Ngoran and Nirna Pierre-Paul as lawyers Sarah Gillman and Gregory Copeland fight to reunite them with their children and families.

2022, 40 minutes, color | Directed by Betsy Hershey and Emma Wall | Produced by Betsy Hershey and Emma Wall | Executive Produced by Rashida Jones, Amanda Spain, Ian Orefice, Loren Hammonds, Alexa Conway, Elizabeth Waller, Sanaz Yamin, Trevor Noah, MIchael Sugar, Ashley Zalta, David Hillman, Norman Aladjem, Derek Van Pelt | Co-Executive Produced by Ashley Dizon

Registration Information
All Film Independent Members can register for this online screening starting at 4:00 pm on Wednesday, November 9. | Registration is free; one registration per Membership. | Proof of Member status is required to complete registration.
Arts Circle and Film Lover Members are guaranteed access to this event; email membership@filmindependent.org for more information.
How to Watch
On the first day of screening availability, registered Members (and guests, when applicable) will be emailed a secure link by our partner Vision Media to watch this title in the Film Independent Presents Online Screening Room.
Online Screening Policies
Availability window and registration capacity may vary; always register as early as possible to ensure access. Links are watermarked, nontransferable and may only be used by the Member who completed the registration. Limit one link per Membership, per event.
Members are required to follow all rules and guidelines as laid out by Film Independent and/or its partners. If a guest has been registered for an event by a Member, these policies shall apply to that guest. Violation of policies may result in suspension or termination of Membership.
Event details and guest participation are subject to change or cancellation without prior notice.