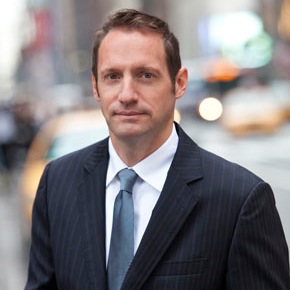 Ed Carroll has built some of the most successful brands in television and has overseen the development of some of television's most successful series, including Mad Men, Breaking Bad, Bridezillas, Inside the Actors Studio and Queer Eye for the Straight Guy. Mr. Carroll was named chief operating officer of Rainbow Entertainment Services in January 2009. In this role, he has operating responsibility for Rainbow Media's national entertainment networks AMC, IFC, Sundance Channel and WE tv.
Under Mr. Carroll's leadership, AMC, a network available to more than 94 million households, has seen its greatest period of viewer gain. Mad Men, AMC's first dramatic original series, made history as the first basic cable series to win the Golden Globe® Award for two consecutive years for Best Television Series – Drama and as the first basic cable series to win the Emmy® Award for Outstanding Drama Series. AMC's other premier original drama series is the Emmy® Award-winning Breaking Bad starring Bryan Cranston, which also won a Peabody Award. In 2006, AMC premiered its first original mini-series, Broken Trail, starring Robert Duvall. The two-night premiere ratings earned it the distinction as the most watched scripted program in all of cable television in 2006.
Mr. Carroll has overseen IFC since its inception, a network that features original programming alongside a comprehensive independent film library, as well as content inspired by music, web, gaming, animation, news, culture and more. Among the IFC series and documentaries developed under Mr. Carroll's direction are: Dinner for Five with Jon Favreau, Z Channel: A Magnificent Obsession, an official selection of the Cannes Film Festival directed by Xan Cassavetes; and This Film Not Yet Rated, the documentary that has changed the way the MPAA assigns ratings to movies.
In 2008, Rainbow Media acquired Sundance Channel and Mr. Carroll added oversight of the network to his responsibilities. Harnessing Rainbow Media's resources, Mr. Carroll is working to strategically position Sundance Channel for continued growth both domestically and abroad.  Under Mr. Carroll's direction, WE tv has become one of the fastest growing networks for women, with an increased focus on original programming such as Bridezillas, a comedic look at how brides-to-be go from sweet to certifiable while planning their big day; and The Locator, featuring Troy Dunn, who has spent the past 15 years searching for and successfully locating thousands of missing people.
Previously, Mr. Carroll served as president of Rainbow Entertainment Services for four years. Before that, he served for seven years as general manager of IFC and Bravo, until the latter was sold to NBC in 2002. During that time, Mr. Carroll successfully transformed Bravo from a small pay channel to a commercial network available to more than 68 million subscribers and oversaw the development of breakout series such as the Emmy® nominated Inside the Actors Studio and Queer Eye for the Straight Guy.
Mr. Carroll was honored with the Vanguard Award for Young Leadership by the National Cable & Telecommunications Association (NCTA) in 2002. He has been on the CableFAX 100 list for a number of years and most recently was ranked 38. Mr. Carroll is a member of the Cable Advertising Bureau (CAB) and the Cable & Telecommunications Association for Marketing (CTAM). He holds a Bachelor of Arts degree in Communication and Political Science from the State University of New York at New Paltz. He recently coached his son's little league team to a .500 record.