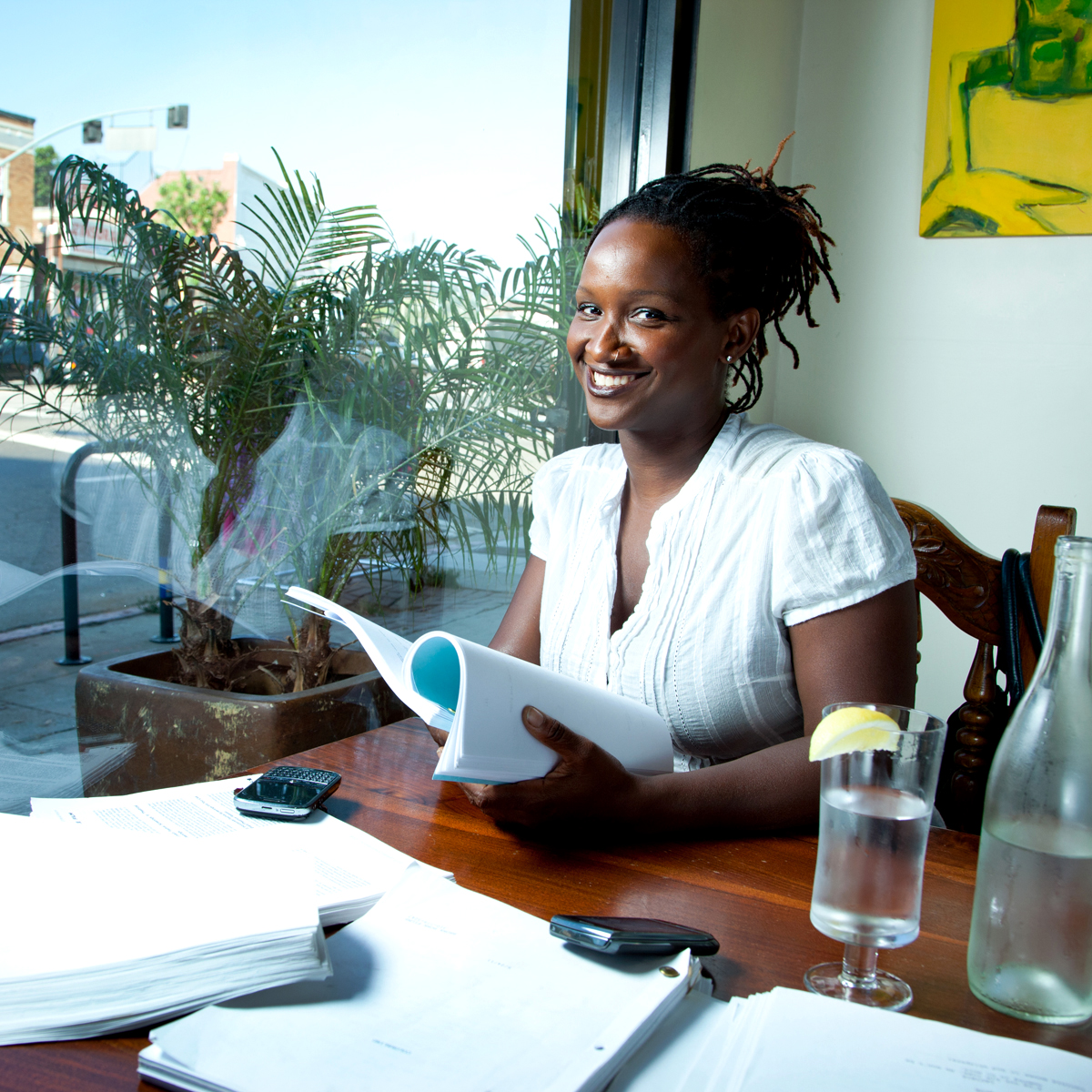 Secretary
Los Angeles-based producer Effie T. Brown received a degree in Film Production and Theater from Loyola Marymount University before going on to participate in Film Independent's Project Involve, an intensive fellowship program for people who are seeking a career in the film industry. There she received an invaluable introduction to the film industry and quickly worked her way up through the ranks to become the Director of Development for Tim Burton Productions in 1995.
Eager to try her hand at producing, she landed several assignments as a line producer on feature films including Desert Blue (1998), But I'm a Cheerleader (1999) and Things You Can Tell Just By Looking at Her (2000), starring Glenn Close, Cameron Diaz and Holly Hunter. Brown would soon take on the role of producer on critically acclaimed, award-winning feature projects from HBO Films, including Stranger Inside (directed by Cheryl Dunne, 2001, World Premiere at Sundance Film Festival), Real Women Have Curves (directed by Patricia Cardosa, 2002, winner of Sundance Film Festival's Audience Award and Special Jury Prize for Ensemble Performance) and Everyday People (directed by Jim McKay, 2004). She also executive produced, in association with Sony Screen Gems and Pathe International, In The Cut (directed by Jane Campion, 2003). Effie's next film, Rocket Science, won the 2007 Sundance Grand Jury Prize for Directing and collected nominations for Best First Feature, Best Screenplay and Best Actress at the Film Independent Spirit Awards. The Inheritance, starring Golden Brooks, won Best Actress at the 2010 American Black Film Festival.
Embraced by industry peers, Brown received the Motorola Producer Award at the 2003 Film Independent Spirit Awards. In 2007, she received the Small Business Award from Black Enterprise magazine. Sundance Film Festival, Urbanworld, Atlanta Film Festival and Denver Film Festival are just a few of the prestigious film festivals that have asked her to be a member of their juries.
When most Producers were shuttering their doors due to the recession, Brown used all her organizational and managerial prowess to mount her two latest projects. Using her line producing skills, she reconfigured the budgets and adjusted production schedules and post production plans so that the creative vision and financial limitations were in accord. From there, she raised financing for not one but two feature films. The results were Polish Bar and The Inheritance; both released in the past two years. As stated in Variety, Effie T. Brown "is a case study of what it takes to get independent films off the ground in today's marketplace: large doses of private equity, some location incentives and a little help from fests and script labs…"
From 2011 to January 2013, Brown re-teamed with the award winning producing/directing team of Jon Avnet and Rodrigo Garcia to produce Wigs, a brand new original content channel for Google/YouTube. The channel features multiple original series showcasing A-list talent both in front of and behind the camera, presents stories centered around the ever-complex lives of women and blazed the trail for scripted content released directly online.
During the summer of 2013, Effie Brown, under her company Duly Noted Inc., produced the feature film Dear White People. The film was accepted to the Dramatic Competition category in the 2014 Sundance Film Festival and won the Special Jury Prize for Breakthrough Talent. Dear White People was released theatrically in the fall of 2014 and won Best First Screenplay at the 2015 Film Independent Spirit Awards.