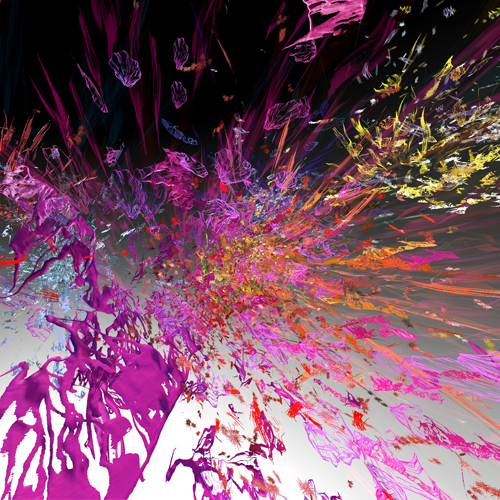 Directed by Nancy Baker Cahill
The Revolutions AR drawing/experience was originally located at the Palm Springs wind farm as a monolithic, AI "garden" which was "planted" to help harness energy from the natural wind corridor of the valley. While clean energy is far preferable to fossil fuels, the wind farm underscores the inescapable human effects on the land. The turbines remind us of the degree to which we have crossed a rubicon for what we have done and will continue to do to the desert landscape in order to mitigate ongoing damage there and elsewhere.
Inspired by richly chromatic natural desert blooms, a series of animated "blossoms" rise above the turbines. Over the course of roughly two minutes, they expand and shatter as if they had just been plucked, thrown up into the air and buffeted against the sky.
Revolutions asks viewers to imagine the fate of desert life and lives when (often sacred) land is razed in the interest of development. Some particulate fragments of the exploding blooms gesture southeast toward the Salton Sea, as if to call or respond to its AR partner hovering above the polluted water. As the blossoms float and dissipate, they nod to airborne pollutants in the valley. These AR blossoms churn at their own pace in conversation with – but also in subtle defiance of – their revolving, man-made relatives below.
Please note: To experience this piece, you must download the 4th Wall app; a free, augmented reality (AR) public art platform at 4thwallapp.org or via the App Store. The app is available for iPhones and iPads with iOS 11 or higher and Android devices with AR Core. The app must be downloaded using WiFi in advance of viewing the geo-located AR.