34th Film Independent Spirit Awards Nominations Announced
FOR IMMEDIATE RELEASE:
Contact: Melanie Bates, Film Independent
Tel: 323.556.9338 or mbates@filmindependent.org

Chris Libby, Ginsberg/Libby
Tel: 323.645.6800 or chris.libby@ginsberglibby.com

34TH FILM INDEPENDENT SPIRIT AWARDS NOMINATIONS ANNOUNCED
Broadcast Live Exclusively on IFC
Saturday, February 23, 2019 at 2:00 pm PT / 5:00 pm ET
AT&T returns as Premier Sponsor,
joining American Airlines, IFC and Subaru
LOS ANGELES (November 16, 2018) – This morning, Film Independent announced the nominations for the 2019 Film Independent Spirit Awards. The Spirit Awards are the primary fundraiser for Film Independent's year-round programs, which cultivate the careers of emerging filmmakers and promote diversity in the industry. Film Independent President Josh Welsh presided over the press conference held at the W Hotel in Hollywood, with actors Gemma Chan and Molly Shannon presenting the nominations. Nominees for Best Feature included Eighth Grade, First Reformed, If Beale Street Could Talk, Leave No Trace and You Were Never Really Here.

"This year's nominees reflect the bold originality that is the heart of independent film," said Film Independent President Josh Welsh. "At a time when huge tent-pole franchises threaten to dominate our film culture, this year's films and filmmakers offer something completely different – something vital, uncompromising, and needed. The nominees also show that, when it comes to diversity and inclusion, independent film is leading the way for the rest of the industry."

Suspiria was selected to receive the Robert Altman Award, which is bestowed upon one film's director, casting director and ensemble cast. The Altman Award was created in 2008 in honor of legendary director Robert Altman who was known for creating extraordinary ensemble casts.

Winners, who are selected by Film Independent Members, will be announced at the Spirit Awards on Saturday, February 23, 2019. The awards ceremony will be held on the beach in Santa Monica, just north of the Santa Monica Pier. The show will broadcast live exclusively on IFC at 2:00 pm PT/ 5:00 pm ET.

The Spirit Awards Nominating Committees selected nominees from over 400 submissions this year and applied the following guidelines in determining the nominations: uniqueness of vision, original and provocative subject matter, economy of means (with particular attention paid to total production cost and individual compensation) and percentage of financing from independent sources. The Spirit Awards Nominating Committees are comprised of writers, directors, producers, cinematographers, editors, actors, critics, casting directors, film festival programmers and other working film professionals.

Winners of the Spirit Awards Filmmaker Grants will be announced at the Film Independent Spirit Awards Filmmaker Grant and Nominee Brunch on Saturday, January 5, 2019.

Film Independent is proud to announce the return of our collaboration with AT&T, who joins once again as Premier Sponsor and Official Wireless & Video Services Partner. American Airlines joins for the fifth year and returns to fund the Bonnie Award, recognizing a mid-career female director with a $50,000 unrestricted grant. And we welcome this year's Official Automotive Partner, Subaru of America.

For sponsorship opportunities, please contact Albina Oks, Director of Corporate Sponsorship, aoks@filmindependent.org.

To learn more about attending the Spirit Awards and supporting Film Independent please contact Jennifer Murby, Associate Director of Institutional Giving, jmurby@filmindependent.org.

For more information on submission guidelines, voting, the history of the Spirit Awards and more, please visit spiritawards.com.

Media Credential Applications:
Want to vote?
Film Independent Members vote to determine the winners at the Spirit Awards. Members can attend free Nominee Screening Series in Los Angeles, receive DVD screeners of select nominees by mail and digital screeners online. Members must be current by December 6, 2018 to receive full voting benefits.

Join today at filmindependent.org/join.


2019 FILM INDEPENDENT SPIRIT AWARD NOMINATIONS

BEST FEATURE (Award given to the producer. Executive Producers are not awarded.)

Eighth Grade
Producers: Eli Bush, Scott Rudin, Christopher Storer, Lila Yacoub

First Reformed
Producers: Jack Binder, Greg Clark, Gary Hamilton, Victoria Hill, David Hinojosa, Frank Murray, Deepak Sikka, Christine Vachon

If Beale Street Could Talk
Producers: Dede Gardner, Barry Jenkins, Jeremy Kleiner, Sara Murphy, Adele Romanski

Leave No Trace
Producers: Anne Harrison, Linda Reisman, Anne Rosellini

You Were Never Really Here
Producers: Rosa Attab, Pascal Caucheteux, Rebecca O'Brien, Lynne Ramsay, James Wilson


BEST FIRST FEATURE (Award given to the director and producer)

Hereditary
Director: Ari Aster
Producers: Kevin Frakes, Lars Knudsen, Buddy Patrick

Sorry to Bother You
Director: Boots Riley
Producers: Nina Yang Bongiovi, Jonathan Duffy, Charles D. King, George Rush, Forest Whitaker, Kelly Williams

The Tale
Director/Producer: Jennifer Fox
Producers: Oren Moverman, Laura Rister, Mynette Louie, Simone Pero, Lawrence Inglee, Sol Bondy, Regina K. Scully, Lynda Weinman, Reka Posta

We the Animals
Director: Jeremiah Zagar
Producers: Andrew Goldman, Christina D. King, Paul Mezey, Jeremy Yaches

Wildlife
Director/Producer: Paul Dano
Producers: Andrew Duncan, Jake Gyllenhaal, Riva Marker, Oren Moverman, Ann Ruark, Alex Saks


JOHN CASSAVETES AWARD – Given to the best feature made for under $500,000 (Award given to the writer, director and producer. Executive Producers are not awarded.)

A Bread Factory
Writer/Director/Producer: Patrick Wang
Producers: Daryl Freimark, Matt Miller

En el Séptimo Día
Writer/Director/Producer: Jim McKay
Producers: Alex Bach, Lindsey Cordero, Caroline Kaplan, Michael Stipe

Never Goin' Back
Writer/Director: Augustine Frizzell
Producers: Liz Cardenas, Toby Halbrooks, James M. Johnston

Sócrates
Writer/Director/Producer: Alex Moratto
Writer: Thayná Mantesso
Producers: Ramin Bahrani, Jefferson Paulino, Tammy Weiss

Thunder Road
Writer/Director: Jim Cummings
Producers: Natalie Metzger, Zack Parker, Benjamin Weissner


BEST DIRECTOR

Debra Granik
Leave No Trace

Barry Jenkins
If Beale Street Could Talk

Tamara Jenkins
Private Life

Lynne Ramsay
You Were Never Really Here

Paul Schrader
First Reformed


BEST SCREENPLAY

Richard Glatzer (Writer/Story By), Rebecca Lenkiewicz & Wash Westmoreland
Colette

Nicole Holofcener and Jeff Whitty
Can You Ever Forgive Me?

Tamara Jenkins
Private Life

Boots Riley
Sorry to Bother You

Paul Schrader
First Reformed


BEST FIRST SCREENPLAY

Bo Burnham
Eighth Grade

Christina Choe
Nancy

Cory Finley
Thoroughbreds

Jennifer Fox
The Tale

Quinn Shephard (Writer/Story By), Laurie Shephard (Story By)
Blame


BEST CINEMATOGRAPHY

Ashley Connor
Madeline's Madeline

Diego Garcia
Wildlife

Benjamin Loeb
Mandy

Sayombhu Mukdeeprom
Suspiria

Zak Mulligan
We the Animals


BEST EDITING

Joe Bini
You Were Never Really Here

Keiko Deguchi, Brian A. Kates, Jeremiah Zagar
We the Animals

Luke Dunkley, Nick Fenton, Chris Gill, Julian Hart
American Animals

Anne Fabini, Alex Hall, Gary Levy
The Tale

Nick Houy
Mid90s


BEST FEMALE LEAD

Glenn Close
The Wife

Toni Collette
Hereditary

Elsie Fisher
Eighth Grade

Regina Hall
Support the Girls

Helena Howard
Madeline's Madeline

Carey Mulligan
Wildlife


BEST MALE LEAD

John Cho
Searching

Daveed Diggs
Blindspotting

Ethan Hawke
First Reformed

Christian Malheiros
Sócrates

Joaquin Phoenix
You Were Never Really Here


BEST SUPPORTING FEMALE

Kayli Carter
Private Life

Tyne Daly
A Bread Factory

Regina King
If Beale Street Could Talk

Thomasin Harcourt McKenzie
Leave No Trace

J. Smith-Cameron
Nancy


BEST SUPPORTING MALE

Raúl Castillo
We the Animals

Adam Driver
BLACKkKLANSMAN

Richard E. Grant
Can You Ever Forgive Me?

Josh Hamilton
Eighth Grade

John David Washington
Monsters and Men


ROBERT ALTMAN AWARD – Given to one film's director, casting director and ensemble cast

Suspiria
Director: Luca Guadagnino
Casting Directors: Avy Kaufman, Stella Savino
Ensemble Cast: Malgosia Bela, Ingrid Caven, Lutz Ebersdorf, Elena Fouina, Mia Goth, Jessica Harper, Dakota Johnson, Gala Moody, Chloë Grace Moretz, Fabrizia Sacchi, Renée Soutendijk, Tilda Swinton, Sylvie Testud, Angela Winkler


BEST DOCUMENTARY (Award given to the director and producer)

Hale County This Morning, This Evening
Director/Producer: RaMell Ross
Producers: Joslyn Barnes, Su Kim

Minding the Gap
Director/Producer: Bing Liu
Producer: Diane Quon

Of Fathers and Sons
Director: Talal Derki
Producers: Hans Robert Eisenhauer, Ansgar Frerich, Eva Kemme, Tobias N. Siebert

On Her Shoulders
Director: Alexandria Bombach
Producers: Hayley Pappas, Brock Williams

Shirkers
Director/Producer: Sandi Tan
Producers: Jessica Levin, Maya E. Rudolph

Won't You Be My Neighbor?
Director/Producer: Morgan Neville
Producers: Caryn Capotosto, Nicholas Ma


BEST INTERNATIONAL FILM (Award given to the director)

Burning
South Korea
Director: Lee Chang-Dong

The Favourite
United Kingdom
Director: Yorgos Lanthimos

Happy as Lazzaro
Italy
Director: Alice Rohrwacher

Roma
Mexico
Director: Alfonso Cuarón

Shoplifters
Japan
Director: Kore-eda Hirokazu


BONNIE AWARD – Bonnie Tiburzi Caputo joined American Airlines in 1973 at age 24, becoming the first female pilot to fly for a major U.S. airline. In her honor, the second Bonnie Award will recognize a mid-career female director with a $50,000 unrestricted grant, sponsored by American Airlines.

Debra Granik

Tamara Jenkins

Karyn Kusama


PRODUCERS AWARD – The 22nd annual Producers Award honors emerging producers who, despite highly limited resources, demonstrate the creativity, tenacity and vision required to produce quality, independent films. The award includes a $25,000 unrestricted grant.

Jonathan Duffy and Kelly Williams

Gabrielle Nadig

Shrihari Sathe


SOMEONE TO WATCH AWARD – The 25th annual Someone to Watch Award recognizes a talented filmmaker of singular vision who has not yet received appropriate recognition. The award includes a $25,000 unrestricted grant.

Alex Moratto
Director of Sócrates

Ioana Uricaru
Director of Lemonade

Jeremiah Zagar
Director of We the Animals


TRUER THAN FICTION AWARD – The 24th annual Truer Than Fiction Award is presented to an emerging director of non-fiction features who has not yet received significant recognition. The award includes a $25,000 unrestricted grant.

Alexandria Bombach
Director of On Her Shoulders

Bing Liu
Director of Minding the Gap

RaMell Ross
Director of Hale County This Morning, This Evening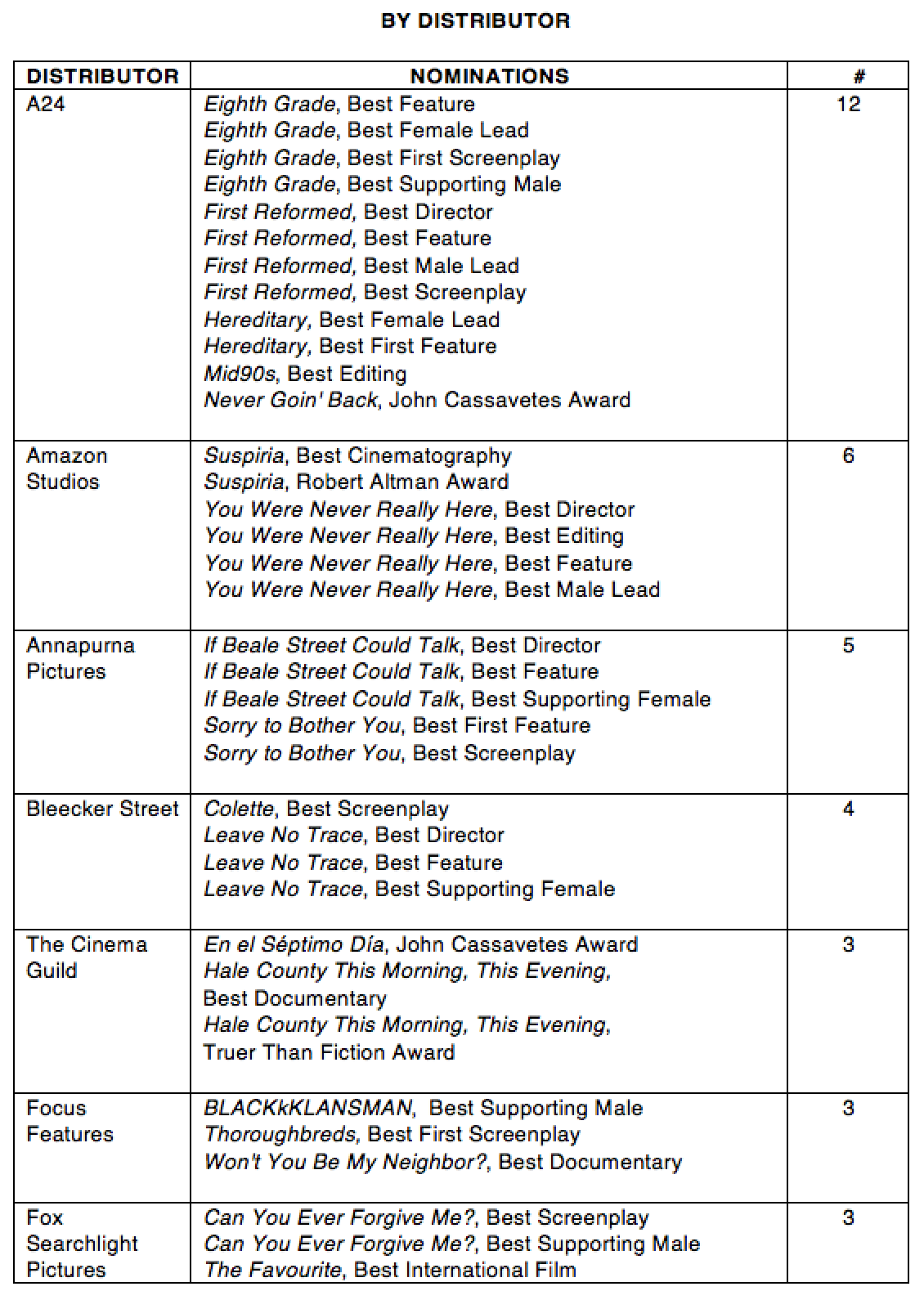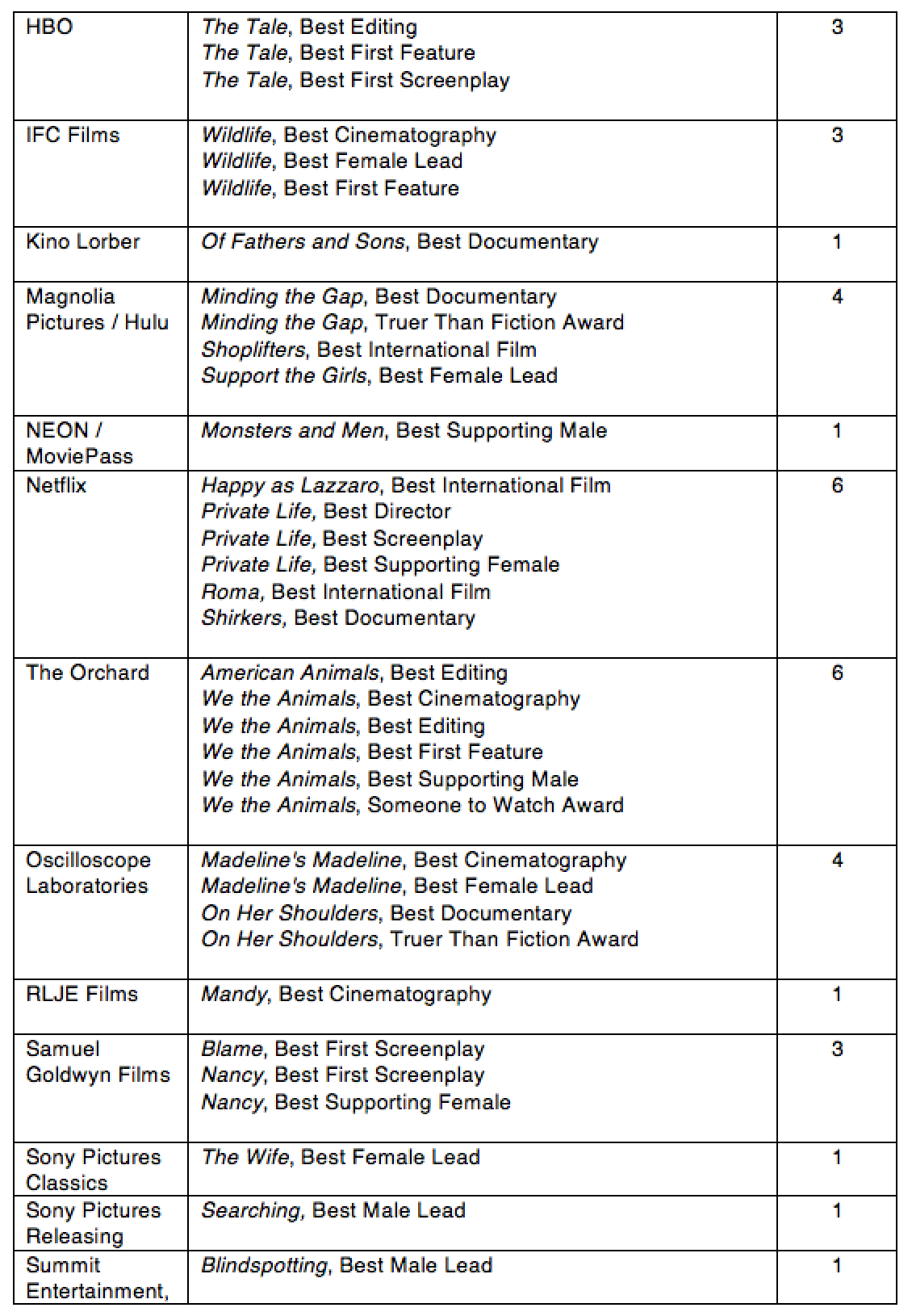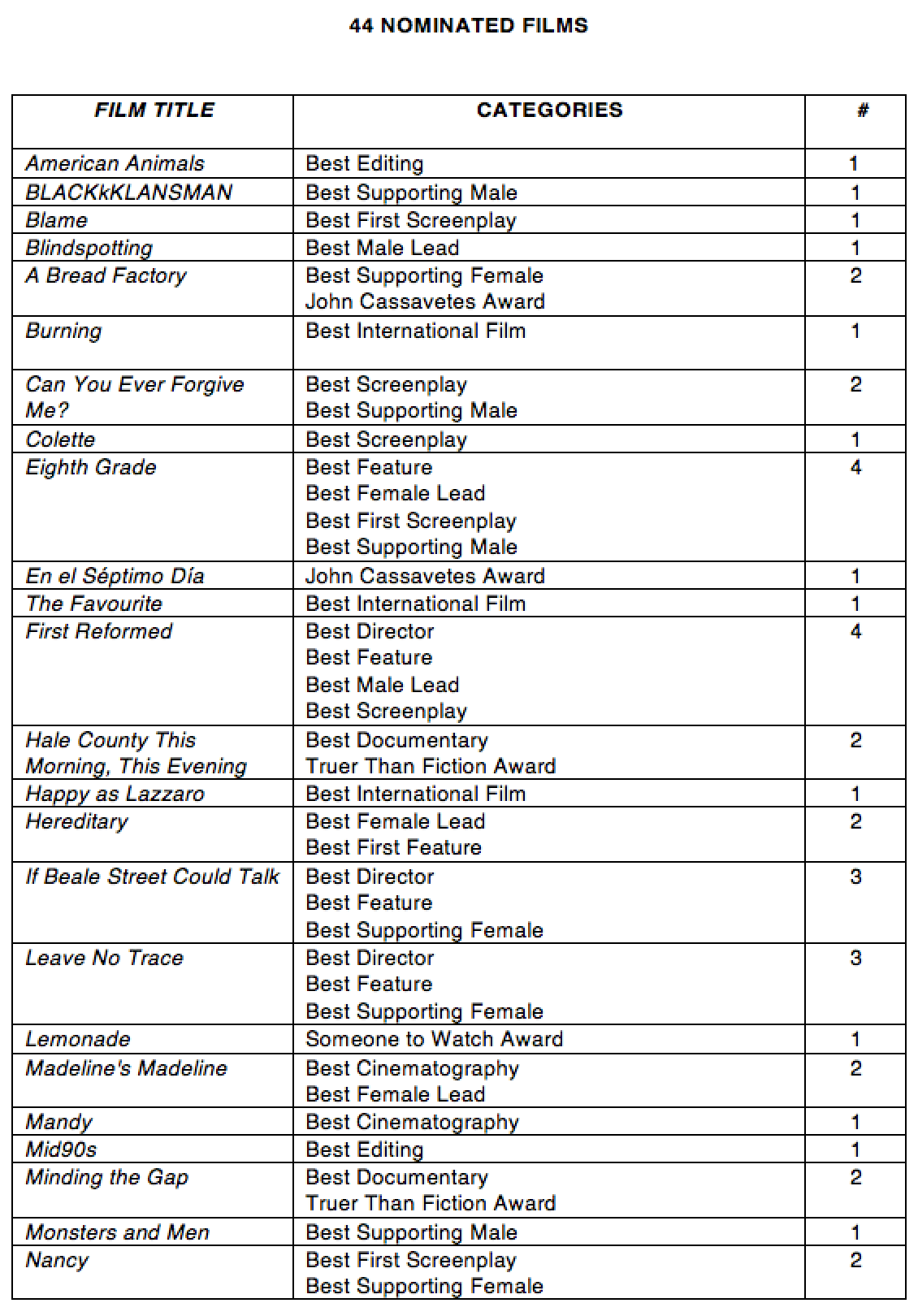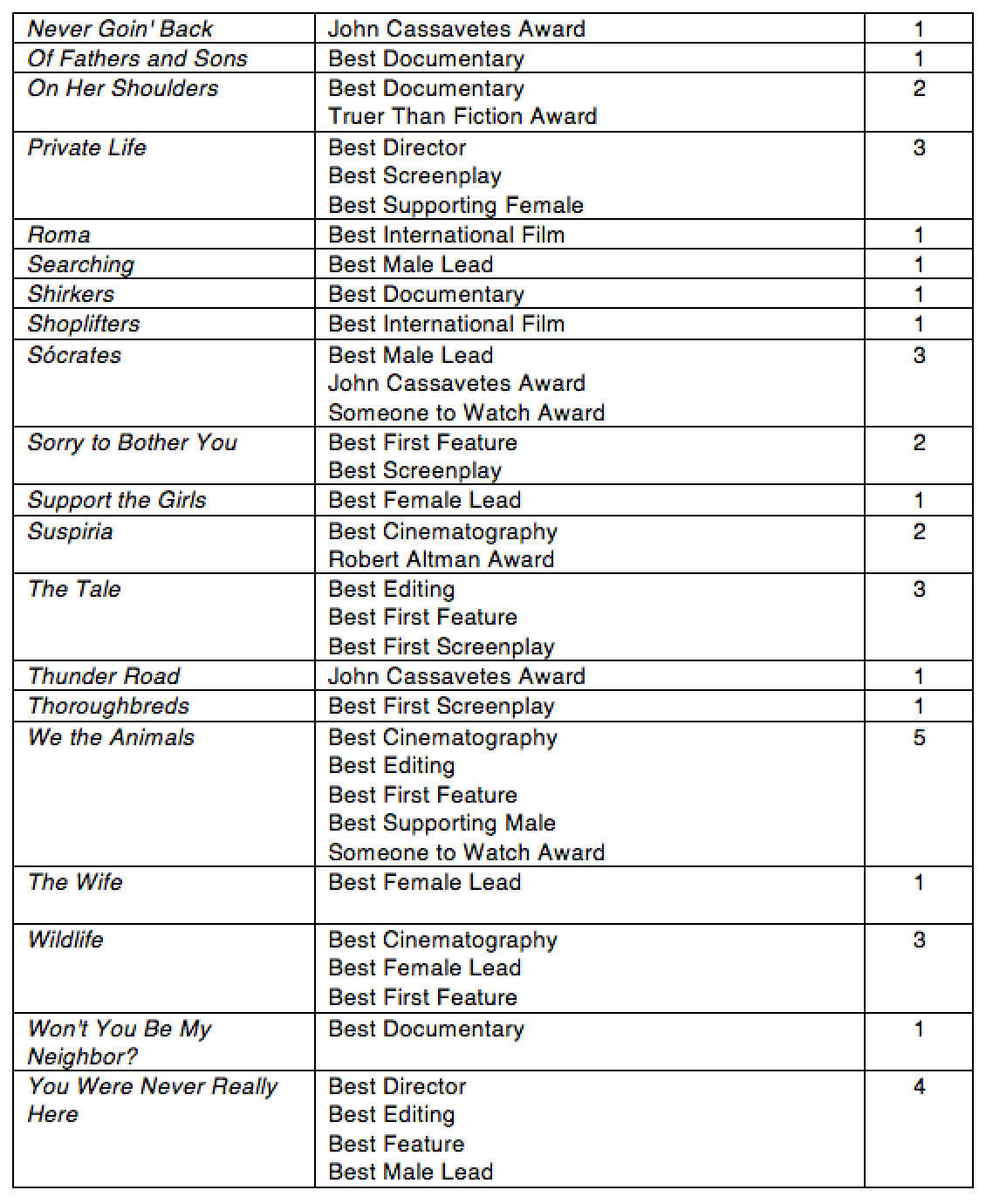 ABOUT THE FILM INDEPENDENT SPIRIT AWARDS
Now in its 34th year, the Film Independent Spirit Awards is an annual celebration honoring artist-driven films made with an economy of means by filmmakers whose films embody independence and originality. The Spirit Awards recognizes the achievements of American independent filmmakers and promotes the finest independent films of the year to a wider audience.

The Film Independent Spirit Awards are sponsored by Premier Sponsors American Airlines, AT&T, IFC and Subaru of America. FIJI Water is the Official Water. Getty Images is the Official Photographer. TOWN & COUNTRY EVENT RENTALS is the Exclusive Rental Company.

ABOUT FILM INDEPENDENT
Film Independent is the nonprofit arts organization that champions creative independence in visual storytelling and supports a community of artists who embody diversity, innovation and uniqueness of vision. Film Independent helps filmmakers make their movies, builds an audience for their projects, and works to diversify the film industry. Film Independent's Board of Directors, filmmakers, staff and constituents is comprised of an inclusive community of individuals across ability, age, ethnicity, gender, race and sexual orientation. Anyone passionate about film can become a Member, whether you are a filmmaker, industry professional or a film lover.

In addition to producing the Spirit Awards, Film Independent produces Film Independent Presents, a year-round screening series for its members that offers unique cinematic experiences for the Los Angeles creative community and the general public.

Through annual screenings and events, Film Independent provides access to a network of like-minded artists who are driving creativity in the film industry. Film Independent's Artist Development program offers free Labs for selected writers, directors, producers and documentary filmmakers and presents year-round networking opportunities. Project Involve is Film Independent's signature program dedicated to fostering the careers of talented filmmakers from communities traditionally underrepresented in the film industry.

For more information or to become a Member, visit filmindependent.org.

About IFC
IFC is the home of offbeat, unexpected comedies. Series Brockmire, Stan Against Evil, Baroness von Sketch Show and Documentary Now! air alongside fan-favorite movies and comedic cult TV shows. IFC is owned and operated by AMC Networks Inc., and available across multiple platforms. IFC is Always On, Slightly Off.
###