8:46PM. Harriet Arrives.

When Harriet shows up… it's time.
Project type: Fiction Short
Project status: Production
Writer/Director/Producer: Aimiende Negbenebor Sela
Producer: Ricky Rosario
Executive Producer: Toyi Elizabeth, Liri Asllani
Executive/Creative Producer: Raquel Tresvant
Executive Producer/Actor: Rasheda Abdullah Hairston
Co-Producer/Actor: Lanre Idewu
Associate Producer:James Kautz
Associate Producer/Clearance Coordinator: Alexandra Engelson
1st AD/2nd Unit Director: Marissa Vonn
Director of Photography: Alexxiss Jackson
Second Unit Cinematographer: Stephen St. Peter
Intimacy Coordinator/Cultural Sensitivity Specialist: Joy DeMichelle
Animator: Mee Choe
VFX Specialist: Adhish Yajnik
Editor/Colorist: AJ Francois
Sound Design: Pulsar Studios
Composer: Nadar Cade
BTS Photographer: Andrew Rubin

Email: info@selafilms.com
Website: selafilms.com

Help independent filmmakers tell their stories.
Make a donation to 8:46PM. Harriet Arrives. today.
Film Independent's Fiscal Sponsorship program opens the door to nonprofit funding for independent filmmakers and media artists. Donate today and help bring 8:46PM. Harriet Arrives. to life.
Logline
Shaken by the social unrest in her community, a young girl witnesses a horrific crime outside her window and unwittingly beckons the spirit of Harriet Tubman to help her right some wrongs.
Synopsis
A documentarian, PAUL, sits hard at work editing protests footage. His work companion (who shouldn't watch this stuff) as her mom, KYLA, points out, is ANGELIE, their daughter and descendant of Harriet Tubman.
Angelie is sent off to bed. But, a lover of books, she dives into one instead, "The Story of Harriet Tubman." The sounds of someone being chased and shot at outside her window, interrupts her reading. Her parents race into her bedroom. She's safe. Paul dials 911.
"Don't call the cops, dad." The fear in Angelie's voice, unmistakable.
"This is one of the times when you call the cops, sweetie…" Paul replies as he steps out, speaking with the police, leaving Kyla to probe the mind of her scared baby girl who's growing up too fast.
Angelie promises she isn't scared, and returns to her storybook on Harriet, dream-wishing…"if you were here…" She eventually falls asleep. Aunty Harriet Tubman "arrives." It's 8:46PM.
Singing hymns, Harriet appears in the home of a couple woken by loud bangs on their door. The man grabs a gun. He's startled by Harriet, but there's no time to think. He takes aim. Harriet reaches for his partner, BREONNA TAYLOR. Their hands meet.
Satilla Drive. AHMAUD ARBERY jogs down the street… Singing, Harriet takes his hand.
Billings Street. ELIJAH MCCLAIN. He takes her hand.
GEORGE FLYOD, AMADOU DIALLO, ATATIANA JEFFERSON, TYRE NICHOLS, TYRE KING, LATASHA HARLINS, BOTHAM JEAN, FREDDIE GRAY, RODNEY KING… They all take her hand.
Back in Angelie's room, Kyla finds her sound asleep. She gathers her up, carries her out of the room…
In the dark, quiet, empty room, the storybook fans open to a page with an image of Harriet leading fugitive slaves. Among them are the folks she just met. Together, they march on.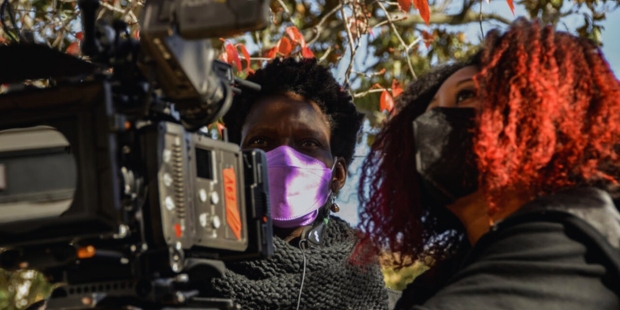 Meet the Filmmakers
Aimiende Negbenebor Sela – Writer/Director/Producer
Aimiende Negbenebor Sela is a writer-director and producer of Nigerian descent, and a Stevens Institute of Technology Distinguished Alumni Award recipient in Arts and Humanities. Her award-winning films have screened at numerous international festivals, and her screenplays have placed in several competitions including Screencraft, Hollyshorts, Austin Film Festival, Cinestory, the top 15% at the Academy Nicholl and the second round at the Sundance Writer's Lab. Films have always helped Aimiende make sense of the world. As a result, her work interrogates the human condition, but with empathy — as she truly believes we all live the same lives, we're just colored differently.
Ricky Rosario – Producer
Dominican-American filmmaker, Ricky Rosario's experience spans across various commercials, films, and music videos. With a dual undergrad degree in Marketing and Finance from Seton Hall University (Class of '11), he is highly budget conscious when it comes to efficient and powerful storytelling. Ricky has worked with brands such as Harry's, Wendy's, Timex & Disney. The latest short film Ricky Executive Produced, Life with CTE: A Warren Sapp Story, is currently screening to rave reviews, at various film festivals across the nation. Ricky is a Producer on the short film, Supa Hair, which premiered through the 2023 LALIFF x Netflix Inclusion Fellowship program. Abuela's Luck, a short film he wrote, produced, and directed, was optioned by HBO Latino and streamed across all HBO platforms for two years. Abuela's Luck was listed as one of Remezcla's Top 10 Short Films by US Latino Directors for 2018. The short film is being developed into a feature film.
Alexxiss Jackson – Director of Photography
A DoP, Camera Operator, and Adjunct Cinematography Professor at Spelman College, Alexxiss Jackson is a member of IATSE Local 600, the Society of Camera Operators, Sporas, and the International Collective of Female Cinematographers. ​ She's served as DoP on narrative films, commercials, branded content, music videos, and more, including work for entities such as Vogue Magazine, Google, BET+/Tyler Perry Studios, MSNBC, and Kroger. She's worked as a Camera Operator on projects for Hulu and Vice News. ​ She holds a dual degree in Film/Video Studies and English from the University of Michigan and completed the Summer Film Program at the USC.
AJ Francois – Editor/Colorist
A graduate of the Art Institute of Dallas for Digital Filmmaking and Video Production, AJ Francois began his career as a freelancer in Dallas, working on weddings, corporate videos, e-sports, and documentaries. Since his move to LA, he's focused his career on post-production, working on several TV and Film projects as an assistant editor and a colorist, including This Is Us, Riverdale, Netflix's Nappily Ever After, Eggs over easy and South-Central Love, OWN's Queen Sugar and most recently Power Book III Raising Kanan. When not honing his craft, he's spending his time with his son, photographing, and traveling the world.
Mee Choe – Animator
Mee Choe is a freelance multimedia artist and animator with six years of experience creating work and collaborating with clients and creative teams on commercials, television projects, informational videos, short stories, and experimental music videos. Mee draws from diverse sources of inspiration and her experience with various mediums and styles to create unique visuals and desired effects. She has a curious nature, which has led her to acquiring many hobbies such as sewing puppets and costumes to sculpting and stop motion animation. She's interested in everything, so she's tried just about everything!
Adhish Yajnik – VFX Specialist
Born in India, Adhish Yajnik is a Los Angeles based visual effects artist who grew up in Sonoma County, California, and graduated from the USC School of Cinematic Arts in 2012 with a B.A. in Film Production. He's been making films and creating visual effects since the days of 3DS Max 6 and Adobe Creative Suite 2 so he's comfortable applying his skills to any 2D or 3D visual effects package around. Adhish has been fortunate to work on a variety of feature films, commercials, episodic TV series, shorts, and web series in a variety of post-production roles from vfx supervisor to compositor, but his specialty is procedural animation and FX – including particles, pyro, and gases – and digital asset creation.
Contact
For inquiries, please contact fiscalsponsorship@filmindependent.org.