A Couple of Secrets

Anything can happen on a first date...
Project type: Fiction Feature
Project status: Development
Writer/Director: Nicholas Pallos
Producer: Andrea Monier
Producer: Talia Bella
Cinematographer: Andres Garzas
Executive Producer: Steven Step

Email: contact@nicholaspallos.com

Help independent filmmakers tell their stories.
Make a donation to A Couple of Secrets today.
Film Independent's Fiscal Sponsorship program opens the door to nonprofit funding for independent filmmakers and media artists. Donate today and help bring A Couple of Secrets to life.
Logline
A wild 24-hour first date entangles two quirky, broken individuals, each concealing a deep, dark secret.
Synopsis
Terminally ill and longing for connection, Rye meets the equally wounded Starr online. During a wild 24-hour first date, Rye and Starr attempt to open their hearts to each other. Together, they discover that there is hope for healing and love. But two dark, deeply guarded secrets (and one deranged drug dealer) stand in their way. Rye and Starr must summon all of the strength and bravery they possess in order to move past their fears and find some form of happiness and belonging.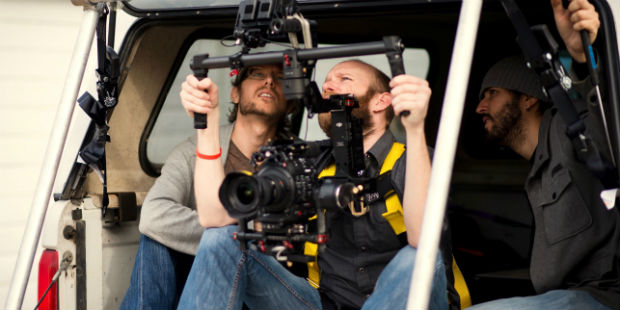 Meet the Filmmakers
Nicholas Pallos — Writer/Director
Nicholas Pallos is a produced screenwriter & an award-winning filmmaker. He is best known for the short film, Neither Here Nor There – The Waiting Room, the feature film, Shadowplay, and the documentary, Firewood. Pallos also appeared in the feature film, Your Name Here, and has directed music videos for Tiger March and Alpharay. Originally from Detroit, Nicholas studied screenwriting & filmmaking at Wayne State University, the University of Michigan, and the Detroit Filmmakers Coalition. He currently lives in Los Angeles.
Andrea Monier — Producer
Andrea Monier began working on feature films in order to learn the production components and critical elements behind the lens. She went on to produce Jesse Baget's White Knight (now known as Cellmates), which was acquired by Gravitas Ventures and Warner Brothers for distribution; it also won 9 best picture awards at various prestigious festivals. Andrea also produced the award-winning Eddie Alcazar-directed documentary, Tapia, which was executive produced by Fifty Cent and premiered on HBO. Currently, Andrea is the Vice President of Wownow Entertainment (formerly Ruthless Pictures), a production and distribution company that specializes in independent, genre and animated movies.
Talia Bella — Producer
Talia Bella was born in Buenos Aires, Argentina. Stemming from her celebrity contacts, Talia began producing films and web series for James Franco's production company, Rabbit Bandini. In her one year stint at the company, she produced three features and two web series, one in association with AOL and one with Maker Studios. Talia left the company to explore short form production at Apple's in house agency, Media Arts Lab. There she produced various hi-budget Apple campaigns. She currently works as a freelance producer. Talia produces tv, film, and commercials in LA and NY.
Andres Garzas — Cinematographer
Andres Garzas was born in Madrid, Spain. His studies included a cinematography workshop with Shane Hurlbut ASC, a Cinematography Masterclass by Vilmos Zsigmond ASC, and training at the Maine Media Film School by Steven Fierberg ASC and Rodney Taylor ASC. Andres has acted as DP on commercials for Fan Duel, Toyota, Mercedes Benz FW, Toys R Us, Shell, Discovery Networks, Samsung, Red Bull, and Revlon. He shot music videos for Ray J, Lil Wayne, Jencarlos Canela, J Balvin, and Rico Love. His films include Through the Breaking Glass, Alternations, Respira Perrito, Respira, Overpass, Lluvia, Las Constituyentes, and Aristocrazy Fashion Film.
Steven Step — Executive Producer
Steven Step has worked for many years as a financial advisor. He has always been interested in film and is excited to executive produce his first feature film, A Couple of Secrets.
Contact
For inquiries, please contact fiscalsponsorship@filmindependent.org.