After This

A love story, above all else.
Project type: Narrative Short
Project status: Development
Director: Lizzie Germann
Writer/Producer: Kaitlyn Clare
Director of Photography: Laura Jansen
First Assistant Director: Liz Holland
Co-Executive Producer: Philip Anderson
Composer: David Deutsch

Website: afterthisfilm.com
Email: info@thesheplab.com
Instagram: instagram.com/afterthisfilm/

Help independent filmmakers tell their stories.
Make a donation to After This today.
Film Independent's Fiscal Sponsorship program opens the door to nonprofit funding for independent filmmakers and media artists. Donate today and help bring After This to life.
Logline
Terminally-ill Annie and the two loves of her life – her partner Liam and their dog Whiskey – retreat to the mountains for what seems like a relaxing weekend away. In reality, it's their last weekend together.
Synopsis
Annie and Liam have long had a plan to help her escape the seizures, the pain, the relentless confusion, and the fear of how much further from herself the tumor in her brain will take her before it ultimately takes her life.
Now, the time has come to say goodbye.
'After This' explores the heartbreaking complexities of love, loss, and dying with dignity..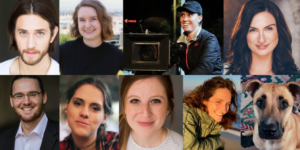 Meet the Filmmakers

Lizzie Germann — Director
Lizzie Germann is a writer and director originally from Columbia, Missouri. She is a 2018 Film Independent Incubator Lab fellow and her work has been shown in festivals across the country, including the independent pilot Crescendo, which premiered at Woods Hole in 2020.
Lizzie graduated with an MFA in Writing and Producing for Television from Loyola Marymount University in 2017. She's interested in telling stories that explore tensions in family relationships, class struggles, and her favorite topic of all: the Midwest.
Lizzie has previously directed both Kaitlyn Clare (Annie) and Johnny Ferro (Liam) in The Sidelines and Crescendo respectively.
Kaitlyn Clare — Writer/Producer
Kaitlyn Clare is a Los Angeles-based Australian stage and screen actor, writer, and producer. She earned her Bachelor of Performing Arts from Monash University, Melbourne, and is a proud former recipient of an ArtStart grant awarded by the Australian Government and Australia Council for the Arts. This took her to New York in 2013, to compare storytelling practices between the New York and Melbourne contemporary theatre scenes.
Kaitlyn founded her company, The Shep Lab, in early 2020. After This is the company's debut film production, and her pilot Barren is also currently in development.
Most inspired by her formative exposure to the Australian indie film industry (known for its celebration of landscape, lower budgets, and dependence on compelling characters and relatable narratives, rather than dazzling technology and blockbuster special effects), Kaitlyn is passionate about telling raw, deeply human slice-of-life stories that expand awareness and inspire empathy.
Kaitlyn is a proud member of Film Independent.
Laura Jansen – Director of Photography
Laura was born in Chicago and raised in a small town 25 miles south of the city. Much of her free time as an only-child was spent either in front of a television screen or in a movie theater. She fell in love with film's ability to completely immerse her in the narrative and take her to a different place entirely.
She moved to Los Angeles to earn her B.A. in Film/TV Production from Loyola Marymount University, where she discovered how the technicalities of camera movement and lighting help initiate feelings from the audience and connect them to the characters. Laura is particularly drawn to narrative work that deals with emotional struggle and explores the complexity of the human psyche.
She strongly believes her job as cinematographer is not only to create beautiful images, but to initiate a shared feeling from the audience with the help of the visual imagery. She has lensed six feature films and many shorts, including the 2019 SXSW Jury Award Winner, Other Side of the Box. Her breadth of work ranges from dark and gritty thrillers, crisp and polished commercials, to cinematic documentaries.
Liz Holland – First Assistant Director
Liz Holland was born, raised, and educated in Los Angeles, California, and is first and foremost a filmmaker. Growing up with the industry in her backyard, Liz consumed and was consumed by movies from a young age. Having graduated magna cum laude from Loyola Marymount University, with B.A.s in Film Production and English Literature, Liz now freelances as a director, assistant director, producer, and production assistant.
Liz has directed two awarding-winning shorts, and two micro-budget pilots, with the goal of directing a feature in the near future. As an AD, Liz has worked on over fifty shorts, music videos, pilots, and web-series, as well as six features — with more in the post-Corona pipeline.
Now, with her first feature as a producer currently in post-production, Liz looks forward to producing more long form content. All the while, she assists on larger-scale, union productions, to familiarize herself with bigger budgets, and more moving parts. Her ultimate goal is to provide inimitable support and guidance to her collaborators as they craft character driven stories that will consume and inspire the next generation of filmmakers.
Philip Anderson – Co-Executive Producer
Philip Anderson is a graduate of Lehigh University, where he studied Business: Supply Chain Management and played for their Division 1 basketball team. Upon graduation, he worked at NASA's Jet Propulsion Laboratory where he managed $500M+ worth of contracts for the Astronomy, Physics, and Space Technology Division, including the Spitzer Space Telescope and Deep Space Atomic Clock technology demonstration mission.
In 2018, he left JPL to hike the Pacific Crest Trail and is currently studying civil engineering. He is next entering construction management to aid the revitalization and modernization of Los Angeles.
Philip is an active investor in both the public and private markets, supporting industry disruptors and green innovation like his near decade long stake in Tesla Motors. He is thrilled to support this film not only because he believes in its strength as a beautiful piece of art, but to help promote compassion at the end of life.
Contact
For inquiries, please contact fiscalsponsorship@filmindependent.org.