AHMAD ZAHIR : The Voice of Afghanistan

The first-ever film about the Elvis of Afghanistan...
Project type: Documentary Feature
Project status: Development
Director: Sam French
Producer: Mo Scarpelli
Executive Producer: Shabnam Humphrey
Writer/Researcher: Miriam Arghandiwal

Website: ahmadzahirdoc.com
Facebook: facebook.com/ahmadzahirdoc
Twitter: @filmzahir

Help independent filmmakers tell their stories.
Make a donation to AHMAD ZAHIR: The Voice of Afghanistan today.
Film Independent's Fiscal Sponsorship program opens the door to nonprofit funding for independent filmmakers and media artists. Donate today and help bring AHMAD ZAHIR: The Voice of Afghanistan to life.
Logline
AHMAD ZAHIR explores the extraordinary life of Afghanistan's most revered musician, the "Elvis of Afghanistan," who rockets to stardom in the 60s and 70s – a time when women in Kabul wear mini-skirts, foreigners flock to Afghanistan on the "hippie trail," and progressive change swept the country.
Synopsis
He came to the stage in a time when women in Kabul wore mini-skirts, foreigners flocked to Afghanistan on the "hippie trail," and progressive change swept the country. Ahmad Zahir rocketed to stardom in the 60s and 70s, his voice capturing the soul of an entire generation. No other icon in Afghan history can allow us to more deeply explore a country that could have been, and unravel what such a progressive legacy means for the world today.
Despite being a household name for tens of millions of Afghans across the globe, and an inspiration to many others, to this day, there has never been a film about Ahmad Zahir…until now.
Make a donation to AHMAD ZAHIR: The Voice of Afghanistan.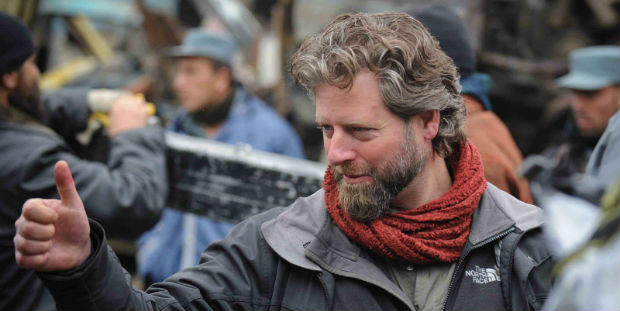 Meet the Filmmakers
Sam French — Director
Sam is an Oscar-nominated filmmaker who writes, directs and produces documentary and narrative films. His mission is to give a voice to the voiceless by creating compelling content with a social message. After earning an MFA in film production from the University of Southern California, he moved to Afghanistan in 2008, where he founded the production company Development Pictures to make films that showed the human side of an often misunderstood country. His work has appeared on HBO, BBC, CNN, Channel 4 News, and Al Jazeera. In 2012 Sam wrote and directed the narrative short film Buzkashi Boys, which was nominated for an Academy Award.
After moving back to Los Angeles in 2013, Sam has worked on various projects, including producing the documentary The Last Animals about elephant and rhino poaching in Africa, directing an episode of the DirecTV documentary series Religion of Sports about the Esports phenomenon, and developing a television crime drama. While directing AHMAD ZAHIR, he is also in post-production on the documentary film In-Justice, about women imprisoned for "moral crimes." He wrote and is directing Hunting Hope, an action thriller about the ivory trade.
Mo Scarpelli — Producer
Mo is a producer of non-fiction cinema. Her first solo debut film ANBESSA premiered at the 69th Berlinale International Film Festival, where it was nominated for the Glashütte Documentary Prize and screened in competition for the Generations KPlus section. Before that, her first co-directed feature-length documentary Frame by Frame, which followed four Afghan photojournalists in Afghanistan, screened in documentary competition at South by Southwest Film Festival 2015, Hot Docs (Top 10 Favourite Film), BFI London Film Festival (Grierson Documentary Competition nominee), Camden International Film Festival (Jury Award for Best Documentary), AFI DOCS, and went on to screen at 100+ festivals around the world, garnering 15+ jury and audience awards as well as a Cinema Eye Honors nomination. Mo's short films have been Vimeo Staff Picks and screened at festivals internationally as well as at the United Nations and World Health Organization. Mo is a selection of Berlinale Talents 2018 and twice a recipient of support from the Catapult Film Fund.
Shabnam Humphrey — Executive Producer
Shabnam is the only daughter of Ahmad Zahir. She cofounded Bossy Fox Productions, a Virginia-based film production company, to jump-start the support of the first-ever film about her father and Afghanistan's most iconic musician. Shabnam has over a decade of experience in graphic design and digital media and is a photographer as well.
Miriam Arghandiwal — Writer/Researcher
Miriam Arghandiwal is an Afghan-American director, writer, and producer from the Bay Area, California. Before becoming a filmmaker she was a reporter for Thomson Reuters in Afghanistan, where she covered stories about women and civil rights. She recently received her Masters in Fine Arts from the University of Southern California's Film & Television Production program. She also just finished producing her first feature film; Samir, which was funded by the Warner Brothers Studios.
Make a donation to AHMAD ZAHIR: The Voice of Afghanistan.
Contact
For inquiries, please contact fiscalsponsorship@filmindependent.org.