Apophenia

First they call you a superhero, then they call you a serial killer.
Film Independent's Fiscal Sponsorship program opens the door to nonprofit funding for independent filmmakers and media artists. Donate today and help bring Apophenia to life.
Logline
An aimless loner claims to have the psychic ability to find serial killers, but suspicions rise when she happens to brutally murder them every time.
Synopsis
Apophenia is a crime thriller limited series that follows Eva Nicholson, a struggling recluse who falls into the public spotlight as a superhero when a series of premonitions lead her to a serial killer moments away from claiming the life of his next victim. As Eva basks in the attention, her boyfriend, Daniel, is the only person even remotely concerned that Eva also "accidentally" brutally murdered the serial killer in the process. Then it happens again. And again. And as Eva's body count rises, so do the suspicions surrounding who, or what, she really is.
It is estimated that 2 out of 3 Americans enjoy true crime/crime thriller content. Meanwhile, the canon of fictional serial killers in film are most often middle-age heterosexual white men. Studies have shown that the homogeneity of the serial killer profile reinforces the societal hierarchy in America. In a bold way, Apophenia tackles representation, diversity, equity and inclusion, by mitigating the constant barrage of victimization on individuals who experience oppression in real life.
It is said that women are often interested in true crime because these stories make them feel more prepared for the horrors that exist in the real world. Apophenia is a series that will not capitalize on the victimization of women (or minorities), which is a significant psycho-social shift.
This series needs to be made primarily for representation, and to encourage moral and ethical discussions surrounding the perception of communities that are solely represented as the victim.
Apophenia benefits anyone who has ever experienced systematic oppression, and lived in a state of constant fear of violence, and true crime/crime thriller audiences so they do not get comfortable with the current status quo of what they see on screen.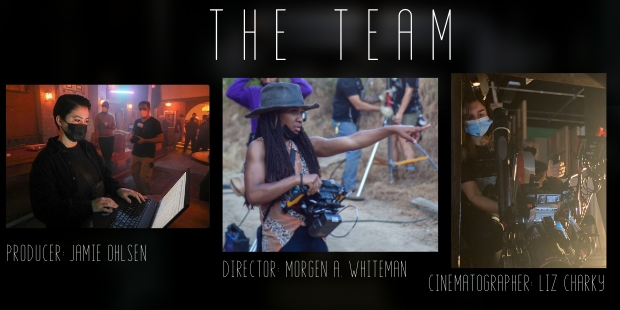 Meet the Filmmakers
Morgen A. Whiteman – Writer/Director/Producer
Morgen A. Whiteman is a film and television director with a background as a filmmaker-in-residence in Ghana, and a 2022 Stowe Story Labs finalist for the SAGIndie's Top Emerging Filmmaker of Color Fellowship. Morgen is a graduate of the AFI Conservatory's Directing MFA Program, and her films have been featured as official selections at numerous film festivals. She has directed talent with credits on All American, Wonder Woman, and We Own This City. Morgen has a passion for the thriller and science fiction genres, especially speculative fiction.
Jamie Ohlsen – Producer
Jamie Ohlsen is the Founder and CEO of Ohlsen Productions. She is an ambitious up-and-coming triple threat (Producer/Actor/Executive). In the short 4 years she's been producing, she's been able to earn 16 producer credits with shorts, features, TV movie pilots, and web series. She has been mentioned in multiple articles for her successes in the industry. Her producer credits include Alan Tracker, starring Richard T. Jones and Wrong For Right, starring Omar Gooding and Eric Roberts. Both films are slated for release in 2023.
Liz Charky – Director of Photography
Liz Charky is an American filmmaker of Syrian, Sicilian, & Tonawanda-Seneca heritage, creating stories where cinema, documentary, and live-performance intersect. As a cinematographer, she collaborates on both narrative and documentary films, music videos, commercials, and dance-theater works that centralize and elevate underrepresented voices. Liz is a 2022 graduate of the American Film Institute in Los Angeles, where she completed her MFA in Cinematography, and a student member of the Society of Camera Operators. She loves capturing quiet, honest and ethereal moments where she can bring her own sensitivity, femininity and intuition to the character's experience in each shifting moment.
Contact
For inquiries, please contact fiscalsponsorship@filmindependent.org.