My Baby is a Bike Helmet

A waitress' journey on a nine month long test drive...
Film Independent's Fiscal Sponsorship program opens the door to nonprofit funding for independent filmmakers and media artists. Donate today and help bring My Baby is a Bike Helmet to life.
Logline
After a miscommunication leads her coworkers to believe that she is pregnant, a seemingly barren waitress allows the fantasy to overtake the reality and finds herself navigating an ever-growing web of lies as she gets closer and closer to her imaginary "full term."
Synopsis
Mary-Anne had a plan. Marry the love of her life. Get pregnant. Quit waiting tables. But, as some wise person once said, "Fate doesn't care about your plans." Neither did Mary-Anne's ovaries.
Mary-Anne wants, more than anything, to be a mother but she can't get pregnant. She has an amazing husband (Josh) and a good life, yet it all feels incomplete. Each day she is reminded of the void in her life as she begrudgingly heads to work at "31 Jams," a boutique restaurant with a quirky staff. One particular day, after another negative pregnancy test, Mary-Anne's coworker (Roxanne), a self-proclaimed clairvoyant, misreads her cosmic energy and announces to the entire restaurant that Mary-Anne is expecting. Everyone bursts into celebration and she allows herself to be whisked away into the excitement without telling them the truth. Each day she promises herself that she will end the charade, but as Mary-Anne experiences the joys of being treated as if "with child" the lie becomes incrementally harder to admit. She transitions from innocently stuffing her bra to full-blown Macgyver-esque construction of fake bellies. The pressure continues to mount as Mary-Anne struggles to balance her double life- pregnant waitress at work/childless wife at home- all the while looking for an escape as she gets closer and closer to her imaginary due date.
My Baby is a Bike Helmet is a short film integrating classic filmmaking, sketched art, comedy and musical performance to explore the delicate balance between desire and obsession.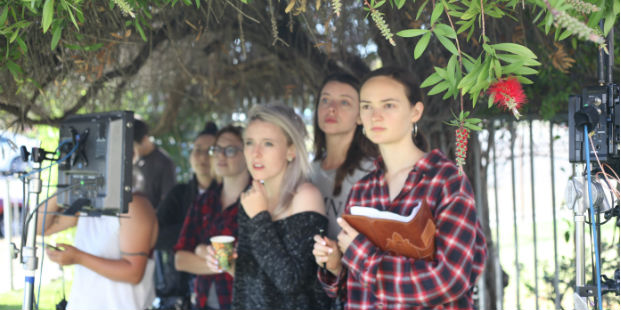 Meet the Filmmakers
Julia Dixon — Writer, Executive Producer, Lead Actor
Julia (Lehman) was fortunate to grow up in wintery, beautiful Saint Paul, Minnesota. With no shortage of snowed-in days, Julia was able to hone her craft as both a singer and an actor. Her first works include private living room performances of Grease, The Sound of Music, and countless renditions of Bonnie Raitt's album "The Nick of Time," in its entirety. Julia did eventually move her art into more public forums by performing in singing groups, theater, and acting in films throughout the Midwest. She moved to Los Angeles when she was 17 to attend USC and pursue a career in acting. Since then, she has been seen in many commercials, films, and television shows including her current recurring role on the Netflix series Narcos. My Baby is a Bike Helmet is Julia's writing and producing debut. She is thrilled for the opportunity to play the lead role of Mary-Anne and is even more excited to see her "baby" come to life
Arden Grier — Co-director, Producer
In 2017, Arden launched Light Layer Productions with her sister, Roxanna Dunlop. Together, the sisters focus on strong narratives, with strong authenticity, and most importantly, strong women behind and in front of the camera. Light Layer Productions celebrates women in film by hiring women in film. Their first year as a company has had them creating everything from music videos to commercials, to pilots and short films. Acting, directing, and editing are all passions and pursuits of Arden's, but with a knack for telling people what to do, she enjoys the boss' chair best. Born in Toronto, Canada (proudly), Arden is still trying to figure out when to use the chip on her credit card, and when to swipe.
Roxanna Dunlop — Co-director, Producer
Roxanna Dunlop is a director, producer and actor based in Los Angeles, California. A multifaceted creative dedicated to communicating authentic stories based on the delicate and ordinary moments of everyday life, Dunlop believes that the most beautiful tales happen to be the most subtle and relatable. As founder of Light Layer Productions, she looks to support stories written by women, about women, with the key goal of supporting females in the film industry. While Roxanna's career launched with her in front of the camera, she honed her hustle behind the camera with the release of her 8mm short documentary-style film Another Word for Death in 2016, which she wrote, directed, and produced. In 2017, she directed, produced, and starred in Say the Word, a narrative short that has already nabbed four awards in the festival circuit. With two short films under her belt and a multitude of projects underway, Roxanna is fiercely devoted to telling stories through what she believes to be the most powerful art form – film.
Jesse Dixon — Executive Producer
Jesse Dixon is a man of many talents whose career has been defined by a strong devotion to the arts. As a musician, he has produced, written, and performed music around the world with a multitude of artists. He is the sole founder of iLA (inspired Los Angeles) – an organization dedicated to invigorating live performance in the city of Los Angeles by teaming with local charitable organizations. He consults in the entertainment specialty packaging industry, managing accounts for clients such as Sony, Warner Brothers, Universal, and more. His first foray into television producing was a pilot called Bedlam which went on to be bought by CBS Studios. Jesse strives to continue developing and building intimate relationships within the entertainment industry as he actively gives back to the greater Los Angeles community.
Contact
For inquiries, please contact fiscalsponsorship@filmindependent.org.