Barrio Television

Puerto Rican activists in the 1970s take the fight for media justice from the streets of El Barrio to the doorsteps of television executives in Columbus Circle
Film Independent's Fiscal Sponsorship program opens the door to nonprofit funding for independent filmmakers and media artists. Donate today and help bring Barrio Television to life.
Logline
Barrio Television is the untold story of a band of Puerto Rican filmmakers who refused to let the first all-Latino produced TV show in American history be canceled.
Synopsis
Barrio Television is about a band of Puerto Rican filmmakers in 1972 who refused to take no for an answer. When New York's local public television station WNET canceled their pilot because it touched on racism too much for their liking, the filmmakers padlocked the door to WNET's live pledge drive and hijacked the event. Then, they filled the sidewalks outside their Columbus Circle office with protestors until the executives gave in. They finally got their own show—the way they wanted to make it. That is the birth of "Realidades": the first bilingual Latino television show in American history.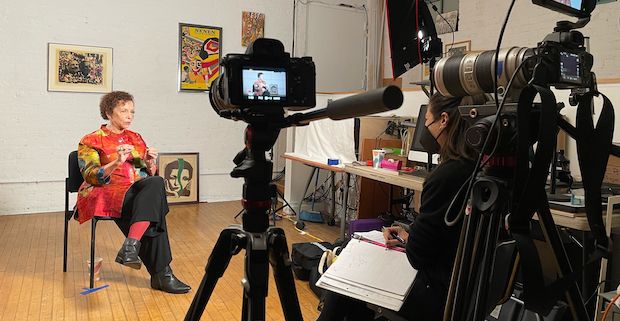 Meet the Filmmakers
Christina DiPasquale – Writer/Director/Producer
Christina DiPasquale is a storyteller focused on advancing a more just and participatory media. Christina has produced and scripted several short documentary films for the Youth First Initiative and Public Welfare Foundation, screened across the country to support decarceration efforts. She has led publicity and social impact campaigns for films including Dirty Wars, When Elephants Fight, and Unmanned. Christina has prepared individuals and groups to give high profile interviews, including Chelsea Manning, families separated by the Muslim ban, and youth in Charlottesville and Ferguson. Her archival research has been used by the Library of Congress and American Archive of Public Broadcasting. She is a Senior Fellow at the University of New Hampshire and serves on the Board of Directors of the Media Burn Independent Video Archive.
Livia Perini Borraje – Cinematographer
Livia Perini Borraje is a cinematographer who has lensed television shows for MTV Brazil, HBO, Food Network, GNY/Globosat and more. Documentary pieces that she filmed and edited have appeared on CNN, Newsweek, VH1, New York Times Op-Docs and Yahoo Mexico. Livia's short film Cor de Pele won the Brazilian Film Academy Award's Best Short Documentary Prize in 2019 and more than 20 awards worldwide. She holds degrees in journalism, advanced cinematography, and digital TV from University Metodista and New York University.
Contact
For inquiries, please contact fiscalsponsorship@filmindependent.org.