Bittu

A formidable young girl who won't allow herself to be forgotten.
Project type: Narrative Short
Project status: Engagement/Outreach
Director/Writer: Karishma Dev Dube
Producer: Mary Evangelista
Cinematographer: Shreya Dev Dube

Email: karishma.ddube@gmail.com
Website: bittufilm.com

Help independent filmmakers tell their stories.
Make a donation to Bittu today.
Film Independent's Fiscal Sponsorship program opens the door to nonprofit funding for independent filmmakers and media artists. Donate today and help bring Bittu to life.
Logline
A close friendship between two girls is eclipsed by an accidental poisoning at school. Based on a true story.
Synopsis
Set in a forgotten Himalayan community, this film follows eight year-old BITTU. Unlike most girls in her village, Bittu is a streetwise charmer with a brilliantly foul tongue.
Chand is Bittu's best friend and young protégé; Polar opposites but always a team- they play, steal, fight and hustle together – reciting dirty jokes for quick money in crowded bus stops. The natural performer Bittu excels at all things street level.
But at school things are different.
Chand outperforms Bittu in every way – a keen student in a pristine uniform, she is naturally everybody's favorite at school. Meanwhile Bittu, resents the rote and attends school for her free lunch.
On this day, events escalate quickly between the two friends, bringing them to an end they never imagined.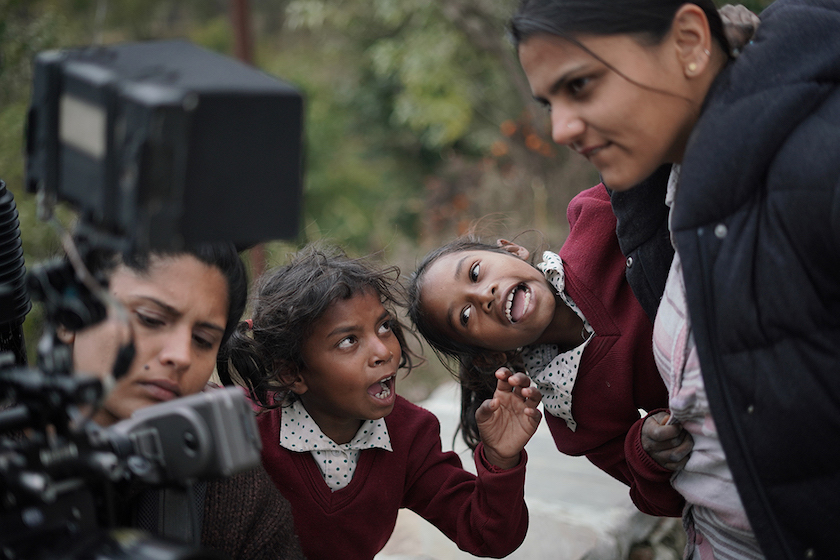 Meet the Filmmakers
Karishma Dev Dube – Writer/Director
Karishma Dube is Student Academy Award winning filmmaker currently based in New York. Born and raised in New Delhi, Karishma came to the states to attend the Graduate Film Program at NYU where she was received the Dean's Fellowship. Her first film Devi premiered at BFI London Film Festival before playing 56 international film festivals including Edinburgh Film Festival, Frameline, Palm Springs ShortFest, LA Film Festival, and Outfest LA where it won the Grand Jury Prize for Best Short Film. Devi has been featured on the Advocate, Nowness, BBC World, and The Wrap's Shortlist. Her latest film Bittu is a Student Academy Award Winner and recipient of the inaugural Black Family Prize and Reise Award for post production. Bittu had its North American premiere at Telluride Film Festival and has recently played at the BFI London Film Festival, Palm Springs ShortFest and Short Shorts Asia Film Festival among others. Karishma is in development for her debut feature film. Additionally, Karishma is currently producing Mary Evangelista's feature, Burning Well, which was part of the Sundance Talent 2019 and TFI Network 2020.
Mary Evangelista – Producer
Mary Evangelista grew up in the Bay Area but hails from the Philippines. Mary received an MFA from NYU Tisch School of the Arts for Writing and Directing where they wrote, directed, produced and edited a short film set in Manila called Ina Nyo. Their thesis short film, Fran This Summer, is an LGBTQ summer love story that has screened in over 40 festivals, including the 2019 Sundance Film Festival. Mary is a co-creator of Water Melts, a Tribeca Film Institute and Google Daydream supported VR rom-com which premiered at the 2019 Tribeca Film Festival. In 2019, Mary completed the Project Involve Fellowship with Film Independent where they directed the short film La Gloria. Mary's debut feature film, Burning Well, is currently in development and was part of the Sundance Talent Forum 2019 and awarded a Tribeca All Access grant in 2020.
Shreya Dev Dube – Cinematographer
Shreya Dev Dube is a cinematographer based in Mumbai. Her feature length film Cat Sticks premiered at Slamdance and won the Grand jury prize at Mammoth Lake film festival. Shreya was a camera operator for Declan Quinn on the series A Suitable Boy, directed by Mira Nair. She is currently shooting an untitled Netflix feature film for AK Pictures in India. Her credits as writer/director include Glass Bottom Boat (2013) and Round Her Pure Forehead (2010). Additionally, she worked in the camera department for Maalu (2015), produced Devi: Goddess (2017), worked in cinematography for Sleep (2017)
Contact
For inquiries, please contact fiscalsponsorship@filmindependent.org.