Black Girl in the Woods

It's time to change the narrative. Let's dream bigger, shift the default, acknowledge reality and start diversifying the outdoors.
Project type: Documentary Feature
Project status: Production
Director/Producer: Kisha Jarrett
Producer: Faith Briggs
Producer: Melissa Daniels
Producer: Lauren Lukow
Producer: Tracy Nguyen-Chung
Cinematographer/Editor: Ryan Miyamoto

Email: lauren.lukow@gmail.com
Website: blackgirlinthewoods.org

Help independent filmmakers tell their stories.
Make a donation to Black Girl in the Woods today.
Film Independent's Fiscal Sponsorship program opens the door to nonprofit funding for independent filmmakers and media artists. Donate today and help bring Black Girl in the Woods to life.


Logline
Black Girl in the Woods chronicles Kisha Jarrett's journey as a fat Black woman with Lupus working to reclaim space in the outdoors alongside other unlikely enthusiasts. What started as a mission to thru-hike the Pacific Northwest Trail, becomes a story of discovery, finding joy, and defining one's relationship with nature.
Synopsis
This is the story of Kisha Jarrett as she sets out on a mission to thru-hike the Pacific Northwest Trail, the first fat Black woman with Lupus to do so. Her goal is two-fold. Firstly, to prove to herself that she can. Secondly, to insert herself into a mostly white, male and able-bodied outdoor narrative. For months, she trains, studies the trail, meets with experts and doctors to prepare. She heads out. Then, on the very first day, Kisha has to stop. She has ripped tendons in both of her feet, is in indescribable pain, and still has to get back out to safety. It takes two days to get out and back home to Portland, OR. Kisha is heartbroken. What does it mean to not accomplish something you've set out to do, something you've told the world you would do? She has surgery and finds herself with a cane, wearing medical boots. This is a close-up raw glimpse into what it means to be a fat Black woman with chronic illness in physical and mental recovery.
Kisha realizes that she's been trying to fit herself into a narrative that was not designed for her. Rather, she has to define what success looks like for herself. She turns to a small but thriving community of unlikely outdoors enthusiasts from historically marginalized communities, folks without historic access to nature and outdoor recreation. They are BIPOC hikers, fat hikers, and hikers with chronic pain and disabilities.
As her community expands, Kisha learns to see her failure as a fresh start. These many conversations help create the context for Kisha's journey. We weave together first person narratives from the community, dispatches from "unlikely hikers" on trails across the country. Kisha realizes this story is no longer just hers, it belongs to the community.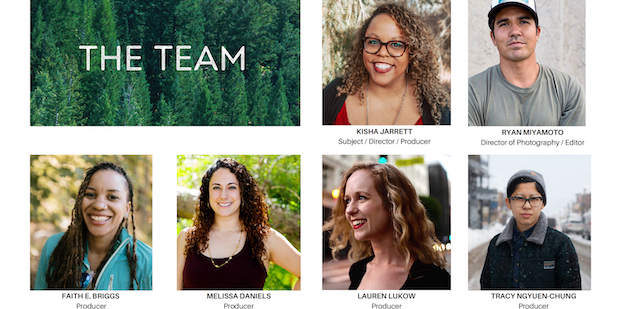 Meet the Filmmakers
Kisha Jarrett – Director/Producer
Kisha Jarrett is a creative change-maker with a background in marketing and development throughout her ten-year career in arts management that has helped raise over $50 million dollars for various organizations and has a cumulative earned revenue of over $5 million. Kisha is also a writer, director, producer, actor, musician, and storyteller. Through storytelling, she has performed for The Moth (2017 and 2018 GrandSLAM winner), Seven Deadly Sins, Wildfang, and Back Fence PDX where she is a co-host and story producer. Kisha is proud to be a co-founder of the DNA: Oxygen program at Artists Repertory Theatre in Portland, Oregon. She is in the inaugural cohort of the League Of Resident Theatres (LORT) EDI Mentor/Mentee program and serves on the LORT Equity, Diversity, and Inclusion committee. Kisha is on the Literary Arts Festival of the Book Committee and has served as an Event Producer for Oregon Media Production Association (OMPA), Children's Book Bank, Boys and Girls Club, Artists Rep, Live Arts, MTV Woodie Awards, Invisible Children, World Monuments Fund, and School of Visual Arts. She serves on the board of directors of Global Works Community Fund.
Faith Briggs – Producer
Faith is a documentary filmmaker passionate about sharing contemporary stories from diverse communities. She cut her teeth at Discovery Communications, focusing on development and acquisitions for Discovery Channel, Animal Planet and Science Channel. Her move from Brooklyn, NY to Portland, OR accompanied a move from behind the camera to in-front of the camera. While working on a Youtube series, she fell in love with outdoor and adventure filmmaking. Her three short films: Brotherhood of Skiing, This Land, and We Hike to Heal have played festivals around the world. She is a partner at Camp 4 Collective and a 2020 William and Flora Hewlett Foundation Grantee. She often works on impact and outreach campaigns including for The Great Hack (2019) and The Untitled Underground Railroad Project (expected 2021). Faith is a board member at Oregon Wild and Global Works Community Fund. She is a graduate of Yale University and the New York University Arthur L. Carter Journalism Institute.
Melissa Daniels – Producer
Having previously lead GoPro's Branded Content division, directly strategizing with global clientele, Melissa Daniels decided it was time to build a team built on the foundation of diverse voices. Starting her career in broadcast news, storytelling served as her launchpad before gaining experience on the brand, agency and production company sides of the industry. Being made consistently aware that the gatekeepers often didn't represent the communities whose stories they were telling, Melissa became committed to creating change from the ground up (not the inside out). Now, bringing her comprehensive experience to We the People, Melissa is committed to helping elevate voices that we haven't heard enough from. As an award-winning producer, she's lead teams both locally and internationally, ranging in size from few to hundreds. Through her work in the commercial and digital space, she has continuously built relationships with some of the biggest brands, agencies and creatives worldwide.
Lauren Lukow – Producer
Lauren Lukow is the Manager of Producing and Artist Support for the Sundance Institute's Feature Film Program where she focuses on discovering, nurturing, and amplifying the work of emerging independent producers, screenwriters, and directors in fiction features, prioritizing inclusion and underrepresented voices. Before Sundance, Lauren worked in development at Pixar Animation Studios where she supported their in-house filmmakers in the earliest phases of their creative process. Prior, Lauren has held positions at the Virginia Film Festival, Arvold Productions, and Mockingbird Pictures. An independent producer herself based in Los Angeles, Lauren's projects have screened at film festivals around the world including the Sarasota Film Festival, Pan African Film Festival, Santa Fe Independent Film Festival, and NewFilmmakers LA. Lauren has served on the Literary Committee for the Cutting Ball Theatre in San Francisco as well as on the jury for the Nashville International Film Festival, UCLA's MFA Screenwriters Showcase, and DePaul University's Premiere Film Festival. An alum of the University of Virginia, she continues to give back as a Board Member on the UVA Entertainment Club of Los Angeles. Lauren is committed to supporting filmmaking artists who contribute to a collaborative, inclusive artistic process in independent fiction and nonfiction storytelling.
Tracy Nguyen-Chung – Producer
Tracy Nguyen-Chung is a filmmaker and founder of After Bruce, a boutique PR agency dedicated to independent film. Some of After Bruce's clients have included: The Black Panthers: Vanguard of the Revolution, International Documentary Association, Hawaii International Film Festival, The Great Hack, and The Farewell. Tracy co-produced The Great Hack — a feature documentary which world premiered at the 2019 Sundance Film Festival and is now streaming on Netflix — and led its impact campaign. The Great Hack was shortlisted for an Academy Award and has received BAFTA and Emmy nominations. In 2019, Tracy was included as one of Outside Magazine's Outsiders of the Year for her work as the founder of Brown Folks Fishing. Most recently, Tracy co-directed and produced the documentary short, Connection, which world premiered in competition at the 2020 Big Sky Documentary Film Festival.
Ryan Miyamoto – Cinematographer/Editor
Ryan is an accomplished cinematographer, director, editor, and producer based in Los Angeles, California. He was born and raised in Honolulu, Hawaii and found a passion for film through surf cinematography. He graduated from San Diego State University in 2010 with a degree in Television, Film and New Media. Ryan's work can be seen on National Geographic, Discovery Channel, ABC, CBS, NBC, Fox Sports, ESPN, Disney and Red Bull Productions. His Directorial debut Twinsters premiered at SXSW 2015 and received the "Special Jury Recognition for Editing." Current work includes the NBC Sports Spartan Race, NBC Sports Winter Dew Tour, Fox Sports Titans of Mavericks and ESPN's NBA Eastern Conference Finals.
Contact
For inquiries, please contact fiscalsponsorship@filmindependent.org.