Bollywood Berkeley

Project type: Documentary Feature
Project status: Production
Director: Zoe Malhotra
Producer: Vince Johnson
Advisor: Julia Zak

Help independent filmmakers tell their stories.
Make a donation to Bollywood Berkeley today.
Film Independent's Fiscal Sponsorship program opens the door to nonprofit funding for independent filmmakers and media artists. Donate today and help bring Bollywood Berkeley to life.
Logline
Every year, the University of California Berkeley hosts one of the largest Bollywood Dance competitions in the nation: Bollywood Berkeley. After a two-year hiatus due to the covid-19 pandemic, Bollywood Berkeley will follow a group of novice South Asian college students and competitive dancers as they attempt to pull off the return of this pinnacle cultural event.
Synopsis
The world of Bollywood collegiate dance is vibrant, passionate, and intense. Across 50 competitions at colleges around the country, South Asian dance teams compete for prize money, national rank, and glory.
Bollywood Berkeley, one of the circuit's most anticipated events, takes this competitive spirit further. Created and hosted by 20 college students, the competition is a pinnacle cultural event in the San Fransisco Bay Area; one of the most established and expansive South Asian communities in the country, attracting over 2000 people each year.
Now, after a two-year hiatus due to the covid-19 pandemic, Bollywood Berkeley is returning in the spring of 2023. The majority of the event's student organizers came to UC Berkeley during the pandemic; they have never seen a Bollywood Berkeley before. Despite, or maybe because of this, they aim to pull off the biggest one yet.
The story starts this fall as the student organization that puts on Bollywood Berkeley recruits new student members. At the same time, Berkeley's premiere Bollywood Dance team holds its own grueling audition process. Throughout the next school year, we'll follow these students as they balance school, social life, and the full-swing event planning of Bollywood Berkeley. From defending the cultural impact of Bollywood Berkeley to the student council to practicing dance 50 hours a week, these students will put their dedication to the ultimate test.
All builds up to the Saturday of Bollywood Berkeley. After months of rehearsals, event mishaps, and the ups and downs of student life, there's no turning back. No matter how large the audience is, how polished the dancers are, or how smoothly the event runs, we will all witness a beautiful display of cultural fusion: the next generation of South Asian Americans embracing and sharing their culture through performance.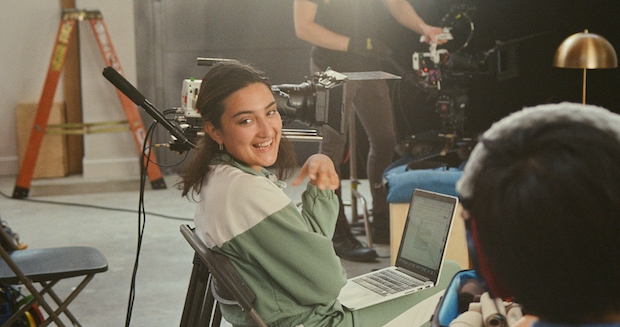 Meet the Filmmakers
Zoe Malhotra – Director
Zoe Malhotra is an Indian-American documentary filmmaker. In both her commercial and narrative work, she focuses on projects of cultural exploration, primarily through the lens of women of color and families. Her most recent directing project, The Armenian Dating Show, is a 10 episode docu-series on Armenian dating culture in Los Angeles. Her short documentary, God Bless the Cook, is about a mother-daughter pair of chefs and has screened over 20 film festivals worldwide. She has directed impact-driven commercials for eBay, Doordash, Six Flags, and more.
Zoe also worked as an associate producer on the Netflix feature documentary Civil, the Netflix series The Great Untold, and the Showtime feature documentary The Show. Prior to this, she worked as an impact producer on the PBS Frontline documentary feature A Thousand Cuts, National Geographic's documentary short Nightcrawlers, and more.
Vince Johnson – Producer
Vince Johnson is Senior Publicist at David Magdael & Associates in Los Angeles directing and managing festival campaigns including Sundance, SXSW, Toronto, Telluride and Tribeca; managing releases/broadcast premieres; and award campaigns. Recent clients include: Netflix, New York Times Op-Docs, MTV Documentary Films, HBO/HBO Max, Discovery+, FRONTLINE, Nat Geo Documentary Films, Sony Picture Classics, POV, Independent Lens, Magnolia Pictures, Hulu, and more. Vince is transitioning into documentary producing and is excited to produce Bollywood Berkeley in his home in the San Fransisco Bay Area, where he got his start managing campaigns and working for notable Bay Area film festivals.
Julia Zak – Advisor
Julia Zak currently runs Cinetic Media's film and television division. She highlights female voices and people of color by fighting for stories about those who have been systemically erased or cast in the shadows of others' stories. Julia has been mentoring and advising Zoe for the duration of this project, and has been a champion of Bollywood Berkeley from the start.
Contact
For inquiries, please contact fiscalsponsorship@filmindependent.org.