Buck

Living to see tomorrow is the first step to happiness
Project type: Narrative Short
Project status: Post-Production
Director/Writer: Elegance Bratton
Director/Writer: Jovan James
Producer: Chester Algernal Gordon
Director of Photography: Zamarin Wahdat
Editor: Kristan Williams Sprague

Email: chester.algernal@gmail.com
Facebook: www.facebook.com/Buckshortmovie

Help independent filmmakers tell their stories.
Make a donation to Buck today.
Film Independent's Fiscal Sponsorship program opens the door to nonprofit funding for independent filmmakers and media artists. Donate today and help bring Buck to life.
Logline
Caught in the throes of a depressive fugue, young Lynn resorts to debauchery to find joy — only to discover that happiness is a much more complicated proposition.
Synopsis
Young Lynn opens the filmed with his mother nagging him to take his depression meds. He heads out expecting to have some fun with Richard his white lover. When he arrives to his boat he discovers that Richard's invited a group of black men to join him. He invites Lynn into the bedroom with some of the other men at the party and offers him his first hit of a meth pipe, and places it to Lynn's lips. The party's doorman tosses a plastic trash bag and Lynn gets dressed outside in the cold on the pier. High out of his mind Lynn passes out on the street to be discovered by Harris. Harris without saying a word shovels him into the back of his vehicle. Lynn looks up out of his stupor and exclaims "I'm not going to fuck you." Lynn sleeps in the bed while Harris smokes a cigarette and keeps a watchful eye over the young man. In the morning Lynn still doesn't want to take his depression meds. Harris makes them each some breakfast and reveals that he has to take six times the medication everyday to avoid coming down with full blown AIDS. In that moment, Lynn realizes he isn't alone and takes his medication. On the Baltimore pier Lynn takes in the sounds of the waking city extending his arms to the heavens.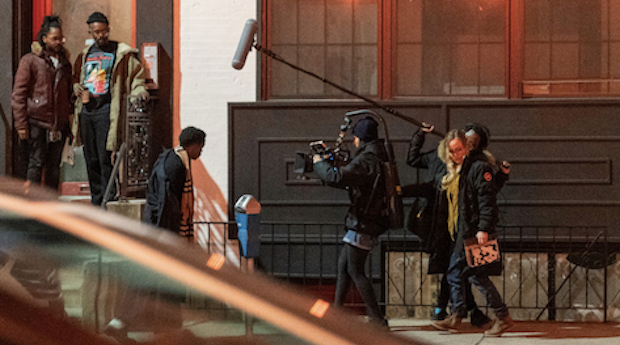 Meet the Filmmakers
Elegance Bratton — Director/Writer
Elegance Bratton began making films as a US Marine. He holds a BS from Columbia University and an MFA from NYU Tisch Graduate Film. His documentary Pier Kids follows queer and trans homeless on NYC's iconic Christopher Street Pier to unpack the legacy of Stonewall for queer people of color. He is the executive producer/creator of Viceland's GLAAD-nominated series, My House, and a Tribeca All Access and a Film Independent Fast Track fellow (2019)
Jovan James — Director/Writer
Jovan James holds a bachelor's degree from the University of Maryland and an MFA from Tisch Graduate Film. His first film,The Jump Off had its film festival debut at UrbanWorld in New York City and played 23 festivals. His next short Tadpole won Best Student film at New Hampshire Film Festival 2018. He is currently an intern at Bad Robot Productions.
Chester Algernal Gordon — Producer
Producer and costume designer Chester Algernal Gordon was the first male African-American costume designer to compete in competition at Cannes Film Festival with Danielle Lessovitz's Port Authority, produced by Martin Scorsese. Gordon was also a winner of the Tribeca Film Institute's 2019, TFI All Access Grant. Gordon was also a Film Independent 2019 Producing Lab & Fast Track Lab fellow. Gordon's films have played in over 200 festivals combined including Cannes, Sundance, SXSW, BFI, Outfest, and the American Black Film Festival. He is also a producer for the GLAAD nominated, documentary TV series My House, which is currently airing on Viceland.
Zamarin Wahdat — Director of Photography
Born in Afghanistan and raised in Germany, Zamarin Wahdat has been granted a Dean's fellowship at the Tisch School of the Arts where she studied film and cinematography. With a deep interest in expanding the boundaries of how to tell stories visually, she is drawn to tell stories that let us not only see but feel communities and characters from the inside out. Her films have been screened at numerous film festivals, including Berlin Film Festival, SXSW, BFI Film Festival and Tribeca. Along with these honors, she is the recipient of the Nestor Almendros Award for outstanding Cinematography in 2018, an Arri Volker Bahnemann Finalist and a Film Independent Project Involve Fellow in cinematography.
Malik Shakur — Lead Actor
Raised in a family of activists and artists, the stage was a natural evolution for him when he started in musicals at the age of 8. With his uncle Tupac as an example, Malik pursued a career in recorded music. 15 years later, it's led him to promising careers in both film and music. He was the band leader for Columbia recording artist Raury. With this outfit he toured the better parts of both hemispheres including Coachella, 02 Arena in London, and most of the major stadiums in Europe. Now with his focus on acting Malik hopes to use the talents he's been blessed with to bring to life the stories of those who rarely get to have a voice. He is also a philanthropist committed to ensuring that his family's iconic legacy helps those less fortunate. Through Tupac Omaru Shakur Foundation Malik and his family oversee community outreach programs meant to uplift young people the world over with educational support.
Contact
For inquiries, please contact fiscalsponsorship@filmindependent.org.