Burnout

An ambitious assistant at a major sports management firm will do whatever it takes to win the approval of his nefarious boss... starting with setting himself on fire.
Project type: Narrative Short
Project status: Development
Writer/Director/Producer: Russell Goldman
Producer: Comet Pictures
Producer: Michael Fry
Producer: Wendy Wang

Website: russellgoldman.com

Help independent filmmakers tell their stories.
Make a donation to Burnout today.
Film Independent's Fiscal Sponsorship program opens the door to nonprofit funding for independent filmmakers and media artists. Donate today and help bring Burnout to life.

Logline
An ambitious assistant at a major sports management firm will do whatever it takes to win the approval of his nefarious boss… starting with setting himself on fire.
Synopsis
Burnout is a deranged, gonzo horror thriller about how we push our bodies for ambition, and the control we surrender along the way. It's inspired by my experience with post-concussive syndrome: after a series of traumatic brain injuries, I wouldn't let myself rest out of fear that if I stopped working for even a moment, I would lose everything. Burnout lacerates our relationship to work culture: how our perpetual drive to "get ahead" pushes us to make worse compromises than we can imagine.
The short follows Virgil Warren, once a star linebacker for the San Jose Bulldogs until an ill-timed tackle led to a debilitating, life-changing concussion. Today, Virgil is the assistant to Gower Birch, a larger-than-life sports manager and the head of Merriweather Sports Management. For the past two years Virgil has pushed through his pain and migraines to excel for Gower, because today he is submitting his proposal to be put on a manager track. We meet him in the office hours before work starts, pushing through exhaustion as he finalizes each page of his proposal.
On a smoke break he turns from the window to see electrical sparks climbing up his computer wires: his desktop is going to catch fire! He rushes over and attempts to upload the presentation to his server. Fighting the searing heat, he saves his file in the cloud but in the process his ear catches fire. Virgil rushes to find an extinguisher and hose himself and his computer. He throws the charred laptop at the smoke detector before it can go off, ensuring no one in the office discover his mistake.
Later, Virgil watches Gower read his presentation, shaking from the excruciating pain he's trying to hide. Then, Virgil's left ear snaps off, falling to his feet. Blood squirts out of his ear socket. Gower is stunned. Virgil tries to play it off, like it's no big deal.
Gower stands up and approaches a gold bust in his office. He unlocks it to reveal an ALIEN BABY who starkly resembles Gower. He peels off the baby's blue ear. Holds the ear up to Virgil. Says to his assistant: "You don't have to feel like this anymore. You've earned some peace of mind." Gower is presenting an opportunity to Virgil to JOIN HIS HIVEMIND. And Virgil considers it.
In my short film work I aim to craft singular emotional experiences that can also open a door to larger stories. I've never poured more of myself into a story than I have with Burnout. There's always been a feature film adaptation in mind that explores our current labor paradigm through this twisted boss-assistant relationship. Yet I know the best foot forward for Burnout is to create an unforgettable short film, full of provocative, strange, original imagery, but always foregrounded by an achingly relatable character.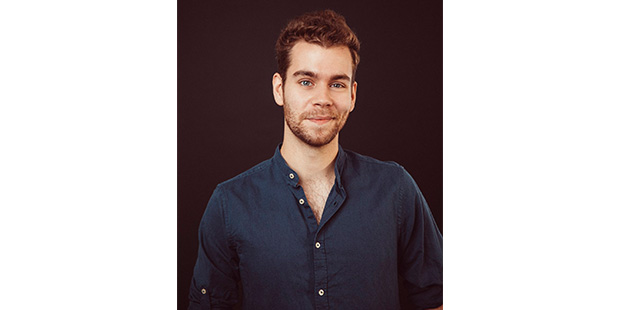 Meet the Filmmakers
Russell Goldman- Writer/Director/Producer
Russell Goldman is a filmmaker from Virginia. He is the screenwriter of the upcoming Blumhouse feature Mother Nature, based on the forthcoming graphic novel he created with his Comet Pictures boss and producing partner Jamie Lee Curtis. His body of short film work including Return to Sender has appeared in over 50 film festivals around the world, including Fantastic Fest, Frameline, Cinequest, Flickers', LA Shorts and the opening night of HollyShorts.
Comet Pictures – Producer
Founded by Jamie Lee Curtis in 2019, Comet Pictures is a film, television and podcast production company. Comet's produced work includes three best-selling seasons of an Audible scripted comedy/mystery podcast Letters From Camp, co-created by Curtis and written by Boco Haft. Projects in the works include: The Sticky, a Prime Video crime comedy series based on the true story dubbed the "Great Canadian Maple Syrup Heist" Scarpetta, a Prime Video series based on Patricia Cornwell's best-selling novels, starring Curtis alongside Nicole Kidman as forensic pathologist Kay Scarpetta; Mother Nature, a Blumhouse eco-horror film that Curtis co-wrote with her producing partner Russell Goldman, based on their forthcoming graphic novel illustrated by Karl Stevens; a feature adaptation of the biography "PARADISE: ONE TOWN'S STRUGGLE TO SURVIVE AN AMERICAN WILDFIRE" by Lizzie Johnson; Outfielder, a biography series about Glenn Burke, produced by Ryan Murphy and written by Robert O'Hara.
Michael Fry – Producer
Michael Fry is an independent film and television producer with a number of projects set up at both the studio and independent level through his company, Scrappy Rascal. He recently worked as a development executive at Unique Features, where he sold the Black List script Go Dark to Miramax in a competitive situation and put together the horror project Crush On You with Sydney Sweeney attached to star and produce. Michael previously worked his way up the executive ranks at 87North (Hobbs & Shaw), Platinum Dunes (A Quiet Place) and Gilbert Films (La La Land).
Wendy Wang – Producer
Born in China and raised in Los Angeles, Wendy Wang graduated from USC School of Cinematic Arts in Film Production. She started her producing work in music videos and commercials. Her current focus is in producing narrative action and thriller films, including the award-winning project Kickstart My Heart (2022).
Contact
For inquiries, please contact fiscalsponsorship@filmindependent.org.