Burros

A mini epic at the US/Mexico border
Project type: Narrative Short
Project status: Production
Director/Writer: Jefferson Stein
Producer: Liz Cardenas
Producer: Russell Sheaffer
Executive Producers: Bear Larry Wilson, Camillus Lopez

Help independent filmmakers tell their stories.
Make a donation to Burros today.
Film Independent's Fiscal Sponsorship program opens the door to nonprofit funding for independent filmmakers and media artists. Donate today and help bring Burros to life.
Logline
A young Native girl discovers a Hispanic migrant her age who lost her dad in the middle of the dangerous but beautiful Sonoran desert.
Synopsis
Set in southern Arizona, twenty miles from the Mexico border in the desert town of Sells, the capital of the Tohono O'odham Nation, Burros tells the story of Elsa, a rambunctious six-year-old Native American girl with a passion for tracking who is bored at home during the summer. She spends the long, hot days at home with her dog while her father supports them by tracking drug smugglers in the only all-Native American U.S. unit "Shadow Wolves." When Elsa finds a Hispanic girl in front of her house who has been separated from her father as she crossed the Mexico border into the United States, she takes her on an adventure through her pastel, desert world. As Elsa takes takes her new friend in search for food and help, we get a look at the lives of the Tohono O'odham people, who are wrapped up in the politics and violence of the countries surrounding them.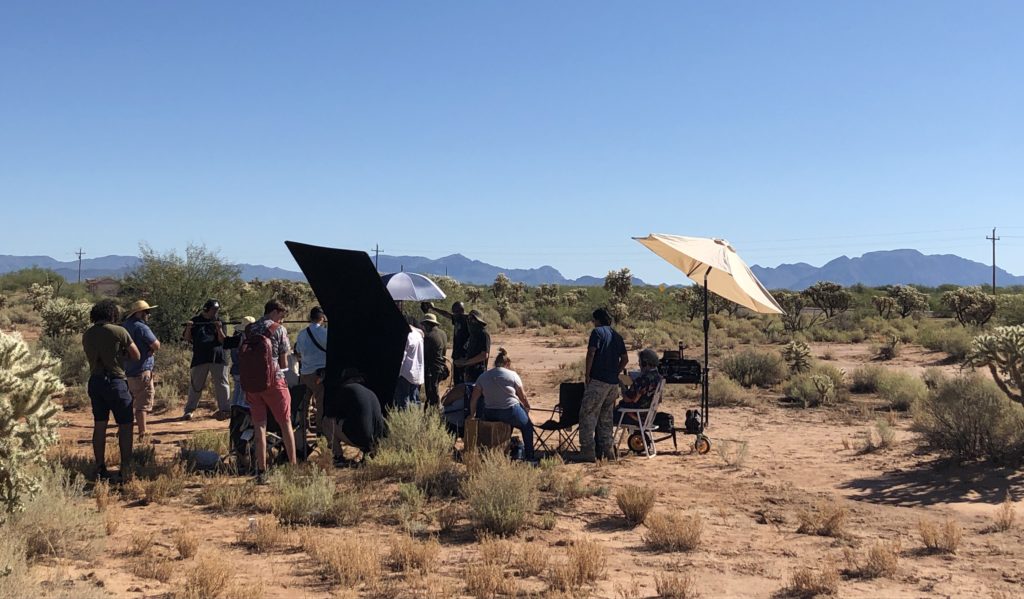 Meet the Filmmakers
Jefferson Stein — Director/Writer
Selected for the SHOOT New Directors Showcase in 2015, Jefferson Stein is an award-winning filmmaker from Texas based out of Los Angeles. He has directed commercials for Budweiser, TGI Fridays, The Home Depot, Frito-Lay, VICE, Michelin, American Airlines and Adidas. His Airplane Mode spot for American Airlines was featured in SHOOT's The Best Work You May Never See. His short film, Tumble Dry Low (2015), screened at over 30 festivals including Seattle International Film Festival, Maryland Film Festival, San Diego Film Festival, and Tallinn Black Nights. It premiered online on Short of the Week and played on Alaska Airlines flights. It was called "one of the best dramatic shorts out there at the moment" by Ain't It Cool News garnering 2.5 million views.
Liz Cardenas — Producer
A 2019 Independent Spirit Award nominee, Liz Cardenas considers herself more than a producer, she's a storyteller. Notable producing and acting credits include Augustine Frizzell's Never Goin' Back (Sundance '18), starring Maia Mitchell, Cami Morrone and Kyle Mooney; David Lowery's A Ghost Story (Sundance '17), starring Rooney Mara and Casey Affleck (both A24 films); and Daniel Laabs' Jules Of Light & Dark, the 2019 Outfest Best US Narrative Feature. Under her production company, Ten to the Six Pictures, she has a slate of four features and three short films in various stages of development and production – filming in the US and abroad. A 2018 Rotterdam Lab and 2017 Film Independent Lab Fellow, she wrote and directed two award-winning short films and co-created a series of children's films sold worldwide. She received a B.S. in Broadcast Journalism from TCU and is former reporter for The Dallas Morning News. Born in Chicago, based in Los Angeles, she considers Texas home, where she was raised by her Hispanic father, who migrated to the US when he was 17, and Irish-American mother. She's represented by Authentic Talent & Literary Management in Los Angeles and is a member of SAG-AFTRA and Women in Film.
Contact
For inquiries, please contact fiscalsponsorship@filmindependent.org.