Calamity and Mercy

Ukrainian refugees flee the chaos of war and describe the challenges to fit in new cultures.
Film Independent's Fiscal Sponsorship program opens the door to nonprofit funding for independent filmmakers and media artists. Donate today and help bring Calamity and Mercy to life.
Logline
The stories of individual Ukrainian refugees submerged in the chaos of and fleeing war are told in their own words. They, NGO staff, and private civilians, describe the challenges and successes to integrate into new cultures.
Synopsis
February 24, 2022, Russia invaded Ukraine by order of Vladimir Putin, beginning the most significant conflict in Europe since World War II, and sparking the largest refugee crisis in almost a century.
Calamity and Mercy is the story, the voices of people affected by the conflict. A direct counterpoint to ethnic Nationalism and Russian propaganda used to justify naked aggression.
Immigration into a new society is a complex endeavor after fleeing a war zone. Calamity and Mercy examines the individual journeys of Ukrainian refugees in a three-part arc.
Issue: How are various EU countries welcoming (or hindering) refugees? Interviewees detail why they left their homes in Ukraine. How are NGOs and reception centers organized to support the sudden influx of refugees?
Issue Two: Ukrainian Refugees and Integration in EU. What does integration encompass? We investigate the differences between the various states and the dynamics of associations and institutions in the various countries. What is the difference between Africans and Middle Eastern migrants versus Eastern European refugees?
Issue Three: Compare different models of integration and exclusion with real-world examples Local solutions to alleviate the resource needs of refugees while welcoming them to the community, and as a counterpoint, the damage done when citizens target refugees and migrants for exploitation and exclusion.
Ultimately, Calamity and Mercy is a narrative of hope.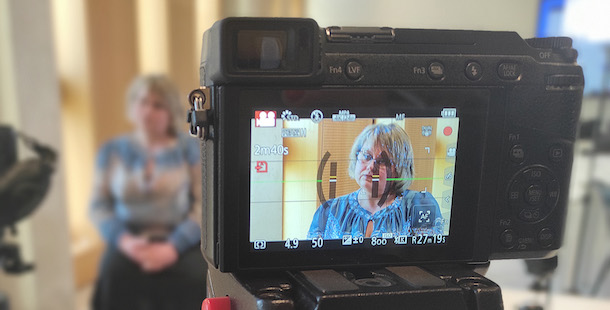 Meet the Filmmakers
Daniel W Smith – Writer/Producer
Daniel W Smith (USA) grew up on Long Island, New York, and in Japan. After graduating from Marquette University, he volunteered for military service. After deploying to Bosnia, Iraq, the Horn of Africa, and Germany, he retired from US Army Special Forces in 2008. He then worked as a civilian operations planner at U.S. Africa Command and then at a US Air Force Intelligence, Surveillance, and Reconnaissance Squadron supporting U2 and drone operations. Daniel graduated from George Mason University with an MFA in Poetry and the New York Film Academy with an MFA in Screenwriting and Producing. He has produced and completed two documentary films, Tempelhof and Tahriib (Those Who Tragel North).
Valentina Corrado – Co-Director/Editor
Valentina Corrado (Italy) collaborates closely with Rodolfo as an experienced professional filmmaker. She assists in co-directing, filming, and editing. She also creates advertising, music, and documentary projects, both for international brands, national foundations, and local companies), as well as creative projects in collaboration with independent filmmakers.
Rodolfo Colombara – Co-Director/Cinematographer
Rodolfo Colombara (Italy) is a filmmaking instructor and professional video producer. He directs, shoots and edits advertising videos, music videos, and documentaries for large international brands, national foundations, and local companies.
Contact
For inquiries, please contact fiscalsponsorship@filmindependent.org.