Devotee

Without followers there is no leader.
Film Independent's Fiscal Sponsorship program opens the door to nonprofit funding for independent filmmakers and media artists. Donate today and help bring Devotee to life.
Logline
1979 – James Do, a drifter, finds himself in the mystical Sedona. He meets a young GURU and her devotees who opens his mind to a new path.
Synopsis
It's 1979 and while drifting though Arizona, James Do, encounters a group of hippies offering a lecture from a Guru that is visiting from India. James attends the meeting and is unimpressed by Sita the Guru. Later that day James runs into Sita at a gas station. Their small talk revitalizes his interest. James attends a gathering. Sita makes an appearance. A skeptical James challenges Sita and she proceeds to give him enlightenment. In the morning, James wakes up to the hippie host, offering coffee and conspiracy theories. Turned off, James returns to the road and encounters Sita one last time. She offers James to join her in San Francisco. A change of heart decides James's path.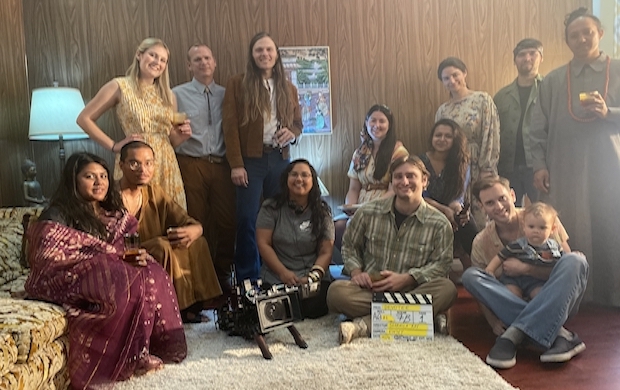 Meet the Filmmakers
Sharmila Ray – Writer/Director
Sharmila Ray is a director and production designer who hails from University of California San Diego and resides in Echo Park. Her documentary, You Follow: A Search for One's Past was an official selection at The La Femme Film Fest and The India International Film Festival. Her production design roster includes music videos for Don Diablo, the late Scott Weiland, award winning short Joan's Day Out and commercials for Nordstom and JC Penny. Shar also production designed the feature film Namour, which won the LA Muse category at The LA Film Fest. She has also worked in both the Shondaland and Ryan Murphy camps.
Matt Keene Smith – Producer
Matt Keene Smith is an independent film producer based in Los Angeles. Films produced under his Twice Told Filmsbanner include Neil Drumming's debut Big Words, a NY Times Critic's Pick that was released by Ava DuVernay via her distribution collective Array, Matthew A. Cherry's 9 Rides that world¬ premiered at the 2016 South by Southwest Film Festival, Heidi Saman's feature debut Namour, and the recently completed short film The Thing About Us from writer/director Keely Weiss and Executive Producer Jill Soloway. Matt was formerly Director of Production, Acquisitions and Development for producer Kirk D'Amico at leading international sales company Myriad Pictures. Matt began his career working for Oscar¬ nominated director Bob Rafelson at Marmont Productions and was Associate Producer on Rafelson's No Good Deed starring Samuel L. Jackson and Milla Jovovich. Other experience includes working for veteran film executive Andrew Fogelson at former independent film distributor MAC Releasing, for TV legend Norman Lear through his get¬out¬the¬vote initiative Declare Yourself, and as a programmer for the Slamdance Film Festival.
Kinsey – Director of Photography
While flipping through pages of beauty wrapped in yellow Kinsey was amazed by the underwater imagery in National Geographic and in those moments his grandmother introduced him to the art of photography. His adoration for humanity and the world is deeply rooted with his time spent with the elderly as a nurse. Escaping society's grip he fell in love with the road, taking pictures of his friends, professional BMX riders. He developed a curiosity for light learning how to freeze time. He has spent the last 10 years lighting still ad campaigns while developing and fostering his passion for cinematography. Once a scene kid from Arizona, Kinsey took liking to this project immediately and hopes to share a message that resonates with him. Recently Kinsey's work has captured the eye of Flaunt and Vogue. He is looking to expand into the narrative format.
Kausar Mohammed – "Sita"
Kausar Mohammed is a Bengali/Pakistani-American actress born in San Jose, California with a young start in theatre and comedy. Kausar plays series lead in Paul Feig's dramedy, East of La Brea, a show about two Muslim-American twenty somethings navigating their changing LA landscape. She has also has worked alongside Taraji P. Henson on the highly anticipated film What Men Want (Paramount), Issa Rae on Little (Universal), and has additional credits on shows such as Silicon Valley (HBO), Black Lightning (CW), and Nobodies (TV Land). She has been a part of various award-winning digital projects, such as "Smyle" and "Namaste" featured on Huffington Post, NBC, and Al-Jazeera. She trains and performs improv/sketch at UCB/Groundlings and is on an all South-Asian sketch comedy team, The Get Brown, that performs regularly at UCB theatre.
David Huynh – "James"
David Huynh is a film, television and stage actor. He's worked with some of the industry's top talents including Clifton Collins Jr., Anthony LaPaglia, Francesca Eastwood, Ian Anthony Dale, Tzi Ma, Kenneth Choi, Linda Cardellini and Evan Peters, among others. David currently stars in MFA, a feature film that world premiered at SXSW 2017.
David won a Special Jury Prize at the Los Angeles Asian Pacific Film Festival, garnering the Outstanding Newcomer and Best Emerging Actor Award for his starring performance in the feature film Baby. Huynh has appeared on stage at the Sacred Fools Theater Company, The Kirk Douglas Theater, The Colony Theatre and starred as Neil in the East West Players Production of Mysterious Skin. The play was adapted by Prince Gomolvilas from Scott Heim's Novel by the same name. David has also performed with Center Theatre Group Los Angeles and South Coast Repertory.
Contact
For inquiries, please contact fiscalsponsorship@filmindependent.org.