Don't Ever Let Go

Would you leave it all behind to become your true self?
Film Independent's Fiscal Sponsorship program opens the door to nonprofit funding for independent filmmakers and media artists. Donate today and help bring Don't Ever Let Go to life.
Logline
Mia and her brother Alex find a powerful stone that thrusts them into different paths while bringing them closer then they've ever been.
Synopsis
Don't Ever Let Go is a six-minute animated film about a teenage Mexican-American brother and sister who are both trying to figure out their place in the world. Walking home from school one day they come upon a powerful stone, and both of them have different ideas about what to do with it. The brother, Alex, doesn't like the disruption it brings to their everyday lives and immediately wants to get rid of it. The sister, Mia, is curious where this object comes from and wants to see where it will lead her. Having dreams about her future, Mia thinks that the stone will help her get there, so she follows it's guidance to a bridge on the edge of town. Once there, a portal opens and takes her to her future. The brother is left alone with nothing but memories of his sister and an idea that he must go out and search for his own stone.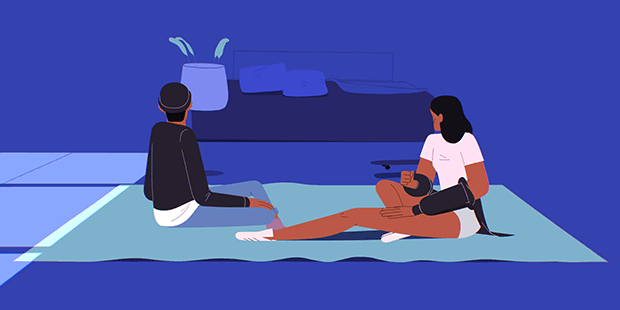 Meet the Filmmakers
Fabian Molina — Writer/Director
Fabian Molina is a commercial animation director and filmmaker from the Bay Area (but currently based out of Los Angeles). After receiving his degree in Digital Arts and Animation he decided he wanted to tell stories, stories that said something about the time in which we live. In 2012 he started a production company called Bloom Studios in San Francisco's Sunset district to help brands tell their story. In that time he did work for Nike, Gap, the National Women's March, Tillamook, and Zendesk. After three years Bloom was acquired by Allison+Partners, a global PR firm, leaving him fully available to focus on animation directing and filmmaking. Fabian has self-published 2 books on the topics of drawing and animation. He is an Art Director at Buck, and is currently working on his first short film.
Kaitlyn Mahoney — Producer
Kaitlyn is an Aussie producer pushing PDFs, crafting mighty emails and making magic in Portland, Oregon. She loves to work with artistic people on all types of creative endeavors to help make their vision a reality — on budget and on time. Kaitlyn has produced for major design and animations studios in both the US and Australia, as well as collaborated on various independent projects. Currently, she's working with the awesome people at Oddfellows.
Contact
For inquiries, please contact fiscalsponsorship@filmindependent.org.