Everything's Fine

A life defined by a moment forgotten
Project type: Narrative Short
Project status: Pre-Production
Writer, Director, Producer: Christina Hulen
Producer:Staci Witt
Producer: Kim Turner
Cinematographer: Edd Lukas
Production Designer: Andrew Hammer
Cast: Charlotte Rothwell
Cast: Robert Longstreet
Cast: Katie Parker
Cast: Michelle Clunie
Cast: Steven Culp

Website: everthingsfinethemovie.com
Twitter: @EF_themovie
Facebook: Everything's Fine the movie

Help independent filmmakers tell their stories.
Make a donation to Everything's Fine today.
Film Independent's Fiscal Sponsorship program opens the door to nonprofit funding for independent filmmakers and media artists. Donate today and help bring Everything's Fine to life.

Logline
A young woman suffering from trauma-induced memory loss finds herself spiraling dangerously out of control as the impending anniversary of the event nears, threatening to destroy her carefully crafted veneer of normalcy, her relationships and even her life.
Synopsis
HANNAH, the sole survivor of a school shooting, suffers from PTSD that she refuses to acknowledge. Instead, she puts on the brave face that women often do, insisting "I'm fine", while attempting to hide her symptoms from her family.
On the eve of the one-year anniversary of the event, Hannah and her wife PAIGE travel back to Hanna's parent's home to attend their wedding anniversary, which tragically falls on the same date.
It quickly becomes apparent that each member of the family is suffering from the trauma and each manifests it in a unique way. Paige is the only one to see through their facades. She's witnessing a family ready to implode.
As the hours tick down, Hannah finds her world quickly unraveling. Plagued by fragmented, disjointed flashbacks, her panic attacks, isolation and self-harming behaviors only increase.
Terrified she might lose her, Paige pushes an already on edge Hannah to work through the memories. In a moment of despair, Hannah finally confesses the secret that she has held for a year…that she has no memory of the event. She is tormented by the thought that she may have run, that she may have left her students. She is caught in a terrible limbo of needing to know what happened, while being terrified of what she may discover about herself.
Desperate to help, Paige takes an unwitting Hannah back to the school, unaware that a memorial is being set up. Triggered by seeing PETER MALLEY, a father who blamed her for his son's death, Hannah panics and runs.
As memories come flooding back, Hannah runs right toward the edge of the cliffs and the sea below. Just as she reaches the precipice the final memory comes. But will knowing the truth be enough to save her?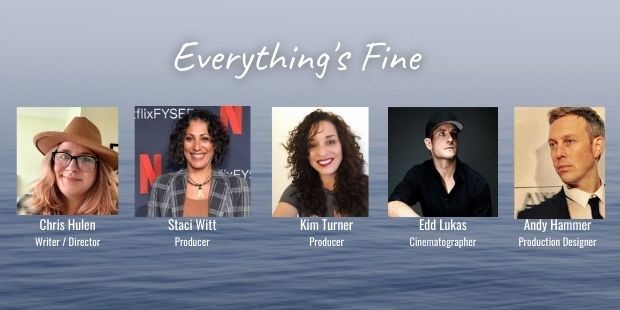 Meet the Filmmakers
Christina Hulen – Writer, Director, Producer
Christina Hulen is an award-winning Writer / Director / Producer. Her female centric work has won the Meryl Streep funded Writers Lab and was a top 20 semifinalist in the Academy Nicholl Fellowship. She's been a selected participant to the Cinestory Feature Lab, the Stowe Story Lab and the exclusive Imagine Impact writers platform. She writes across genres, specializing in historical dramas featuring LGBTQ + experiences.
As a producer she was part of the producing teams for SHELTER which won a GLAAD Media Award for Best Narrative Feature Limited Release as well as multiple award-winning, festival favorite, A MARINE STORY.
She has directed two short films previously, KEPT and SOUNDTRACK FOR AN INSOMNIAC. Both screened at film festivals worldwide.
Staci Witt – Producer
Staci is a producer and make-up artist for both film and television best known for her work on AMERICAN HORROR STORY 1984, DR. SLEEP, THE HAUNTING OF HILL HOUSE and HEIST.
Kim Turner – Producer
Kim Turner is a writer/actor/producer. She is a graduate of the Second City Conservatory in Chicago, Second City's writing program and IO's (formerly Improv Olympic) writing programs. She's performed improv and written sketches for almost 20 years and her screenplay, CHRISTY'S GOT CANCER! was selected for the inaugural Meryl Streep Screenwriters' Lab (and the only comedy!). Her half hour comedy pilot, GOOD IN A ROOM, was a Second Rounder at Austin. Her feature comedy, DINNER WITH THE QUEEN, was selected for the Stowe Story Lab and her current drama feature, TOMÁS, is a quarterfinalist at Cinestory and Scriptapalooza. Kim is currently writing a biography picture about mountain biker, Grace Ragland, with Mountain Dirt Productions. Additionally, she is cultivating new projects with Suzanne Dunn and Anna Hozian under their production company, Lioness Productions.
Edd Lukas – Cinematographer
Edd launched his career in the camera department on high profile films such as CASINO ROYALE and ATONEMENT.
His cinematography credits include 30 feature films which span all genres (NANCY DREW, THE GALLOWS, ACTS OF VIOLENCE, WHIPLASH – short) He has shot commercials, music videos and short form projects across North America, Europe, Asia and South America, working with brands such as Budweiser, Chrysler, Newsweek and GQ.
Edd is well versed in both film and digital production. He holds 2 MA Degrees; one from the London Film School. the other from the prestigious American Film Institute- where he specialized in Cinematography.
Andrew Hammer – Production Designer
Andrew Hammer's vast and eclectic experience in the entertainment industry spans over 25 years. Production Designer for music videos including Mika Ben-Yami Nothing is Wrong. Art Director for feature films including The Final Song. Assistant Art Director for feature films and TV including Primal Doubt, and Day of Independence
An award winning theatrical set designer, with over 100 productions, including; Broomstick; Ovation award nominated for best set design. My Fair Lady; Winner: San Diego Critics Circle award for best set design. At Walt Disney Imagineering; lead set decorator for Shanghai Disney's Fantasyland. Before that he was a paint and color specialist, working on such projects as color designing and painting the Hat Box ghost inside Disneyland's Haunted Mansion. Recently he was the Colorist for Universal Studios Japan's Super Mario Land An accomplished Scenic Artist, Andy has worked on hundreds of projects for television, film, theatre and theme park projects, including the Academy Awards, Jim Henson's Creature Shop Challenge, Fear Factor, and RuPaul's Drag Race. Most recently, Black light painting the Peter Pan attraction going to Tokyo Disney Seas in 2023.
Contact
For inquiries, please contact fiscalsponsorship@filmindependent.org.