Eye for an i

A poetic, authentic meditation on grief.
Film Independent's Fiscal Sponsorship program opens the door to nonprofit funding for independent filmmakers and media artists. Donate today and help bring Eye for an i to life.

Logline
After losing his sister to a stray bullet in a gang-related shooting, societal pressures from his community of Compton, California push Jeremiah to respond.
Synopsis
This film opens on the streets of Compton, CA, where we see a piano and young black male under the illumination of a streetlight. Here, we are introduced to Jeremiah, our protagonist, as well as his younger sister, Mira. He plays a somber piano melody with Mira's head lying on his shoulder, the sound of children playing snap us out of this intimate space and thrust us into his world.
We meet key characters—DeAndre and Man Man—as Jeremiah hangs with them in his front yard, while Mira and a few younger boys play in the street. Other men from the neighborhood are in the background reacting to an unknown vehicle creeping down the street. Jeremiah walks to get his sister out the street just as the car pulls up with men ringing shots out from the windows.
Mira is struck by a bullet—her body lays in the street across from Jeremiah—lifeless. Jeremiah enters into a void, striking the piano keys ferociously.
We jump out of the void as Jeremiah struggles to play the piano at Mira's funeral service. His parents are seen grieving. Jeremiah's trembling hand takes us into a montage of shots of Compton as he begins to ask questions of faith via voiceover.
The societal pressures of growing up in Compton becomes apparent when we are introduced to the rest of Jeremiah's neighborhood friends. These "homies" try to comfort him in their own right, giving him a pistol and assuring that they have his back. "Manning up" is the only solution they have to offer.
Jeremiah feels trapped—stuck in a fit of rage, sorrow, and guilt. He seeks answers from his father, but after finding no solace, chooses to act on his own.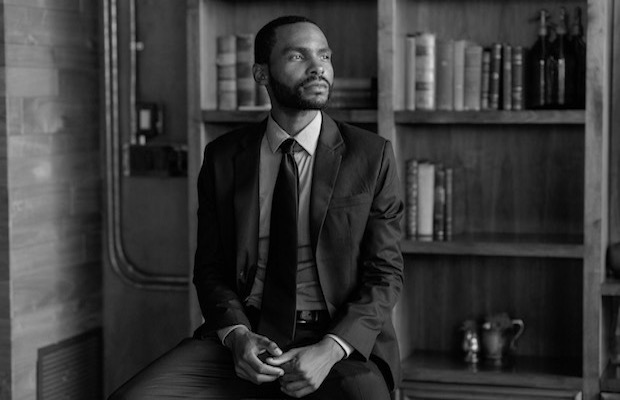 Meet the Filmmakers
James Grisom — Director/Writer
James Grisom is a storyteller who aims to share the lives and humanity of his community through film and music. In 2015, he graduated from UC Berkeley with a B.A. in Religious Studies. As an undergraduate, he founded Knowledge Seekers, a safe space for students from various cultural backgrounds and beliefs to share their thoughts on life. As a scholar-athlete, he played football for the Cal Bears and received the Jonathan and Judy Scholar Athlete Award for his commitment to intellectual pursuits on and off campus. After graduating, he became the full-time editor and music composer for Still I Rise; a documentary aimed to bring awareness of the disproportionate rate of child sex trafficking impacting young black girls in America. In 2017, he was nominated at Cambridge University's Water Sprite Film Festival for Filmmaker of the Future Award for his work on Still I Rise. In the same year, he was selected by the African American Policy Forum (AAPF) amongst 40 young men across the U.S to take part in an intergenerational dialogue on black men and masculinity. James is currently attending USC's School of Cinematic Arts MFA in Film & Television. He is a George Lucas Scholar.
Letia Solomon – Producer
Letia Solomon is an award-winning filmmaker based in Los Angeles. She graduated from USC's MFA program in TV & Film Production and received the 2020 First Look Faculty Award for Outstanding Director. Her thesis film, The Cypher, was nominated for the Best Student Film in the 2020 Tribeca Film Festival, featured in CAA's 2020 Moebius Short Film Showcase, and selected in ABFF's 2020 HBO Short Film Competition. Letia directs and produces edgy dramas, comedies and coming of age stories for both film and television. Her mission is to champion narratives of underrepresented people.
Allison A. Waite – Co-Producer
Allison A. Waite is an award-winning director and cinematographer. She obtained her MFA from USC's School of Cinematic Arts in Film & Television Production with a cinematography concentration as a George Lucas Foundation Scholar. Filmmaking is her activism tool of choice; she aims to give unresolved stories a voice and spark connections within her community. In addition, Allison has received recognition such as the Princess Grace Foundation HBO film Award and a Student Academy Award for her film The Dope Years: The Story of Latasha Harlins.
LaDarius Torrey – Co-Producer
LaDarius Torrey is a writer/director from the Mississippi Gulf Coast. He obtained his undergraduate degree from Georgetown University (2017) before going on to USC's School of Cinematic Arts to obtain his MFA in Film & Television Production (2020). As an advocate for social justice, LaDarius uses his films to serve as voices for the voiceless, in hopes of giving the marginalized the agency to claim and share their own narratives. His first short film, Am I Next, was created in response to the senseless 2014 killing of Michael Brown and was successful in sparking meaningful dialogue on the campus of Georgetown University as well as on a national stage—being featured in online publications by UPWORTHY. Since beginning his filmmaking journey, LaDarius has worked to create thought-provoking pieces that aim to redress how African Americans are viewed and depicted in film, television, and media, more broadly.
Contact
For inquiries, please contact fiscalsponsorship@filmindependent.org.