Familyland

You can't have the parent without the "rent."
Project type: Narrative Short
Project status: Development
Writer/Director: Kelly Yu
Producer: Ally Cheng
Producer: Connor Williams
Virtual Production Supervisor: Nhan Le
Production Designer: Shi Min Yong
Director of Photography:Philips Shum

Website: familylandfilm

Help independent filmmakers tell their stories.
Make a donation to Familyland today.
Film Independent's Fiscal Sponsorship program opens the door to nonprofit funding for independent filmmakers and media artists. Donate today and help bring Familyland to life.
Logline
Reality and artificial reality blur when a young girl begins to suspect that her father isn't her real father, but rather a paid actor.
Synopsis
"All the world's a stage, and all the men and women merely players; They have their exits and their entrances, and one man in his time plays many parts…"
Familyland tells the story of Nana Lin, a ten-year-old girl living in Taiwan with a loving mother and father. She is especially close to her father, who makes her lunches, takes her to cello recitals, and promises to take her to Disneyland. However, after Nana's cello recital, her father receives a strange call from work. That very night, he packs his bags and leaves for a work trip… and never comes back.
Ten years later, we find Nana in the green room of a concert hall preparing to go on stage for her most important performance yet. Suddenly, just as she's supposed to go on stage, she comes across a sponsored commercial on social media. It's an ad for a family rental company called Familyland. As Nana watches, we're transported into a Japanese-inspired musical dance number where Familyland actors dance through revolving set pieces of life's most important family events. Nana's father is one of the dancers in the commercial. We learn that Nana's mother had rented him for ten years in order to give Nana a complete family unit.
The commercial ends, and Nana suddenly finds her reality blending with the commercial. As she is ushered onstage, the actors from the commercial begin to pop up in the audience and amongst the stage crew. Nana's father is one of them, and presents Nana with a chance to continue their rental session. Soon, Nana must choose the kind of role she wants others to play in her life – as well as the role she wants to play in theirs.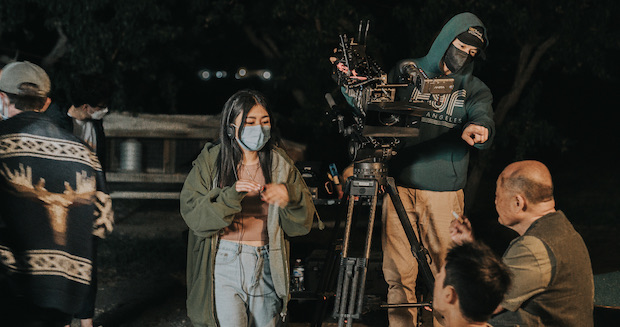 Meet the Filmmakers
Kelly Yu – Writer/Director
Kelly Yu is a Swedish-born, New Orleans raised, Chinese-American writer and director. Her work is driven by a distinct voice and visual style shaped by her experiences navigating three different cultures, as well as a fascination with finding humanity within the absurd.
Most recently, her short Plum Town was the subject of a high-profile crowdfunding campaign and is now about to embark on the festival circuit, where it won the Jury Award for best narrative short at IFF Boston. It also received support from Panavision and award-winning indie production studio Vanishing Angle (Thunder Road). The feature of the same name currently holds the rare "9" rating on the Black List and awarded her finalist for the 2021 WGA Collyer Screenwriting Fellowship and Black List Feature Lab.
She currently studies at the USC School of Cinematic Arts, where she holds the prestigious Jack Nicholson Scholarship in Writing.
Ally Cheng – Producer
Born in Singapore and raised in Hong Kong, Ally Cheng is a producer committed to collaborating with unique, diverse voices to tell compelling, universal stories that both reflect the world we live in today and the world we hope to live in tomorrow. She has an emphasis on elevating underrepresented creators to audiences worldwide and particularly loves multicultural, multilingual stories that transcend national borders. Cheng has worked in the entertainment industries in Singapore, London, and Los Angeles. A recent alumni of the Peter Stark Producing program at USC, she currently works for A24's new management/production venture 2AM.
Connor Williams – Producer
Connor Williams is a film and TV producer based in Los Angeles. He graduated with a B.F.A. in film and TV production from the University of Southern California in 2021. He has since worked as a freelance producer and production coordinator on television shows, short and feature films, corporate videos, and photo shoots. Since graduating, he has produced three independent short films and worked on such TV projects as the 73rd Primetime Emmy Awards, Friday Night Vibes, and Celebrity Exorcism. He is currently a producer's assistant on Netflix's The Deliverance shooting in Pittsburgh, PA.
Nhan Le – Virtual Production Supervisor
Born in Little Saigon, California, Nhan Le began his career as a storyboard artist pursuing his BA in Film and TV Production at the University of Southern California, School of Cinematic Arts. Nhan has storyboarded for thesis films, commercials, short films, and tv and feature films. His work can be found on TV shows like Ted Lasso and Umbrella Academy, Mitski music videos, and feature films with A24 and Focus Features. He is currently working with xR Technologies after teaching himself Virtual Production while being a student and freelance storyboard artist. Nhan blends his experience of visual development with his studies in 3D and game engines and pushes projects to the frontlines of storytelling technology. His insight can be seen being adopted by USC and Chapman University and their newly developing Virtual Production programs. Nhan aims to make these new technologies more accessible and less intimidating.
Shi Min Yong – Production Designer
Born in Singapore, Shi Min began her career as a commercial interior designer and came to Los Angeles to pursue her MFA in Production Design at the American Film Institute Conservatory. Shi Min has designed numerous film projects that have been screened at film festivals including the Tribeca Film Festival, Los Angeles Asian Pacific Film Festival, and the CAA Moebius Showcase. She has also worked on projects such as season 3 of Apple TV+ series For All Mankind and the acclaimed Sundance feature film Palm Trees & Power Lines. She is a current participant in the BAFTA Newcomers program and the ADG Production Design Initiative. Shi Min was awarded Excellence in Production Design at the 44th Asian American International Film Festival for Hello From Taiwan. With a multi-disciplinary skillset, Shi Min's goal is to push the boundaries of visual storytelling and elevate the cinematic experience.
Philips Shum – Directory of Photography
Born in Canton, China, Philips Shum grew up surrounded by Hong Kong cinema. Since graduating from University of Southern California School of Cinematic Arts in 2011, he has had the privilege of lensing music videos for Big Sean, 21 Savage, Kendrick Lamar and Vince Staples; television series The Crew League for Sean 'Diddy' Combs's cable network Revolt; short film Ella starring Nichole Sakura (Superstore) & Dallas Liu (Shang-Chi and the Legend of the Ten Rings); feature film B-Side: For Taylor starring Jeannine Vargas, Esther Moon (Minari), Dave Huber and James Kang (Ms. Purple). Philips also works on various projects as a colorist, as well as pursuing his passion in medium format photography. Currently he is based in Los Angeles, working to expand his work into more oversea film & music video productions as well as moving towards the director's chair.
Contact
For inquiries, please contact fiscalsponsorship@filmindependent.org.