Finding Fioretta
An epic quest to uncover a culturally significant family's Jewish ancestral roots
Project type: Documentary Feature
Project status: Development
Director: Matthew Mishory
Producer: Bradford L. Schlei
Producer: Álvaro Fernández
Writer: Rob Levine

Email: bschlei@icloud.com
Website: rubberringfilms.com

Help independent filmmakers tell their stories.
Make a donation to Finding Fioretta today.
Film Independent's Fiscal Sponsorship program opens the door to nonprofit funding for independent filmmakers and media artists. Donate today and help bring Finding Fioretta to life.
Logline
A sweeping, epic documentary that plays like a thriller—part mystery, part travelogue, and part journey of discovery — Finding Fioretta is about the obsessive, multi-decade quest of a genealogist to find the 17th century gravestone of his oldest known ancestor, a woman who died in the 1600s in the Jewish ghetto of Venice, Italy.
Synopsis
E Randol Schoenberg has been searching for Fioretta since he was eleven years old. It was then that he first constructed the massive family tree (immortalized on Super8 film) that aroused a lifelong devotion to tracing his family history through the European centuries — from Italy to Prague to Vienna to Los Angeles. Finding Fioretta combines a rich, historic visual universe with a frank and poignant assessment of European history, and the film gives up its secrets in real-time. From the cultural heights of art and music to the pain of Jewish expulsion and the Shoah, the Schoenberg story is the European story and reveres and honors history whilst revealing the future. Randy's cousin, Venetian painter Serena Nono, herself the daughter of avant-garde composer Luigi Nono, joins Randy on his quest through Central Europe, culminating in a forgotten graveyard on Venice's Lido island where Fioretta lies buried. Along the way, they encounter an eclectic cast of characters engaged in the painstaking and sometimes melancholy task of preserving European Jewish history. They include a haberdasher writing a genealogical encyclopedia of Jewish Vienna; a hatter excavating buried tombstones; a Czech woman memorializing the Jews who once lived on her street; an actor photographing Jewish cemeteries in the Bohemian countryside; and a child hidden from the Holocaust who now, at age 91, cares for the ancient cemetery on the Lido. We also meet the historians, archivists, and museum caretakers who are the officious custodians of precious artifacts and sites. The family history they piece together, through historical records and lore, intersects not only emperors, kings, and popes, but also scientists, musicians, and a false messiah. It ends not in Europe, but Los Angeles, where the Schoenberg family was rebuilt in the decades after the Holocaust.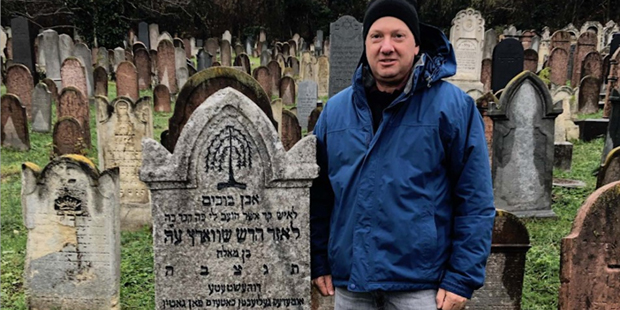 Meet the Filmmakers
Matthew Mishory – Director
Filmmaker and commercial director Matthew Mishory was named a "rising talent" by Variety. His work is noted for its exquisite visual style and expansive narrative language.Matthew is currently shooting the hybrid narrative-doc Mosolov's Suitcase with César Award-nominated Kirill Emelyanov in the title role, and the environmental doc Who Are the Marcuses? As a commercial director, he shot the "Powerful Performance" campaign for TCL, starring NBA MVP Giannis Antetokounmpo. It was featured on the 2019 Super Bowl broadcast and garnered over 19M views on YouTube. Recently, he teamed up again with Antetokounmpo for the 2020/21 "Enjoy More" campaign. Matthew has also directed (in Los Cabos, Mexico) a surf campaign with pro surfer Tia Blanco as well as television and digital spots for top brands such as Turkish Airlines, Pfizer, Roku, and Icelandic Glacial. Matthew's 2018 film No Place of Exile, about composer and pianist Artur Schnabel, premiered on the Arte network. His 2015 doc Absent was designated a "must-see" film by Cineuropa. Matthew's feature film debut, the 35mm Joshua Tree, 1951: A Portrait of James Dean was declared "mesmerizing and sexy" (SF Chronicle) and "a nuanced portrayal of an entire era" (Artforum). Matthew's short film, Delphinium, about artist Derek Jarman, was selected for the British Film Institute's National Film Archive.
Bradford L. Schlei – Producer
Schlei is an acclaimed producer and financier who was born and raised in Los Angeles. As the founder of the film finance fund Stone Canyon Entertainment and of Lindemann Entertainment Group, Schlei was responsible for the financing and production of such indie powerhouse films as Swingers and Slingblade. He also served as partner and Head of Production of Muse Productions, creators of such critically-acclaimed films as: American Psycho, Sofia Coppola's directorial debut Virgin Suicides, Buffalo 66, Irreversible, and Bully. As a producer, Bradford's credits include Spun, Some Folks Call It A Slingblade, Swingers, Dogtown, Welcome To Hollywood, and The Killer Inside Me, starring Kate Hudson, Jessica Alba, Simon Baker, and Casey Affleck. Most recently he produced The Trust with Nicolas Cage and Elijah Wood and forthcoming Who Are the Marcuses? in collaboration with Rhino Films.
Álvaro Fernández – Producer
Fernández is a vastly experienced producer and line producer who has delivered dozens of projects to completion over the past decade. He is particularly skilled in navigating the difficult terrain of international co-productions, having filmed in over ten countries. Álvaro's credits include the documentaries Who Are The Marcuses?; Artur Schnabel: No Place of Exile, for Arte and RBB; Wittgenstein's Repertoire; and Mosolov's Suitcase. Álvaro has also overseen national commercial spots for clients such as Pinterest, Roku, DirecTV, Best Buy, and TCL — including two recent campaigns with NBA MVP Giannis Antetokounmpo.
Rob Levine – Writer
As a Story Analyst for New Line Cinema, he began a fifteen-year stint as a Production Executive at Universal Television. Working with Emmy-winning producer Dick Wolf at Universal, Rob assemble an ace writing staff for a stable of hit shows that included Law & Order, New York Undercover. Rob was then offered the opportunity to run legendary actor Peter Falk's production company. Rob was responsible for developing the last three Columbo movies for ABC as well as Falk's film and stage projects – including Arthur Miller's Mr. Peter's Connections, Jon Favreau's Made, and Paul Reiser's The Thing About My Folks.
Contact
For inquiries, please contact fiscalsponsorship@filmindependent.org.