Force of Blue

Film Independent's Fiscal Sponsorship program opens the door to nonprofit funding for independent filmmakers and media artists. Donate today and help bring Force of Blue to life.
Logline
Coached by a group of dedicated police officers, the 2020 Minneapolis North High School football team battles to win a state championship in the midst of the covid pandemic, the death of George Floyd, and the resulting riots that turned the city against the police, setting a community on edge and their neighborhood on fire.
Synopsis
The 2020 Minneapolis North High School football team's battle to win a championship in the midst of the covid pandemic, the death of George Floyd, and the resulting riots that set a community on edge and their neighborhood on fire. Even though their coaches, a group of dedicated Police officers, were considered to be persona non grata in the city of Minneapolis, the Polar players, a team of predominantly African American student athletes, from a neighborhood that historically has had a negative relationship with the police, were able to look past the badges and refused to let the issues plaguing society stand in their way on their quest for a title.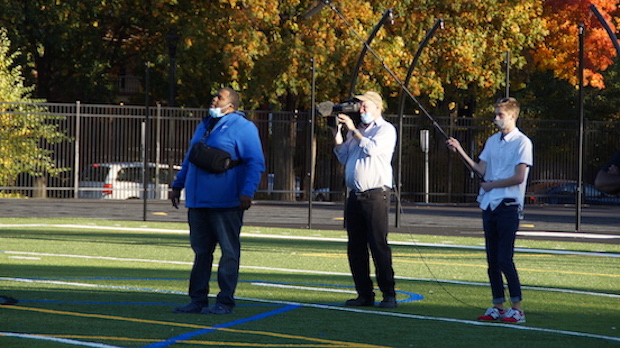 Meet the Filmmakers

Jeffrey Williams — Director
Jeffrey S. Williams is the producer/director/screenwriter of the award-winning short film For Dinner that was a past winner of the St. Paul Film Festival's Best Horror Short Film. For Dinner has been shown in festivals around the world and has over half-a-million views online. He wrote, produced, and directed the well-received film 5ive Man Confession, which has played in numerous film festivals around the country; as well as, the short film Check It Up – To Whom It May Concern, based on the feature film Check It Up, currently in development. He is a graduate of Colgate University and the Howard University School of Communication with an MFA in Film. While at Howard, he won the prestigious School of Communication's Paul Robeson Award for Best Producer. After finishing film school Jeffrey returned to Minneapolis and was the winner of two significant filmmaking fellowships – The Bush Artist Fellowship for Screenwriting and Independent Feature Project-North/McKnight Artist Fellowship. Jeffrey is the founder of Ballers-4-Life Filmworks, a newly formed production company that is designed to produce sports-related content for multiplatform distribution. Force of Blue will be the company's first project.
Jon Cermin — Producer/Cinematographer
Jon Cermin began his professional career as a D.P. and "one-man band" at FlightSafety International's Center for Instructional Services writing, shooting, and editing aviation training videos for aircraft manufacturers and the U.S. military. After almost three years at FlightSafety. He was hired away by AMS Productions to start their production department. Seven years and hundreds of corporate, agency, and broadcast shoots later, he left AMS Productions to start Cine-Cermin Productions, Inc. Jon's travels have taken him to all 50 U.S. States and 16 foreign countries. Memorable locations include the World Trade Center Ground Zero, the Oklahoma Federal Building a day after its attack, an orphanage in Damoh, India, and the Phoebe Christian Hospital in central Liberia. He's been on stage with Toby Keith and Ted Nugent and with the USO in Kosovo, Italy, and Germany. Jon has shot spots for U.S. presidential candidates, state governors, and U.S. congressional candidates. He's also taped countless interviews of legendary sports figures and recording artists. Jon has won numerous awards over his career and has earned five Telly Awards for his camera work.
Contact
For inquiries, please contact fiscalsponsorship@filmindependent.org.