Forgetting Christmas

A farming family struggles through the early stages of Alzheimer's disease.
Project type: Narrative Feature
Project status: Development
Director/Writer/Producer: R Cadell Cook
Producer: Shandra L McDonald
Producer/Actress: Melan Perez

Help independent filmmakers tell their stories.
Make a donation to Forgetting Christmas today.
Film Independent's Fiscal Sponsorship program opens the door to nonprofit funding for independent filmmakers and media artists. Donate today and help bring Forgetting Christmas to life.
Logline
After vowing never to return, a young woman must come home for Christmas to save her father from trapping himself inside his few remaining memories.
Synopsis
Crippling medical bills have made it impossible for April's family to keep their farm, but April's father, Bill, can't bring himself to tell his dying wife the truth. So, he lies about their finances on her deathbed, breaking the family tradition of honesty at all costs, and crushing April's heart beyond repair. A year after vowing never to return, April's new life in the city is interrupted by a visit from Linette, the neighbor that bought her family's farm. Bill has been secretly living in the barn that he no longer owns and it seems like his mind is fading.
Her reluctant return confirms her father's stubborn attitude but April doesn't see his mental issues until he mistakes her for Marie, her deceased mother. Bill becomes his own kidnapper, battling confusion and gaps in his consciousness as April and her friends try to convince him of his need for help before the sheriff's department removes him by force.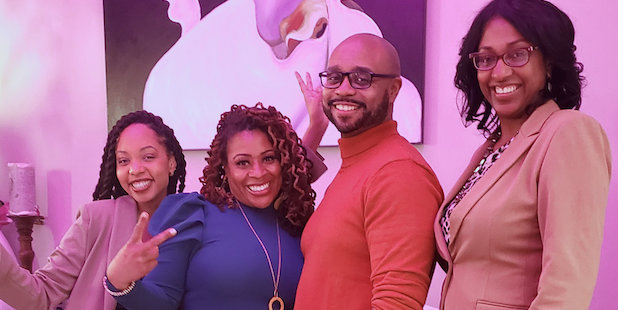 Meet the Filmmakers
R Cadell Cook – Director/Writer/Producer
Cadell is an award-winning, African American writer from a culturally diverse area of Maryland who encourages audiences to think differently about their own lives and opinions. His political drama, Four Points, challenges viewers to understand the opposite side of divisive topics; his heart-breaking feature, Reunion, asks what you would do if you discovered your best friend is a rapist; and his family drama, Forgetting Christmas, gives us a pathway into the taboo discussion of dementia and seasonal depression. He won Best Screenplay at the 2019 Pan African Film Festival, and, among other accolades, was a top 4 finalist at the 2021 Urban World Film Festival. Cadell's action/comedy feature, Gun Powder, scored an 8 on The Black List, and two of his web series were official selections at the 2021 American Black Film Festival. In addition to his writer/director credits, Cadell has eighteen years of post production experience, mixing, sound designing, and composing music for broadcast and cable networks, including The Discovery Channel, Investigation Discovery, National Geographic, PBS, Bloomberg Network, BET and TVOne.
Shandra L McDonald – Producer
Shandra L McDonald is an award-winning screenwriter, director, and producer with more than 20 years' experience in the television and film industry. She has received awards from the Director's Guild of America, Atlanta Film Festival, IFP Film Festival, American Black Film Festival, British Film Institute, Hollywood Black Film Festival and the 48-Hour Film Festival for her projects. Recently, a feature-film where she served as an executive producer titled Jinn, premiered in the highly-competitive, narrative section at the 2018 South by Southwest Film Festival in Austin, Texas. The award-winning film recently received a distribution deal with MGM Studios and is currently streaming on Amazon and iTunes. Shandra is in development with Screen Lloyd Productions for a feature film that she plans to direct titled, Awake O Sleeper. Ms. McDonald continues to grow her film-production company Kiss the Limit Productions producing various types of content including web series, television pilots, documentaries, shorts, and feature films. She is a Professor at the University of Georgia where she teaches writing, directing and producing to MFA grad students.
Melan Perez – Producer/Actress
Emmy winning producer and actress Melan Perez began her independent film career by debuting at Cannes Film Festival in 2011 in a film called, When Beautiful People Do Ugly Things. Since then, she has won multiple accolades, including Best Lead Actress at the World Music and Independent Film Festival. Melan has secured roles on projects now streaming on Roku TV, Netflix, HBO, and starred as lead actress in the psychological thriller, Gaslight. Not only can this Afro-Latina thespian play a variety of characters, she also enjoys spear heading projects as a producer. Her latest production, Second Hand, was an official selection in the 2021 American Black Film Festival. Melan's ability to bring characters to life through her completely engrossing performances and her knack for producing and assembling dedicated and professional teams makes her a necessary member on any project.
Contact
For inquiries, please contact fiscalsponsorship@filmindependent.org.