Forward Thinking

It's life insurance for Black people...
Film Independent's Fiscal Sponsorship program opens the door to nonprofit funding for independent filmmakers and media artists. Donate today and help bring Forward Thinking to life.
Logline
A Black man seeks the assistance of a trademarking agency to prepare for his inevitable encounter with the police.
Synopsis
Set in the present in an afro-surrealist world, JAMES (30, Black) worries about a
future in which he is not around to support his family, and so, in hopes to protect their
financial future he applies for life insurance in the form of trademarking his likeness.
When we first meet James he is seen observing an odd poster advertising 'Coffee with
Cops' on the wall of the trademarking lobby he sits in. When the manager finally emerges from the back he calls out to the two white men first, overlooking James stating that the number
he took from the machine was a "dated service" they no longer use. It isn't until Dwayne
comes to help assist James that he's taken to the back only to hear his number being
called faintly in the overhead speakers.
At Dwayne's desk, there's evidence that leads us to believe that either Dwyane is trying
too hard or just oblivious to the way he acts. We learn James' intentions for coming in, to trademark his likeness so that in the event of his death at the hands of police, when people protest and use his face in a civil rights protest and political push, his image will be trademarked and the processed go to his family.
Unsure how to process such a request Dwayne gets help from the branch manager KAREN. When Karen makes her way over she's nice and approachable, until she starts to try and understand why James needs this. When James finally leaves the office having fulfilled his mission, he locks eyes with a nearby group of cops stationed outside the office.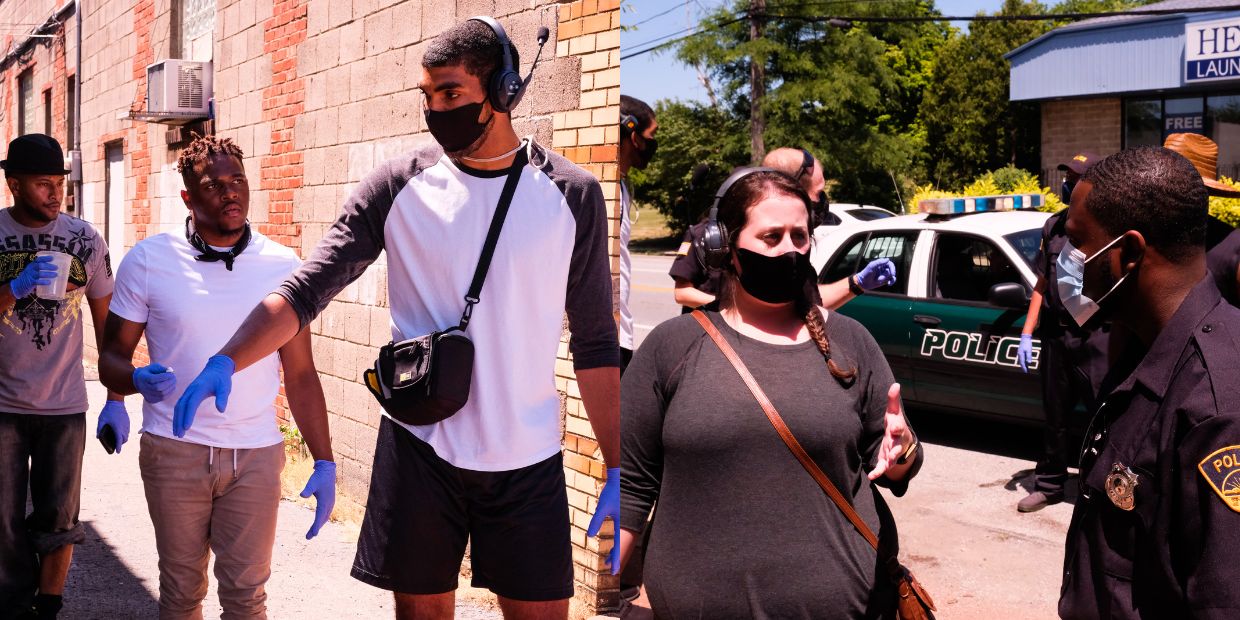 Meet the Filmmakers
Antonio Harper – Writer/Director/Producer
Antonio Harper is a 6 foot 8 Black-Greek director/writer from Cleveland Ohio. His dedication and intense work ethic landed him jobs as the Production Coordinator for the Greater Cleveland Film Commission and on a variety of sets such as Yann Demange's White Boy Rick, and more. On Demange's set, Antonio was promoted from shadowing the director to a production assistant, to casting coordinator all within mere weeks. Antonio is one-half of a writing-directing duo shared with his partner Abby. Having made short films such as Bush (16mm), Panic in Valley City, and Altruist, all of which got into numerous festivals including the Oscar Qualifying Cleveland International Film Festival. Their company West 10G Productions has new projects slated this year for both television and film under their directing flagship Abbio Film.
Abby Burton – Writer/Director/Producer
Abby Burton is a bisexual, disabled filmmaker. She battled cancer in 2019 and is still dealing with the aftermath of being immunocompromised, especially during a pandemic. She also fights to destigmatize all mental disabilities, including anxiety, depression, and post-traumatic stress disorder, all of which she deals with daily but hopes that mental health will become more accepted in the entertainment industry and the world in general. Having started out as an Editor for Cleveland Magazine her ability to find a story and make it resonate with others has come in hand when creating stories of social dramas and satire.
Contact
For inquiries, please contact fiscalsponsorship@filmindependent.org.