Girl With Child

For Diana and Edi, the search for home begins with each other...
Project type: Narrative Feature
Project status: Development
Writer/Director: Maria Abraham
Producer: Luz Agudelo Gipson
Associate Producer: Lucía Moscoso T.

Email: girlwithchild@gmail.com

Help independent filmmakers tell their stories.
Make a donation to Girl With Child today.
Film Independent's Fiscal Sponsorship program opens the door to nonprofit funding for independent filmmakers and media artists. Donate today and help bring Girl With Child to life.
Logline
In a small town in Ecuador, teenager Diana runs away from an institution for troubled girls with her toddler. The goal: to pick up her younger sister from their abusive childhood home and start a new life.
Synopsis
Girl with Child is a Spanish-language coming-of-age drama that begins outside of Quito, Ecuador, as 15-year-old Diana decides to run away from the frigid group home for troubled girls where she's been living. Prompted by a letter from her younger sister, Lisi, Diana burns to get to her hometown ten hours away. But not to stay there. With money stolen from the purse of a social worker, Diana takes off and grudgingly brings her toddler Edi, hoping to pick up her sister and start a new life together somewhere. But, along the way, Diana and Edi wind up down and out in a coastal town and Diana must figure out how to survive.
Eventually she gets a job in a laundry working for a solitary woman who becomes a mother figure to her, and she meets a high school boy who becomes her first boyfriend. Through these relationships, Diana re-shapes her ideas about home, love, and what kind of life she wants to build for herself and Edi. Issues in the film include cycles of abuse and teen motherhood as the story focuses on resilience, the idea that perhaps you can create the home that you seek, and the beauty of starting over.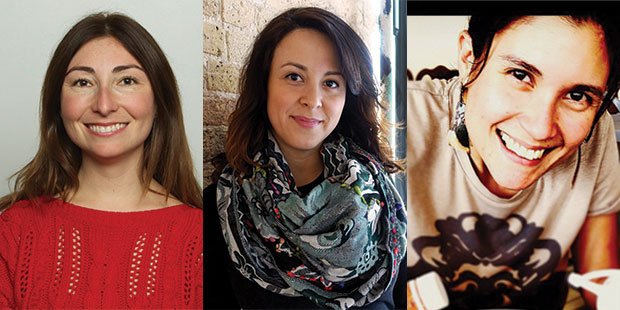 Meet the Filmmakers
Maria Abraham — Writer/Director
Maria is from Las Vegas, Nevada. She has an MFA in Film and Video from Columbia College Chicago and a BA in European Studies from UCLA. Maria received a Fulbright Grant to live in Ecuador and complete research for her feature script Girl with Child, about a teenage girl searching for a new home with her toddler. Maria's short film of the same name won Best Short Short at Aspen Shortsfest and the Chicago Award at the Chicago International Film Festival. Maria was a 2019 Women In Film Financing Intensive fellow with Girl with Child, as well as a 2018 Tribeca TFI Network fellow, 2018 Film Independent Directing Lab fellow, and 2016 Film Independent Screenwriting Lab fellow with the project. Maria has worked as a director and producer on documentaries, commercials, music & fashion videos, artist development labs, and the Webby-winning NBC/Snapchat digital series Face Forward.
Luz Agudelo Gipson — Producer
Luz, a Colombia native, attended Columbia College Chicago where she received a BA in Film and Video. Her works include several award-winning short films and countless cross-platform commercials for a multitude of brands, most notably the "Obama for America" 2008 presidential campaign, which received the Titanium and Integrated Lions Grand Prix award at Cannes. Luz was the Executive Producer at nationally acclaimed music and audio house, Comma. She led the establishment of its Hispanic division and spearheaded the rebranding of its music catalog. Currently, she is a Producer at the U.S.'s leading DRTV agency, Eicoff, a division of Ogilvy & Mather. Luz was a 2019 Women In Film Financing Intensive fellow with Girl with Child, as well as a 2018 Tribeca TFI Network fellow and 2016 Film Independent Producing Lab fellow with the project.
Lucía Moscoso T. — Associate Producder
Lucía has worked in film in Ecuador since 2003 as a producer, assistant director, actor, and festival coordinator. Her projects include the short film En Espera, about an indigenous girl who works as a housekeeper to support her family, the documentary Labranza Oculta, about workers restoring a 17th-century building, the narrative feature Sin Otoño, Sin Primavera, about Guayaquil's disenchanted youth, and the short film Girl with Child, about a lonely teenage girl traveling by bus with her toddler. Lucía has been a coordinator for the film festival Encuentros Del Otro Cine (EDOC) and the youth film festival Chulpicine. Lucía is also a member of the Corporación Juego en Escena theater company that creates interactive theater pieces to discuss topics such as machismo, domestic violence, and teen sexuality with audiences throughout Ecuador.
Contact
For inquiries, please contact fiscalsponsorship@filmindependent.org.