Grace

A coming-of-age journey about faith, hot combs, and summer love.
Project type: Fiction Short
Project status: Post Production
Writer/Director/Producer: Natalie Jasmine Harris
Producer: Morgan Powell
Producer: Julia Kennelly
Producer: Latavia Young
Director of Photography: Tehillah De Castro
Cast: Mikayla Lashae Bartholomew, Jordan Wells, Alexis Cofield, C.L. Simpson, JeVon Blackwell

Website: nataliejharris.com

Help independent filmmakers tell their stories.
Make a donation to Grace today.
Film Independent's Fiscal Sponsorship program opens the door to nonprofit funding for independent filmmakers and media artists. Donate today and help bring Grace to life.
Logline
Grace is Black Southern Gothic narrative short film set in the 1950s about a young girl coming into her womanhood and sexuality.
Synopsis
1950s, USA.
Sixteen-year-old Grace and her older sister spend every summer at their grandparents' house down south. However, this summer will be unlike any other. Now that she's finally 16, Grace must participate in the communal tradition of baptism. When she learns that a repentance is required before the ritual, she begins to question the budding romantic feelings that she has for her best friend, Louise.
Grace is a dramatic Black Southern Gothic and queer short film set in the 1950s that explores the conflicts that religious traditions and rites of passage often present in relation to identity formation. It's a film about faith, hot combs, peach picking, and summer love. It rewrites and rights the history validating that Queer Black women have always been here; thriving, existing, and being.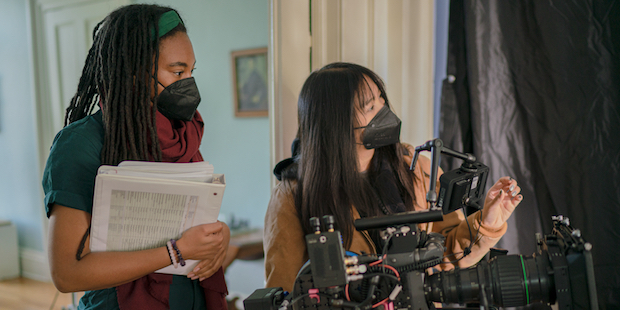 Meet the Filmmakers
Natalie Jasmine Harris – Writer/Director/Producer
Natalie Jasmine Harris is a Black queer filmmaker from Silver Spring, Maryland currently based in NYC. She received her BFA in Film and Television from NYU's Tisch School of the Arts. As a filmmaker, her work spans narrative, documentary, and experimental forms but is centered around a mission to tell stories that capture coming-of-age experiences, showcase Black joy, and reimagine liberation for marginalized communities.
Natalie's most recent short film, Pure, received The 2020 Directors Guild of America's Student Film Award and was acquired by HBOMax. Natalie is now working with award-winning producer, Avril Speaks, to adapt the concept behind Pure into a feature-length film of the same name that has garnered support from SFFILM, The Gotham, Outfest's Screenwriting Lab, The Toronto LGBTQ+ Financing Forum, Film Independent Fast Track, and The WIF x Sundance Financing Intensive. In December 2022, Natalie was included in The Alice Initiative's 2022 List of Emerging Female Directors.
Natalie was a 2022 Creative Culture Filmmaking Fellow at The Jacob Burns Film Center and is also an emerging commercial director, having directed spots for Hyundai and Verizon. Natalie's work has been featured in publications that include Teen Vogue, THEM Magazine, Huffington Post, The Cut, and NBC.
Morgan Powell – Producer
Raised in the reality of family living just 4 hours outside of NYC but only reachable once subjected to a Corrections Department pat-down, Morgan always dreamed of a world where marginalized people are free. Seeking creative solutions to systemic anti-Blackness' social impact, they developed a politic through storytelling. Filmmaking through a Black queer feminist lens is their liberation toolkit's sharpest weapon. Morgan received their B.A. in Anthropology from Spelman College and M.A. in Digital Cinema Production from The New School. Morgan is a graduate of the Writer's Assistant track of the 2022 WGI Support Staff Training Program. Most recently, they were an Associate Producer on the Freeform Original Series, The Come Up. They are also a Producer on the upcoming short documentary from NOVA CYPRESS BLACK entitled (Dey/Dem): A Choreo-Doc, which received the Southern Documentary Fund's prize.
Julia Kennelly – Producer
Julia Kennelly is a filmmaker and producer working in New York City and Los Angeles. While she recently line produced the HBO documentary series The Vow (Jehane Noujaim and Karim Amer) Julia is most passionate about narrative film. She has produced over twenty short films, including The Neighbors' Window (Marshall Curry), which won Best Live Action Short at the 2020 Academy Awards. Films she's produced have been in competition at Tribeca Film Festival, New Orleans Film Festival, Outfest, and Palm Springs Shortfest, among others. Her most recent film, Marcy Learns Something New, won a Special Jury Mention in Comedy at Aspen Shortsfest in 2020, and premiered online on Short of the Week, garnering a Best of the Month recognition and Vimeo Staff Pick's Best of the Year Award. Julia was a finalist for the 2021 Sundance Creative Producing Lab.
Latavia Young – Producer
Latavia Young is a Miami-born, England-raised, Brooklyn-based filmmaker, photographer, and writer who explores, experiments with, and defines the convergence of Blackness, queerness, love, poverty, coming of age, and cultural aesthetics. Latavia has a wide array of producing and production management experience spanning music videos, short films, and podcasts. In 2019, she produced two shorts that went on to premiere at Oaxaca Film Festival and Aesthetica Film Festival. In 2020, she managed production for Fast Life by R&B artist Ayelle as well as podcasts for former President Bill Clinton, Amazon Studios, and AppleTV+. In 2021 she was an Executive Development finalist for Lena Waithe's Inaugural Hillman Grad Mentorship Program and produced music videos for alternative bands Breakup Shoes and Summer Salt. Latavia holds a Bachelor's degree in Film and Media Production, a minor in Digital Culture and Social Media Analytics, and a Master's Degree in Arts Leadership and Cultural Management. She currently works in film and television development at Jax Media and has previously held placements at RadicalMedia, AT WILL MEDIA, and The Tonight Show Starring Jimmy Fallon.
Tehillah De Castro – Director of Photography
Tehillah De Castro is a Director of Photography based in Los Angeles, CA. She initially came up in the industry through the electrical department, learning cinematography through the art of lighting and working alongside reputable DPs. As her career as a DP progressed, her work has been recognized by the Television Academy, Director's Guild of America, and Sundance Ignite. She has served as a Cinematographer for various narrative projects that include the queer indie feature-film, Tahara, Film Independent Project Involve's short film Grrl Guts, and the upcoming feature-length film, How To Blow Up a Pipeline which premiered at the 2022 Toronto International Film Festival and was recently released by NEON. Tehillah has also shot commercial work for Adidas, Nike, Gucci, Coca-Cola, and Mazda as well as music videos for notable artists that include Kehlani, Leon Bridges, Summer Walker, Post Malone, and Silk Sonic.
Contact
For inquiries, please contact fiscalsponsorship@filmindependent.org.