Hatchback

A working class Black family was getting by... until the pandemic started.
Film Independent's Fiscal Sponsorship program opens the door to nonprofit funding for independent filmmakers and media artists. Donate today and help bring Hatchback to life.
Logline
Due to job losses in early 2020 caused by the pandemic, an African-American family of four is living out of their hatchback car until the next pay day arrives. The family dreams of just one night in a motel. But each passing day living out of their hatchback vehicle brings new setbacks that push that dream further and further out of reach.
Synopsis
Our film opens early Friday morning at a gas station in a deteriorated section of what could be any city in America. A rusted and aged hatchback car is parked in the rear of the station. A phone alarm goes off and a weary African-American family of four emerges from the vehicle, wiping the sleep from their eyes. They'd slept there all night. Turns out due to COVID job losses, this hatchback has been the family's only home for the past eight days. We meet forthright, no-nonsense Mom, Zena; upbeat and hardworking Dad, Darryl; and their two precocious children, Jasmine and Malik.
It's Friday and the family, optimistic about Darryl getting paid at his temp construction job, hopes to have enough funds to actually stay in a motel that night. But those hopes are quickly dashed when Darryl is suddenly laid off from his job due to COVID shutdowns. He won't even get paid for another week. Zena panics that the family won't last that long. Money is tight as a drum and tensions in that hatchback car are super high. The family is falling apart physically and emotionally.
Even their normally cheerful daughter, Jasmine, has an inappropriate outburst in her zoom school where she curses out a classmate. Jasmine's outburst not only is the catalyst for a family blowup that's been building for some time, but strangely enough, her outburst leads to the family eventually finding housing. Through the power of community connection, another student in the zoom tells an his basketball coach about the unhoused family…and the coach then tells his elderly neighbor who happens to have an empty bungalow… and our family finds a home in the end.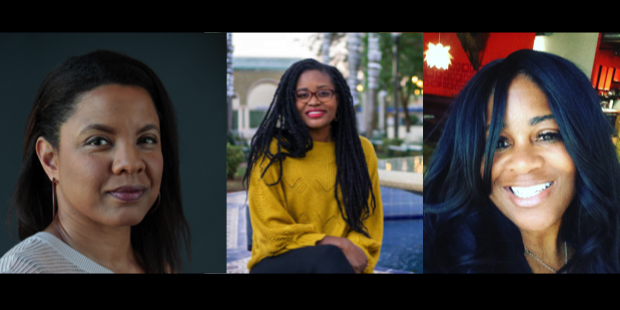 Meet the Filmmakers
Lynelle White – Writer/Director
Disappointed and crushed as a child once her parents informed her that neither the Death Star nor the Starship Enterprise were real things, Lynelle White eventually left her hometown on Long Island to pursue a career in the U.S. Air Force – the closest match in present day to the technologically advanced worlds of Star Trek and Star Wars that she was so deeply obsessed with. Lynelle earned a B.S. in Engineering Science from the U.S. Air Force Academy and then followed with a challenging career as an Air Force pilot, flying combat missions in support of operations Iraqi Freedom and Enduring Freedom. Itching to pursue more creative endeavors, Lynelle began writing and directing short films after transitioning from active duty. These films were awful but her passion was unlocked. While attending UCLA's MFA in Screenwriting program, Lynelle was awarded the NAACP/NBC Universal Television Fellowship and the Women in Film (WIF) Eleanor Perry Writing Award. A fellow in Film Independent's Episodic Television Lab, Lynelle's television writing credits include Army Wives, Z Nation, and the CW series, Black Lightning. Her previously directed short films have screened at New Filmmakers LA, the Alameda International Film Festival and the St. Louis International Film Festival.
Kellianne Rae Jordan – Producer
Kellianne Rae Jordan is a producer, writer and award-winning actor with a desire to show the "artful" life of people of color in the diaspora through film, theater and events. Kellianne has produced a handful of indie films in South Florida that were accepted into festivals such as the Pan-African Film Festival, including the award-winning short film The Park. She has also been involved in various theater productions as a producer, actor and writer, with local and national theater organizations. Kellianne has also produced and curated many events for nonprofits, businesses and individuals that
connect art with service, community awareness and engagement. She recently received acknowledgement for Best Ensemble while acting in an ensemble for a play reading with National Black Theatre and Best Creative Coach with Black Girls Film Camp for
coaching a Black teenage filmmaker through writing, producing and directing a short film. Whether telling important stories through acting, writing works of art that are transformative or producing impactful theater and films, as a storyteller Kellianne is driven to tell stories that reflect people of color in an honest and diverse way.
Anita M. Cal – Producer
Anita M. Cal is a versatile award-winning film and TV storyteller who's had the opportunity to write, produce, and line produce with a diverse range of talent and brands in the entertainment industry. Currently, she is the Co-Writer of Undercard (2022) with Director Tamika Miller (ABC's Station 19, BET's A Christmas Lottery), a sports drama surrounding a woman boxing trainer who attempts to do what no other woman has ever done—train a male boxer to the championship title—if only her contender son will let her. Passionate about a plethora of stories and genres, Anita's work is infused with character-driven BiPOC stories centered around diverse themes of culture, crime, family, or social justice. She landed her first development deal with Showtime, Inc. for a feature family dramedy, Kinfolks while still in graduate school. An ardent life-long learner, Anita earned a Doctorate in Organizational Leadership from the #1-ranked program at Pepperdine University. A lecturer and adjunct professor, she's known to her NYU, Chapman University, and Syracuse University college students as "Dr. C." Anita incorporates leadership principles into her film school lectures and has spoken on her leadership research in Belgium, France, and Germany.
Contact
For inquiries, please contact fiscalsponsorship@filmindependent.org.