Holy Water

...and forgive us our trespasses
Film Independent's Fiscal Sponsorship program opens the door to nonprofit funding for independent filmmakers and media artists. Donate today and help bring Holy Water to life.
Logline
When a spiritual man is faced with a possible illness, his belief system is questioned and he's forced to step into his authentic self in order to heal his emotional pain.
Synopsis
Roman has always been a man with deep spiritual beliefs who also identifies as gay. His devotion to his faith is both salvation and torture and he punishes himself to greater depths while struggling to deny his sexual impulses. . When he's confronted with a possible diagnosis it sends him on a quest for greater clarity and control of his life.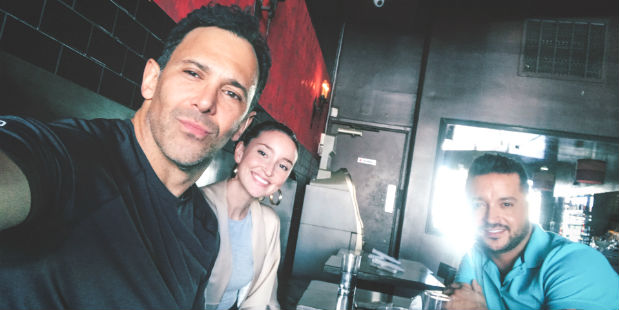 Meet the Filmmakers
Sebastian LaCause — Writer/Director/Producer
Sebastian LaCause is a multi-faceted artist who began his career as a backup dancer for Prince and Madonna, was featured in films like Showgirls and Chicago, and co-starred as Rocky in the Tony Awards nominated revival of The Rocky Horror Show. After an array of roles in studio films like , Premium Rush, Love is Strange and television shows like Gossip Girl, Homeland, Law and Order SVU and Days of Our Lives, Sebastian landed a recurring role on the Emmy-winning series Orange Is The New Black and expanded to supporting roles in films like Keep The Lights On, Bear City and the upcoming Eleanor. In 2011, Sebastian wrote, directed, produced, edited, music supervised and starred in his award-winning series Hustling. Over the three seasons of the series, Sebastian produced and directed twenty-seven episodes. The Hustling series went on to receive a total of eighteen Indie Series Award nominations, walking away with seven wins including Best Actor for Sebastian for every season, Best Drama Series and Best Ensemble. Season two of Hustling was an official Webby Award honoree in the long-form drama category and a Webby Award Nominee for season three. The series also received honors at the Rome Web Awards and the LA WebFest. Sebastian successfully completed two Kickstarter campaigns to fund Hustling, raising nearly fifty thousand dollars, racked up over four million Youtube views and over twenty thousand subscribers. After Hustling Sebastian went on to direct, shoot, edit and music supervise eighteen episodes of the award-winning comedy series He's With Me, which he also co-produced. Most recently Sebastian helms the online series Life's A Drag, with two episodes under its belt.
Roxanne Morrison — Producer
Roxanne Morrison is an actor, filmmaker, artist, producer and social activist. Her theatrical training started as a young girl with Piven Theater and Northwestern University in Chicago and continued on to The Peter Frisch Studio and the University of Los Angeles. She has worked on productions throughout the California Coast with Pacific Reparatory Theater, PCPA, Parson's Nose Theater Company and UCLA Theater Department. She co-produced the second annual Moonfaze Feminist Film Festival in Los Angeles and MSRPSNTD photography project. Her goal is to encourage the representation of marginalized voices and create art through the intersectional lens. Currently, she is working on post-production for her short film Who is it? with Moonfaze Production Company. She is also, an in-house illustrator and event producer for The Unique Markets. There, she has helped bridge the gap between clients such as Nike and local designers and artisans of Los Angeles.  
Jai Rodriguez — Producer
Jai Rodriguez is most recognized for his role in Bravo's culturally-groundbreaking series, Queer Eye For The Straight Guy, Jai created a niche role on the Emmy Award-winning series as the Culture Vulture, a youthfully-savvy addition to the show's already dynamic cast. Working regularly as an authority in culture and style, Jai has hosted for a veritable grab-bag of lifestyle entertainment programming including Styleyes Miami (SiTv), America's Prom Queen (ABC Family),Ultimate Style (Style Network), two consecutive season's of Groomer Has It (Animal Planet), and ,em>Model Latina (SiTv). He was also an ABC official pre-show host for the 2009 American Music Awards. In the past few years Jai returned to TV in dramatic roles on Detroit 187 and Days Of Our Lives. He also played Wayne Brady's husband Tom on the CBS hit, How I Met Your Mother. Other roles include guest star appearances on NBC's Are You There Chelsea?, FOX's Bones, and as a transgender woman Amanda Knott on NBC's Harry's Law. Jai stared as "Geoffrey" on ABCs comedy Malibu Country opposite Reba McEntire and Lily Tomlin making him the first male to garner fame from a reality series to become a series regular on Network TV. This past Christmas Jai stared opposite Kelly Clarkson in her NBC Christmas Special; Kelly Clarkson's Cautionary Christmas Tale. In January Jai finished his Las Vegas residency starting in the off-Broadway smash hit Sex Tips For Straight Women From A Gay Man opposite Kendra Wilkinson at the Paris Casino. Jai continues to be an advocate for issues he is passionate about, working with organizations like AIDS WALK, Positively Fearless and Life Group LA.
Contact
For inquiries, please contact fiscalsponsorship@filmindependent.org.