I Am Tyra

A wrongful conviction, 23 years in prison, one woman's fight for justice.
Project type: Documentary Feature
Project status: Production
Director/Producer/Director of Photography/Editor: Laurence Mathieu-Leger
Producer: Ebyan Bihi
Producer: Rosella Tursi
Executive Producer: Cathrine Gund

Website: iamtyrafilm.com

Help independent filmmakers tell their stories.
Make a donation to I Am Tyra today.
Film Independent's Fiscal Sponsorship program opens the door to nonprofit funding for independent filmmakers and media artists. Donate today and help bring I Am Tyra to life.
Logline
Tyra Patterson spent 23 years behind bars for a wrongful murder conviction. I Am Tyra explores the extraordinary journey of Tyra Patterson through her writing, and follows her as she tries to restore justice for Alexis Martin – a sex trafficking victim, who is serving a life sentence in Ohio for allegedly conspiring to kill her pimp when she was 15.
Synopsis
Tyra Patterson was sentenced to 43 years to life when she was 19 years old, for a murder in which she carried no gun and pulled no trigger, and in which she and her co-defendants insist she played no part. An elementary school drop out, Patterson did not know how to read and write at the time of her arrest. Freed in 2017 after spending 23 years behind bars in Dayton Ohio – Patterson is maximizing on the time saved to make a change.
I Am Tyra tells the extraordinary story of Tyra Patterson, and simultaneously follows her journey as she tries to restore justice for Alexis Martin – a sex trafficking victim, who is serving a life sentence for allegedly conspiring to kill her pimp when she was 15.
Since 1980, the number of incarcerated women in the United States has increased by more than 750%. The ratio is higher for women of color – In 2017, the imprisonment rate for African American women was twice the rate of imprisonment for white women. African American girls are three-and-a-half times more likely to be incarcerated than white girls.
Both Martin and Patterson are women of color, both were teenagers at the time of their arrests – nearly 20 years apart.
Through Patterson and Martin's stories, I Am Tyra aims to shed light on a dysfunctional justice system, one in which social status, class, race, and gender too often affect the outcome of a sentence. The project focuses mainly on the experience of women in America's carceral state.
I Am Tyra is a story of redemption, hope, and resilience. Above and beyond, it is a reminder of the importance of a second chance.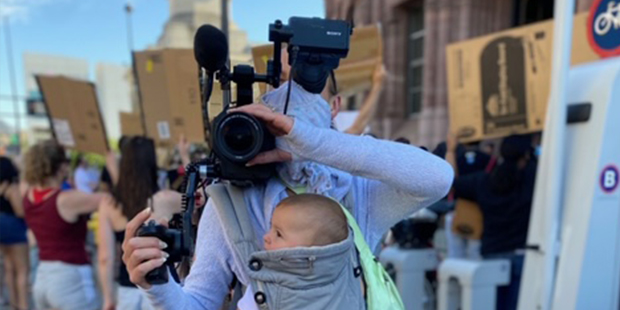 Meet the Filmmakers
Laurence Mathieu-Leger – Director/Producer/Director of Photography
Laurence Mathieu-Leger is an award-winning director, producer, DP, editor, and producer, as well as a mother of 3. Based in New York City, she was previously a senior
video producer at the Guardian US, and is the director and co-producer of Willie, a feature length documentary about the National Hockey League's first black player, Willie O'Ree. The film was an official selection at the 2019 Hot Docs Canadian International Documentary Festival and runner-up for its prestigious audience award. Laurence specializes in long and short format documentary projects – both for broadcast and digital. With over 12 years of experience in creative and managing roles, her work has been featured on major networks and publications. In 2017, Laurence received international recognition after winning a World Press Photo award for her groundbreaking work on the Guardian interactive production The Injustice System – which she spearheaded. In 2018, she was honored with the prestigious Edward R. Murrow Award in the continuing coverage category for her work on Keystone XL: Driving the US pipeline route.
Ebyan Bihi – Producer
Ebyan has spent over 10 years honing her craft by working in a diverse set of positions within the entertainment industry. In that time, she worked in TV and film development, producing documentary and shorts, and supervising a children's animation series. It is her belief that everything, and everyone has a story, and she is passionate about finding that story. A dynamic producer, Ebyan thrives in balancing the logistical and narrative elements in the completion of a project.
Rosella Tursi – Editor
Rosella is originally from Montreal and now based in New York City. Her credits include the documentary film Willie, the documentary series Pride (FX), Dirty Money (Netlfix), Dark Net (Showtime), The Last Defense (ABC), Jonestown: Terror in the Jungle (SundanceTV) and The Vice Guide to Film (Viceland) as well as the documentary JFK: The Smoking Gun for which she earned a Canadian Screen Award nomination for Best Editing in a Documentary Program or Series. Her credits also include the award-winning Canadian series Mohawk Girls. Her work has screened at Montreal World Film Festival, Hot Docs and Tribeca Film Festival.
Contact
For inquiries, please contact fiscalsponsorship@filmindependent.org.