I Am Tyra

A wrongful conviction, 23 years in prison, one woman's fight for justice.
Project type: Docuseries
Project status: Production
Director/Producer/Director of Photography: Laurence Mathieu-Leger
Producer: Ebyan Bihi
Producer: Tyra Patterson
Executive Producer: Cathrine Gund
Executive Producer: Agnes Gund
Executive Producer: Sara Vance Waddell
Executive Producer: Michelle Vance Waddell
Executive Producer: Thalia Mavros
Editor: Rosella Tursi

Website: iamtyrafilm.com

Help independent filmmakers tell their stories.
Make a donation to I Am Tyra today.
Film Independent's Fiscal Sponsorship program opens the door to nonprofit funding for independent filmmakers and media artists. Donate today and help bring I Am Tyra to life.
Logline
Tyra Patterson is a mentor, a motivational speaker, a paralegal, and is just one of the many marginalized black women affected by mass incarceration. She spent 23 years of her life in prison for a murder she didn't commit. Hers is an All-American Story, from the parts of America that our society has all but abandoned. Through her fight for freedom and exoneration, we weave a narrative of hope and redemption for young women impacted by the broken justice system.
Synopsis
Shot over a period of almost 8 years and through an intimate lens of one woman's fight for freedom and exoneration, I Am Tyra, explores the complex and often invisible struggles for wrongfully convicted women and their return to society—specifically young women of color experiencing generational cycles of poverty, family instability, educational gaps, abuse and trauma, girls disproportionately harmed by the justice system.
In 1994, a coerced confession from a teenager who doesn't know how to read or write results in a conviction of murder and robbery that carries a sentence of 43 years-to-life; Tyra Patterson is just 19 years old. For 23 years, she fights for her freedom on the inside while dedicated activists fight for her clemency from the outside.
Tyra is finally paroled on Christmas Day 2017. Coming home is bittersweet, is she really "free" in a world she hasn't lived in for over 20 years? Socially, culturally, technologically, so much has changed. Will she be able to catch up & keep up with, "the responsibility of living life"?
Parole keeps her tethered to the criminal legal system; one misstep and she can end up back in prison to serve the remainder of her 43 years-to-life sentence—a daily reminder that she is not truly free and fuel for her continued fight for exoneration.
She knows how fortunate she is; her family support and relentless advocates prove to her that society hasn't abandoned her and she strives to reintegrate as a "model citizen" knowing many others are not as lucky. How many other wrongfully convicted women are still in prison without any support? How can she help? In 2012, 15-year-old Alexis Martin was being raped when shots were fired, maiming the man who was raping her and killing her sex trafficker in the other room. In spite of this, Ohio prosecutors try her as an adult and charge her with murder. She receives a life sentence.
Tyra learns of Alexis' struggle in 2019; both Tyra and Alexis were teenagers at the time of their arrests, both wrongfully charged and convicted by the Ohio justice system—nearly 20 years apart. She feels compelled to fight for her. Through mentorship from Tyra and having her case widely publicized by Kim Kardashian and across social media, Gov. DeWine grants Alexis clemency in 2020. However, after all the fanfare dies down, in the midst of a global pandemic and unable to see her mentor Tyra because they are both parolees, Alexis is forced to face the complications of being a returning citizen on her own. Once again when the men in her life betray her, she finds herself paying the consequences for their actions and ends up back in prison to serve the remainder of her life sentence.
This series highlights the necessity of peer-to-peer relationships for women facing post incarceration barriers. I Am Tyra offers a much-needed female perspective into America's broken justice system as we explore the deep emotional journey of reintegration and psychological consequences of being institutionalized for decades.
As of Christmas 2022, Tyra Patterson will no longer be on parole, however in the eyes of the law, she will still be considered a felon—a title she will carry for the rest of her life unless she is exonerated. Tyra is still far from free.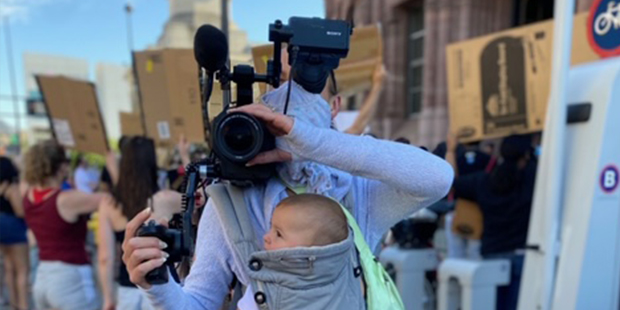 Meet the Filmmakers
Laurence Mathieu-Leger – Director/Producer/Director of Photography
Laurence Mathieu-Leger is an award-winning director, producer, DP, editor, and producer, as well as a mother of 3. Based in New York City, she was previously a senior
video producer at the Guardian US, and is the director and co-producer of Willie, a feature length documentary about the National Hockey League's first black player, Willie O'Ree. The film was an official selection at the 2019 Hot Docs Canadian International Documentary Festival and runner-up for its prestigious audience award. Laurence specializes in long and short format documentary projects – both for broadcast and digital. With over 12 years of experience in creative and managing roles, her work has been featured on major networks and publications. In 2017, Laurence received international recognition after winning a World Press Photo award for her groundbreaking work on the Guardian interactive production The Injustice System – which she spearheaded. In 2018, she was honored with the prestigious Edward R. Murrow Award in the continuing coverage category for her work on Keystone XL: Driving the US pipeline route.
Ebyan Bihi – Producer
Ebyan has spent over 10 years honing her craft by working in a diverse set of positions within the entertainment industry. In that time, she worked in TV and film development, producing documentary and shorts, and supervising a children's animation series. It is her belief that everything, and everyone has a story, and she is passionate about finding that story. A dynamic producer, Ebyan thrives in balancing the logistical and narrative elements in the completion of a project.
Rosella Tursi – Editor
Rosella is originally from Montreal and now based in New York City. Her credits include the documentary film Willie, the documentary series Pride (FX), Dirty Money (Netlfix), Dark Net (Showtime), The Last Defense (ABC), Jonestown: Terror in the Jungle (SundanceTV) and The Vice Guide to Film (Viceland) as well as the documentary JFK: The Smoking Gun for which she earned a Canadian Screen Award nomination for Best Editing in a Documentary Program or Series. Her credits also include the award-winning Canadian series Mohawk Girls. Her work has screened at Montreal World Film Festival, Hot Docs and Tribeca Film Festival.
Contact
For inquiries, please contact fiscalsponsorship@filmindependent.org.