Jimmy in Saigon

One can do a lot of living in a short time.
Project type: Nonfiction Feature
Project status: Distribution
Director/Producer: Peter McDowell
Producer: Lucia Palmarini
Producer: Peter Schulman
Composer/Producer: John McDowell
Executive Producer: Dan Savage
Executive Producer: George Guerra
Executive Producer: Corey Tong

Website: jimmyinsaigon.com
Email: peter@petermcdowell.com
Facebook: facebook.com/jimmyinsaigon
Twitter: @jimmyinsaigon

Help independent filmmakers tell their stories.
Make a donation to Jimmy in Saigon today.
Film Independent's Fiscal Sponsorship program opens the door to nonprofit funding for independent filmmakers and media artists. Donate today and help bring Jimmy In Saigon to life.
Logline
Jimmy in Saigon explores the mysterious life and death of Jimmy McDowell, a 24-year-old Vietnam veteran who died as a civilian in Saigon. Director Peter McDowell uncovers family secrets surrounding Jimmy's drug use and sexuality, getting to know his brother who died when Peter was only five years old.
Synopsis
Jimmy in Saigon begins as a personal exploration into the mysterious death and radical life of Jimmy McDowell, an American 24-year-old Vietnam veteran who died as a civilian in Saigon in 1972, when filmmaker Peter McDowell was only five. While investigating Jimmy's drug use and sexuality, Peter takes us from the US Midwest to Vietnam, France and back home again. In his quest to get to know his brother, he uncovers a hidden romance, new family ties and a remarkable global love story.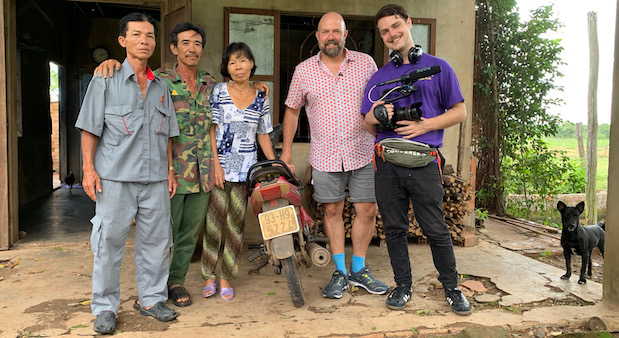 Meet the Filmmakers
Peter McDowell — Director/Producer
Surrounded by opera as a child and trained as a musician and actor, Peter has always been drawn to melding music and film in his own productions. He produced opera professionally in Chicago from 1999-2006; prior to that, he made two Super 8 short films in the early 1990s that were shown at the San Francisco International LGBTQ+ Film Festival. One of those shorts, I Dream of Dorothy, went on to festivals worldwide. In addition to filmmaking, Peter works as a nonprofit arts manager, which has helped him bridge the creative aspects of filmmaking with the more managerial aspects essential for production. Peter is the recipient of a highly competitive three year DeVos Institute for Arts Management International Fellowship. In 2018, Peter was also the recipient of a City of Chicago Public Arts grant for this film. His curatorial, managerial and fundraising experience have proven essential for this project.
Lucia Palmarini — Producer
Lucia Palmarini is a Chicago and Mexico City based producer, creative consultant and educator who has been working across education, in community and youth media, and independent film for over ten years. Ms. Palmarini strives to connect the bridge between vision and strategy, program and process. Whether producing a film, event, or community initiative, Lucia aims to bring people together to connect, create and to unlock their potential individually and collectively.
Peter Schulman — Producer
Peter Schulman is a filmmaker, artist, and teacher based in Los Angeles. He has worked with various non-profits, including Free Arts Los Angeles and The Children's Institute. His non-fiction work is driven by curiosity and built on mutual vulnerability with his subjects. Peter also works with sculpture, digital collage, and photography. He is currently shooting his first feature-length non-fiction film, With Ben.
John McDowell — Composer/Producer
John McDowell is an in-demand film composer and multi- instrumentalist. He created the soundtrack for the Academy Award winning documentary, Born Into Brothels, which also won Best Musical Score at the Bend Film Festival. His dance scores have been featured at the Brussels Dance Festival, the Holland Festival, and the Berlin- Amsterdam Festival, and he has performed at major venues and festivals including the Montreal Jazz Festival, Lincoln Center Out-of-Doors, and the United Nations. He has written over 100 pieces ranging from solo flute music to dance scores, a requiem, and works for a world music ensemble and orchestra.
Dan Savage — Executive Producer
Dan Savage is an author, an advice columnist, a podcaster, a pundit, and a public speaker. Savage Love first appeared in The Stranger, Seattle's alternative weekly, in 1991. The column is now syndicated to more than 50 papers across the United States and Canada. Dan has published six books. In 2010 Dan and his husband Terry Miller founded the It Gets Better Project (IGBP), which has gathered thousands of videos from people all over the world offering hope to LGBT kids. In 2012, IGBP was awarded an Emmy. Dan is a regular contributor to This American Life. He has also been a frequent guest on The Colbert Report, Real Time with Bill Maher, and other television programs. Dan's graphic, pragmatic, and humorous advice has changed the cultural conversation about monogamy, gay rights, religiosity, and politics.
Corey Tong — Executive Producer
Corey Tong is an award-winning producer, director, programmer, distribution and PR/awards consultant. He has executive/produced, represented films, distributors and directed/programmed festivals for over 25 years with CAAMFest, Frameline LGBTQ+FF, SFFILM, DocEdge FF, PBS (Frontline, KQED, World/GBH; ITVS), NatGeo, ABS-CBN, Cinetic, Forum des Images. His films and art installations have been nominated for an Oscar, four Emmys, screening in over 40 territories and 90+ festivals. Notable titles include (partial list) Last Day of Freedom, Forever, Chinatown, Kaimana, The Land Has Eyes, Defender, Point of No Return. He has joined PR teams of award-winning films for broadcast/theatrical/award campaigns including (partial list) Cairo Conspiracy (Boy From Heaven), The Queen of Basketball, A Thousand Cuts, For Sama, Jane, Sea of Shadows, Departures, Beautiful Boxer.
Contact
For inquiries, please contact fiscalsponsorship@filmindependent.org.