Last Taxi Dance

When the dancing stops, this man will die…
Film Independent's Fiscal Sponsorship program opens the door to nonprofit funding for independent filmmakers and media artists. Donate today and help bring Last Taxi Dance to life.
Logline
In a ballroom called Paradise, in the aftermath of World War II, a proud Hawaiian singer dances with a returned American soldier and debates the dignity of the American dream. But when his dance tickets run out, she is left with a harsh choice – for when the dancing stops, this man will die.
Synopsis
HONOLULU, HI – December, 1945. Months after Hiroshima. The city finds itself a way station for thousands of returning veterans, desperate for the company of the fairer sex. With the shutdown of wartime brothels, a peculiar ritual called "taxi dancing" becomes the only game in town. Downtown ballrooms fill with battle-hardened men desperate to dance with exotic beauties – but all for a price.
From atop a bandstand, Mahea sings along with a six-piece ensemble for a crowd of GIs she privately resents. While the soldiers and sailors whoop and holler, Mahea has little use for them or the American government that stole the land from its native people. After the lights have come on and the crowd has left, Mahea sits alone on stage, lost in her thoughts – until a lone Soldier returns, holding unused dance tickets. Upset at this invasion of her sanctuary, Mahea agrees to dance with him – but only for to put him on trial. A taut tête-à-tête unfolds around the room, as Mahea defends the honor of her people with every step.
Yet when Mahea is presented with the Soldier's true plan, she finds herself in an untenable position, for this man has no designs on living past tonight. Her Hawaiian values come into direct conflict with her own prejudices, as this last taxi dance is either a strange cry for help or a final happy moment in an otherwise forgotten life. For as Mahea comes to learn, this man is already dead.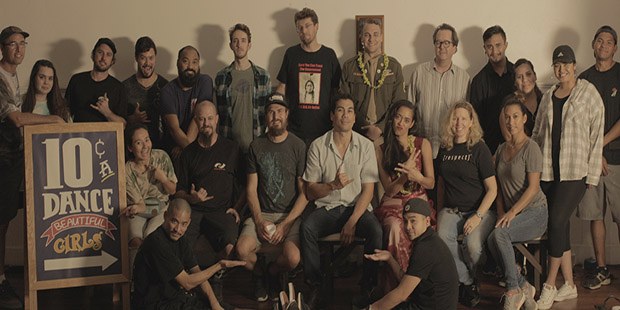 Meet the Filmmakers
Brayden Yoder — Writer/Director
Born and raised in Honolulu, Hawai'i, Brayden Yoder spent five years studying direction at the Film & Television Institute of India. His most recent short film, Breakdown, gained acceptance to several festivals in North America and around the world, won the "audience award" at the March 2014 HollyShorts Screening in Hollywood and an "emerging artist" award at the 2014 Taos Shortz Festival in New Mexico. Before moving to the subcontinent, Brayden lived in Australia, where he studied screenwriting as part of a master's in creative writing at the University of Technology, Sydney. Upon his arrival in Los Angeles, Brayden gained selection to the 2014/2015 Writers Guild Foundation's veterans' writing program at the WGA West; later that year, his writing also gained him admission to the screenwriting accelerator at the Creative Lab Hawaiʻi. Brayden decided to pursue a career in film after first serving as a U.S. Army officer in Germany and Iraq, experiences he credits with finding his voice on veterans issues and cultural understanding. In 2016, he formed Clearing Barrel Productions, an independent, veteran-owned company dedicated to telling stories that challenge, inspire, & entertain through the media arts.
Ciara Lacy — Producer
Ciara Lacy is a native Hawaiian filmmaker whose interest lies in crafting films with strong characters and investigative journalism, which challenge the creative and political status quo.
Her directorial debut, the feature-length documentary OUT OF STATE, premiered in June 2017 at the LA Film Festival, and two weeks later won Best Documentary Feature Film at the Cayman International Film Festival. As a producer, Ciara has produced documentary content for film and television, managed independent features, and coordinated product placement and clearances for
various platforms. In 2016, Ciara was honored to have been selected as the inaugural Sundance Institute Merata Mita Fellow and she is a current Princess Grace Awards Special Project grantee. She has also benefited from fellowships with Firelight Media's Documentary Lab, the Sundance Institute and Time Warner Foundation, the Sundance Institute's NativeLab, the Princess Grace Foundation, and IFP. Ciara holds a BA from Yale University and is a graduate of Hawaiʻi's Kamehameha Schools.
Contact
For inquiries, please contact fiscalsponsorship@filmindependent.org.