Let the Church Say

The American Black Church: Dead or Alive?
Film Independent's Fiscal Sponsorship program opens the door to nonprofit funding for independent filmmakers and media artists. Donate today and help bring Let the Church Say to life.
Logline
In a time of racial upheaval and a multitude of woes affecting marginalized communities, a young, African American filmmaker journeys to the heart of the Black experience to find the answer to a daunting question: Is the Black church dead?
Coming soon the highly anticipated docu series on the state of the Black Church. Directed by: Rafiq J. Nabali
Synopsis
In a large cathedral with stained glass windows and mahogany
pews stands, Rafiq Jordan, a young, African American filmmaker and Christian. Here,
in the First African Baptist Church, the oldest Black church in the U.S., we
encounter one of the foundations for the preservation of Black culture in
America. Through the years of oppression and sacrifice one thing has remained:
The Black church and its impact on Black culture today. Nevertheless, in the
light of the current decline in church attendance amongst Blacks and the loss
of its central role in African American communities, some, like Eddie Glaude,
Jr., Religion Professor at Princeton University, would argue that the Black church
is dead. Is it true?
Rafiq, familiar with the arguments and conflicts within the
church, now embarks on a journey to uncover the truth behind the external
criticism. Rafiq unearths testimonies from Black brothers, Black sisters, and
contributors to this current revolution, in order to see where the church is in
all this pain. Through conversations with activists, progressive-thinking
pastors, and the most knowledgeable of voices, he discovers where the church
has and hasn't been involved. Does the institution's involvement or lack
thereof give credit to its livelihood or point to its inevitable extinction?
Rafiq navigates through captivating conversations on other
significant topics such as church history, fashion, politics, race, and church
culture.
Where would the Black community be without the Black church?
The perspectives of those interviewed will be the evidence of the
investigation. This is the true story of the Black American church through the
eyes of a Black American. Ultimately, Rafiq's journey ends where it all
started, in the heart of an empty church, walking amongst the pews. Is this the
end of the Black church as we know it, or is it only the beginning?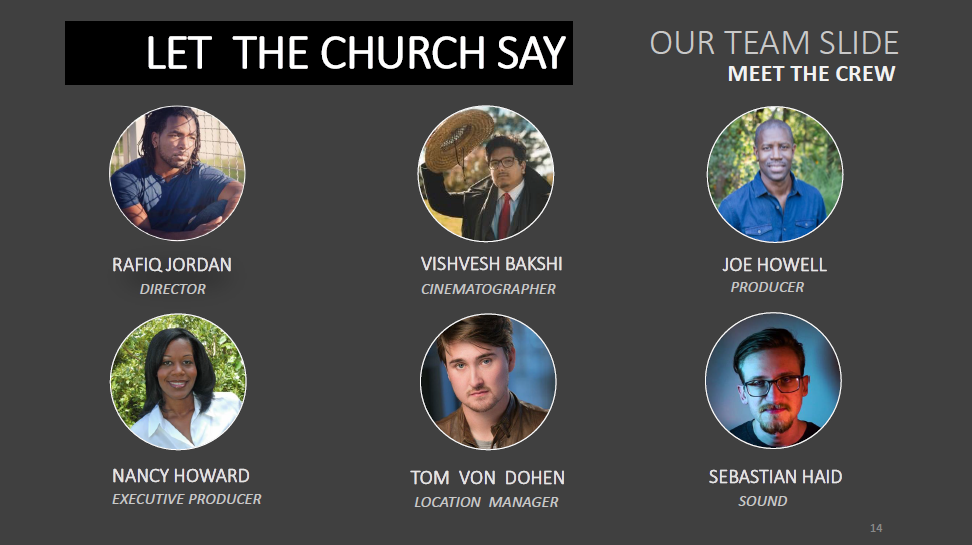 Meet the Filmmakers
Rafiq Jordan Nabali — Director/Executive Producer/Writer
Rafiq Nabali is a gifted filmmaker & current SCAD student. As a visionary, Jordan's passion for current cultural events inspires him to create stories that explore the viewpoints of unsung heroes. Uncompromising and indefatigable, Jordan crafts films with insight, deep emotion, and enlightening perspectives. He grew up in the church, & finds his faith strengthening and growing every day. In this project, Jordan will combine his deep commitment to Christianity with his ambitious skills as a filmmaker. His journey into the heart and history of the Black church will provide a personal view of the vital connection between race & religion.
Joe Howell – Producer
Joe Howell is the Managing Director of Stage Ten Media. Joe has worked in film and music for over 20 years as a filmmaker, engineer, music producer, director and writer. He directed the music documentary All Natural, which was nominated for Best Short Doc at the 2019 Bronze Lens Film Festival. He has worked for ABC TV in video editing and in NYC's Sony Studios and the Hit Factory, as a recording engineer. He secured a music publishing deal with Universal Music and his work is showcased on projects for LaFace/Arista Records and Bad Boy/Universal Records.
Nancy Howard – Producer
Nancy B. Howard is the Founder of The Big Picture Film & Video Foundation and the BigPictureCon Film & Technology Conference. She is a film producer with two decades of production experience. As a marketing professional, she has been responsible for extending brand awareness, community involvement, and driving member loyalty for Coca-Cola Federal Credit Union. As Executive VP of Kiss The Limit Productions, Nancy produced the short film, The Promise, featuring Melissa McBride of The Walking Dead. Nancy is a member and former Board Member of Women in Film & Television Atlanta, and also a member of Film Independent, Georgia Production Partnership and the Atlanta Film Society.
Mahalia Latortue – Producer
Mahalia Latortue was born and partially raised in West Hempstead, NY. Growing up, her parents would frequently send her back to their hometown in Thomassin, Haiti. She received her Bachelor's in Broadcast Journalism at Oakwood University and received her MFA in Film and Television at the Savannah College of Art and Design in Atlanta. Throughout the course of her career, Mahalia has interned at Viola Davis' production company, JuVee Productions, introduced a panel at Sundance Film Festival and has gone to Hong Kong to film a TV pilot and short film. She has also produced over seven thesis films and a podcast called "The Struggle Is REEL". In 2019, she co-founded the film development company, Anacaona Pictures, with her writing partner. The company aims to highlight people of color and women through television, film, and documentaries.
Vishvesh Bakshi – Cinematographer
An aspiring cinematographer, Vishvesh has over 3 years of experience in the Indian Film Industry. He worked his way up from a video intern with Glitch, Mumbai, to a cinematographer and editor on multiple award-winning productions. He graduated form SCAD Atlanta with MFA in Film and Television Production in 2020. At SCAD he worked on projects that won the Student Emmy and short films which have been selected at Atlanta Film Festival, New York International Film Awards, Louisiana LGBT Film Festival. Through years of experience across different cultures he has developed a unique style that will elevate any production.
Contact
For inquiries, please contact fiscalsponsorship@filmindependent.org.