Love's Labours Lost

Are these the breed of wits so wondered at?
Film Independent's Fiscal Sponsorship program opens the door to nonprofit funding for independent filmmakers and media artists. Donate today and help bring Love's Labours Lost to life.
Logline
Love's Labours Lost is Shakespeare's only comedy where the women reject their suitors – a group of downright dangerous men in power. Seen as a 'problem play,' Shakespeare intentionally ends it unhappily. Our pointed satire, filled with dark humor and wit, will center the marginalized voices of Shakespeare's female characters and highlight how little patriarchal oppression has changed in over 500 years.
Synopsis
The short film we are currently making is one pivotal scene from our feature. The Princess arrives at a military training camp in Navarre, knowing that the King she is visiting has sworn an oath against speaking to women. The Princess's elder male advisor, Boyet, is the only person allowed to enter the doors of the headquarters to announce their arrival to the leaders of Navarre. Once the King and his men begrudgingly come outside to greet the Princess and her ladies, a heated debate over land occupation ensues.
Underneath their banter, the four men become noticeably infatuated with the visiting ladies.
The women outwit their counterparts at every turn, but King Navarre refuses to acknowledge the Princess's claim, forcing her to provide more proof of ownership over the disputed territory. This cannot be done immediately, so she faces a choice: return to France and drum up a war to get her land back, or to stay the night outdoors in a meager tent in hopes of reaching a more diplomatic solution.
Boyet, with his old school mentality, advises the Princess to woo King Navarre and unite the two nations with marriage. He suggests the best card a woman can play is to be seductive and submissive. She decides, instead, to beat the men at their own game.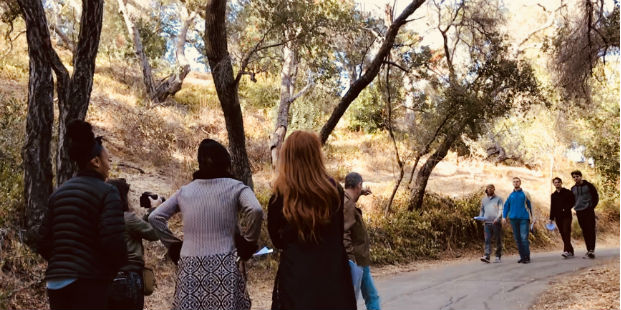 Meet the Filmmakers
Nick Musleh — Writer/Director/Producer
Nick attended UCLA's Theatre program and has been on television and theatre throughout Los Angeles. For several years, he's been an educator and a Shakespearean, teaching theatre to all ages. He's a lover of all music, hip-hop being the very first – it has always been his mom's favorite music. He thinks movies need more women and people of color as the subjects.
Lauren Guiteras — Cinematographer
Lauren is a Los Angeles based cinematographer and a graduate of the American Film Institute Conservatory. She has mentored under Michael Price, ASC, and shot feature & short narratives, music videos, and branded content throughout the country. Her work has included projects for The Neighbourhood, Lord Huron, Rose McGowan, The Corner Shop, DreamWorks TV, Goop, and One Vote at a Time. Fast-paced work, The X-Files, and good stories make her feel at home.
Keara Burton — Editor
Keara is an LA-based freelance editor and assistant editor with an MFA in Editing from The American Film Institute. Originally from Seattle, Keara previously worked as an illustrator and designer after earning her BFA in Motion and Graphic Design from Cornish College of the Arts. Her first feature film, Survival Skills, will be released spring 2019.
Matthew Moy — Producer
Matthew Moy's television credits include 2 Broke Girls, Marvel's soon to be released New Warriors, and the award-winning animated series Steven Universe. Moy is a proud supporter of the arts and keeping art education in schools. His focus is to create progressive, innovative art projects that leave a guiding handprint for the future.
Lydia Hunter — Producer
Lydia began her entertainment career studying acting at UC Irvine. Recently she formed her production company, Ginger & Tonic Productions, produced two short films and a web-series pilot. When not completely immersed in insurance and paperwork, Lydia can be found acting in a variety of commercials, some with her dog, Traeger.
Stephanie Nilles — Producer
Stephanie is an LA-based producer and graduate of AFI, where she produced eight films. She has an honors business degree from Queen's University in eastern Canada and taught at the Gulf Islands Film & Television School. After university, she secured a mentorship for emerging producers through the CMPA. Stephanie has worked on several TV shows and features and produced a feature-length documentary. She recently worked on an upcoming Amazon Studios docuseries and produced a series of music videos for All Saints. Stephanie is currently a coordinator on a Hulu/AwesomnessTV series and is producing a documentary on an up-and-coming female wrestler.
Contact
For inquiries, please contact fiscalsponsorship@filmindependent.org.