Love's Labours Lost
Are these the breed of wits so wondered at?
Project type: Fiction Short
Project status: Post-production
Director/Writer/Producer: Nick Musleh
Producers: Kristen Uno, Lydia Hunter
Editor: Keara Burton
Cinematographer: Lauren Guiteras
Associate Director: Haley Lannon
Associate Producers: Margaret Starbuck, Stephanie Nilles, Samantha Gregory
Executive Producer: Matthew Moy

Website: loveslaboursfilm.org
Email: nick@loveslaboursfilm.org
Facebook: facebook.com/loveslabourslostfilm/
Twitter: @ourloveslabours

Help independent filmmakers tell their stories.
Make a donation to Love's Labours Lost today.
Film Independent's Fiscal Sponsorship program opens the door to nonprofit funding for independent filmmakers and media artists. Donate today and help bring Love's Labours Lost to life.
Logline
Love's Labours Lost is Shakespeare's only comedy where the women reject their suitors – a group of downright dangerous men in power. Our pointed satire, filled with dark humor and wit, will center the marginalized voices of Shakespeare's female characters and highlight how little patriarchal oppression has changed in over 500 years.
Synopsis
A dying, old French King, sends his daughter to meet and hopefully wed the handsome young ruler of Navarre. When she arrives, she is unwelcome. The young ruler has banished all women so that he can focus on studying philosophy, hunting, and combat. But once they meet, the ruler and his friends fall in love with the French Princess and her ladies. Rather than abandon diplomacy and return to where she came, the Princess decides to stay and endure condescension and stalking from her inhospitable hosts.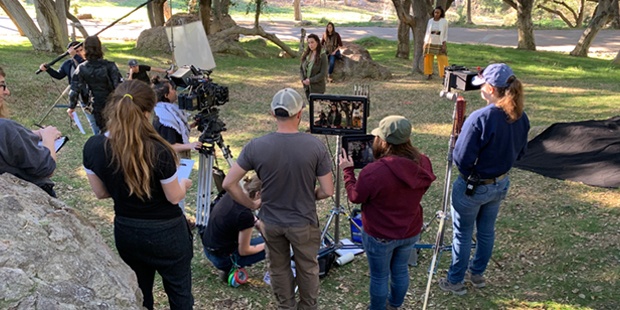 Meet the Filmmakers
Nick Musleh — Writer/Director/Producer
Nick attended UCLA's Theatre program and has been on television and theatre throughout LA. For several years, he's been an educator and a Shakespearean. He teaches theatre to all ages. He's a lover of all music, hip-hop being the very first – it has always been his mom's favorite music. He thinks movies need more women and people of color as the subjects.
Lauren Guiteras — Cinematographer
Lauren is a Los Angeles based cinematographer and a graduate of the American Film Institute Conservatory. She has mentored under Michael Price, ASC, and shot feature and short narratives, music videos, and branded content throughout the country. Her work has included projects for The Neighbourhood, Lord Huron, Rose McGowan, The Corner Shop, DreamWorks TV, Goop, and One Vote at a Time. Fast-paced work, The X-Files, and good stories make her feel at home.
Matthew Moy — Executive Producer
Matthew Moy's television credits include 2 Broke Girls, Marvel's soon to be released New Warriors, and the award-winning animated series Steven Universe.
Moy is a proud supporter of the arts and keeping art education in schools. His focus is to create progressive, innovative art projects that leave a guiding handprint for the future.
Kristen Uno — Producer
Kristen Uno is a Los Angeles based film producer and writer. Most recently she line produced the feature film Nous les Coyotes/Anywhere with You, which premiered at the 2018 Cannes Film Festival. After a 9-week theatrical run in France, the film was digitally released by The Orchard in Canada and the United States. Kristen has also produced award-winning short films and music videos in addition to branded and commercial content.
Keara Burton — Editor
Keara is an LA-based freelance editor and assistant editor with an MFA in Editing from The American Film Institute. Originally from Seattle, Keara previously worked as an Illustrator and designer after earning her BFA in Motion and Graphic Design from Cornish College of the Arts. Her first feature film, Survival Skills, will be released spring 2019.
Lydia Hunter — Producer
Lydia began her entertainment career studying acting at UC Irvine. Recently she formed her production company, Ginger & Tonic Productions, produced two short films and a web-series pilot. When not completely immersed in insurance and paperwork, Lydia can be found acting in a variety of commercials, some with her dog, Traeger.
Contact
For inquiries, please contact fiscalsponsorship@filmindependent.org.